Las Vegas Babysitting Services That Let Parents Enjoy Vegas, Baby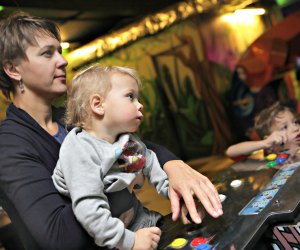 Our daughter feels like Vegas is her second home, and it's no wonder: we've been visiting Sin City a couple of times a year since she was a baby. We fit in lots of family outings during our visits, like riding the High Roller Las Vegas Ferris wheel, watching the Bellagio fountains, and checking out the flamingoes at the Wildlife Habitat at the Flamingo Hotel and Casino. My husband and I usually do the rotation thing when it comes to gambling (one of us goes and one of us stays with our daughter), but every now and then it's nice to splurge on childcare and enjoy Las Vegas as a couple.
Babysitting services for visitors to Las Vegas vary widely and can be hard to find, with a very, very limited number of hotels and resorts offering on-site childcare facilities (none of which are on the Strip), a few that arrange outside babysitting or nanny services through their concierges, and some independent nanny and babysitting services who will send a care provider to your hotel room. We've pulled together all of these options, listed below by category.
Hotels and resorts with on-site child-care facilities
(NOTE: Nevada law requires children to receive certain immunizations before entering any childcare center, so be sure to have proof of immunizations available if you plan to use one of these childcare facilities.)
The Orleans Hotel and Casino
4500 W. Tropicana Ave.
Las Vegas, NV 89103
Kids Tyme: 702-365-7300
The Orleans, which is about a mile west of the MGM Grand and New York-New York Hotel and Casino, is the only hotel close to the Las Vegas Strip that offers an on-site childcare facility, called Kids Tyme. It is open to kids ages 3 to 12 who are fully potty-trained. The facility is open every day of the year, and the hourly rate is reasonable. Kids can enjoy a multi-level jungle gym, coin-free arcade room, a movie room, Playstation 2 and Nintendo Wii, arts and crafts, and a snack bar with food and drinks available to purchase. There is a five hour maximum stay and one hour minimum stay, and you must stay on property at all times if you have children in Kids Tyme care.
The on-site, hourly-rate Kids Quest program is offered at the far-off-Strip family-friendly Las Vegas area resorts listed below (all are within a half-hour drive of the Strip). The Kids Quest play areas and hours vary by property, but all include equipment and activities. Hourly rates vary by location but are quite reasonable. There is a Tiny Tots rate for kids 6 weeks to 30 months old, and children's rate for those 30 months to 12 years old (at Green Valley Ranch only, the minimum age is 2.5 years old). Reservations are not required for hourly play, but centers do get busy, so pre-registration is suggested to speed up the check-in process. Resorts with Kids Quest:
Red Rock Casino Resort and Spa
11011 W. Charleston Blvd.
Las Vegas, NV 89135 (about 18 miles northwest of the Strip)
Kids Quest: 702-797-7646
Green Valley Ranch Resort and Spa
2300 Paseo Verde Parkway
Henderson, NV 89052 (about 10 miles southeast of the Strip)
Kids Quest: 702-617-7700
Sunset Station Hotel & Casino
1301 W. Sunset Road
Henderson NV 89014 (about 10 miles southeast of the Strip)
Kids Quest: 702-547-7773
Santa Fe Station
4949 N. Rancho Drive
Las Vegas, NV 89130 (about 17 miles northwest of the Strip)
Kids Quest: 702-658-4966
Boulder Station Hotel Casino
4111 Boulder Highway
Las Vegas, NV 89121 (about eight miles east of the Strip)
Kids Quest: 702-432-7569
RELATED: 25 Things To Do in Las Vegas with Kids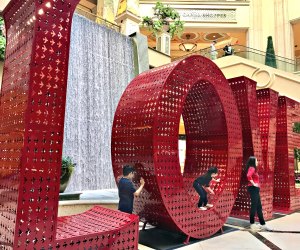 An evening of childcare makes Vegas even easier to love. Photo by Anokarina/CC BY 2.0
Hotels that arrange in-room babysitting through a concierge
Many hotels will help you secure babysitting or nanny services on request to the concierge desk, but the Four Seasons Hotel draws special praise with its unique services.
Four Seasons Hotel
3960 Las Vegas Boulevard South
Las Vegas, NV 89119
702-632-5000
This non-gaming property, which is part of the Mandalay Bay Hotel and Casino, is very pricey but provides awesome amenities for everyone in the family (including access to Mandalay Bay Pools' free-form pools, wave pool, and lazy river, plus perks like child-size bathrobes, video games for the room, and popcorn and sodas for teens upon request). The concierge will arrange babysitting or nanny services on your behalf with as little as two hours' notice, saving you the trouble of looking for one on your own. The hotel will even do anything possible to accommodate requests with shorter notice. It only refers experienced, bonded and licensed babysitters. There is an hourly fee for this service that is in the $45 range, with a minimum of four hours required.
Drop-off child-care center
Artsy Nannies
6569 Las Vegas Blvd. South, Q-C159
Las Vegas, NV 89119
702-448-4352
This drop-in childcare and activity center is about a mile or two south of the MGM Grand on Las Vegas Boulevard. Reservations are not necessary but advance notice is appreciated. Kids ages 12 weeks to 10 years old are welcome. The hourly rate per child is reasonable, with a minimum stay of one hour and a maximum of five hours (the fifth hour is charged at double the rate). The activity center, located in Town Square, includes arts and crafts, projects, a Pedal Play area, games, and more. A diaper change service is offered at an extra charge. Those who work for Artsy Nannies are employees, not contractors, and are licensed, bonded, and insured through the company after background checks and interviews.
Licensed babysitting services for in-room nannies / sitters
You can choose to directly contact a company that provides in-room nannies to the Las Vegas hotels and resorts. Prices tend to range from about $35-$45 per hour. In most cases, the caregivers are allowed to do activities beyond the room, like taking your kids to the pool or to dinner. The amount of advance notice needed varies, but as much as possible is better; you likely will be charged extra for a last-minute booking. Because you are booking on your own, be sure to thoroughly research the company and/or babysitter to determine qualifications and abilities. Here are a few of the companies that offer these services:
Nannies & Housekeepers USA
702-451-3000
This company bills itself as the only agency to receive referrals from the finest hotels' concierges. Rates are good for one to three children, with a four-hour minimum.
Artsy Nannies
702-448-4352
Besides its on-site childcare activity center at Town Square, Artsy Nannies also can send a licensed, bonded, and insured babysitter to your hotel room. In addition to the hourly rate, expect to pay a reservation fee. There is a three-hour minimum, and the rate covers up to three children. Holiday rates may be higher, but there are no added late-night fees or other hidden costs.
Love & Care Sitters
702-280-9571
This highly rated company sends licensed and insured babysitters to hotels with a four-hour minimum, covering up to four kids. A VIP package includes drop-off and pickup service in a luxury vehicle for Mom and Dad from the hotel to the show, restaurant, or club, and arts and crafts activities for the kids.
A couple of other reminders:
Be sure to check what the cancellation policy is for any service you seek, as some will charge a hefty fee for last-minute cancellations.
Just as you would with a babysitter or nanny at home, be sure to provide the caregiver with as much information as possible about your kids' special interests, likes and dislikes, to make the experience as enjoyable and stress-free as possible for everyone.
Get out there and enjoy Vegas like a grown-up!
Top photo via Bigstock