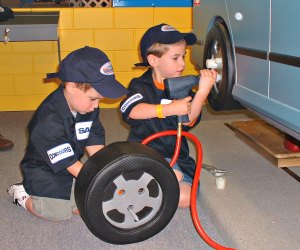 30 Things To Do in Milwaukee with Kids
John Steinbeck once wrote that Wisconsin is full of surprises, and the state's largest city, Milwaukee, is no exception. With a cosmopolitan feel and midwestern charm, and just an hour and a half drive north of Chicago (plus one of the easiest airports you'll ever travel through), families looking for a new vacation spot should put Milwaukee high on their consideration list the next time they're planning a trip.
Check out our list of 30 fun and interesting things to do with kids in Milwaukee (plus five bonus spots if you're willing to drive a little outside the city). Whether you're looking for the arts or the sciences, a great day outside, soaking up the sun on the shores of Lake Michigan or a fun day in, sampling some of the country's best frozen custard, you'll find something for everyone in the family in Milwaukee.
1. Root for the home team aka the Milwaukee Brewers at Miller Park.
Attend a game on select Sundays and experience one of the famous Sausage Races as Brat, Polish, Chorizo, Hot Dog, and Italian race the bases.
2. Get hands-on with art, science, history, and practical life at the Betty Brinn Children's Museum.
Exhibits range from bugs and gardening to velocity and wordsmithing.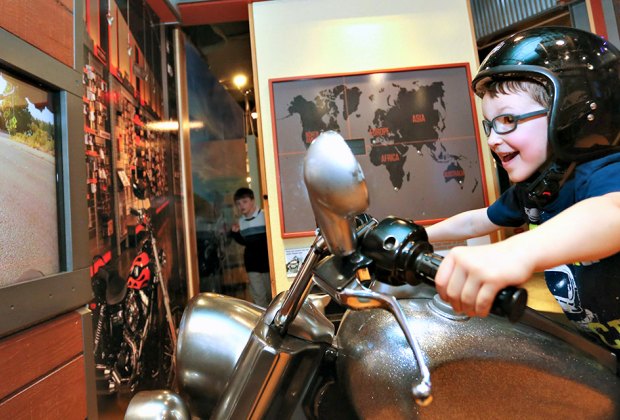 Even young ones can ride a Harley (simulator) at the Betty Brinn Children's Museum. Photo courtesy of the museum.
3. During basketball season, head indoors to watch the Milwaukee Bucks shoot hoops.
The league is building a brand new arena that should be ready for the start of the 2018 season, so seeing a game will be that much more enjoyable this fall.
4. Fill up on custard and burgers (it's a Wisconsin thing).
With the world's largest concentration of frozen custard shops, Milwaukee is known as the "frozen custard capital of the world." With its ever-rotating flavor forecast and burgers that are as big as your face, Kopp's is a 68-year-old hometown favorite and is worth the slight drive outside of downtown.
5. Immerse yourself in three different terrains at the Mitchell Park Conservatory, aka the Domes, where you can explore the desert, the tropics, and the floral gardens.
6. Explore a festival or two...or six... Milwaukee is the "City of Festivals," from the world's largest music festival (SummerFest) to the Wilde Subaru Family Kite Festival and an array of cultural festivals celebrating Hispanic, Italian, Polish, German, Irish, and Scottish heritage and more.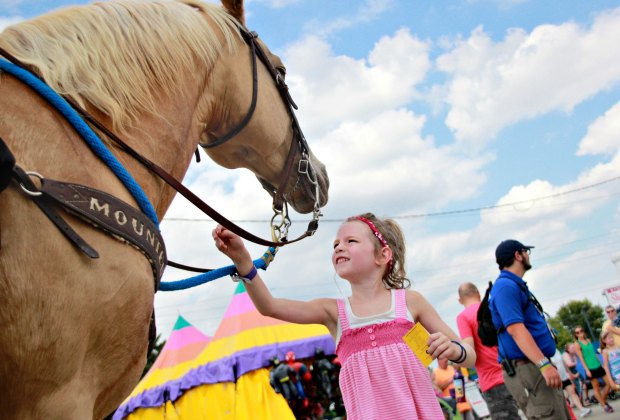 Explore the Wisconsin State Fair during your August visit. Photo courtesy of the fair.
7. Join in the country fun at the Wisconsin State Fair.
For 11 days every August, more than one million people head to the state fairgrounds in Milwaukee for music, free family fun, carnival rides, games, livestock, and fried food on a stick.
​8. Go wild at the Milwaukee County Zoo.
Peacocks stroll the grounds, which are a nice size but not so large as to feel overwhelming. Guests can feed the giraffes, and there are a playground and petting zoo for the kids. From May 26 - September 3, 2018, the zoo will also be featuring older animals...ahem...much older animals. A dinosaur exhibit with life-sized dinosaur replicas from the Jurassic period will be available for an extra fee this spring and summer ($3/person).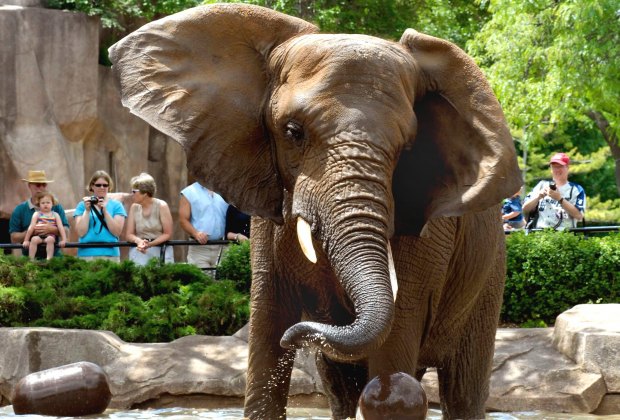 Check out a favorite - the elephants - at the Milwaukee County Zoo. Photo courtesy of Visit Milwaukee
9. Grab lunch, dessert, and some Milwaukee swag at the Milwaukee Public Market.
Over 17 vendors fill this space in the city's happening Third Ward. From Mexican food to pizza to super fresh seafood, there's something for everyone to enjoy. But save room - there are several large display cases filled with pastries and candies, too, that'll be hard to pass up.
10. Explore the Discovery World Science and Technology Center right on Lake Michigan.
Exhibits vary across a wide range of interesting topics. There is an exhibit on the science of sound sponsored by local guitar making legend Les Paul, an aquarium, and construction dig site. You can even walk on a 19th century schooner that's suspended from the ceiling and in the summer months, take a boat ride out on the lake right from the musuem's back door.
​11. Check out the other side of science at the Milwaukee Public Museum.
This museum is focused on history - natural and human history. There's a butterfly garden, floors of exhibits that take guests throughout the world and throughout time from the South Pacific to the African savannah and ancient Egypt. Plus there is an IMAX theater on-site for special showings.
12. Take a tour of Sprecher Brewing Company, which doesn't just brew beer.
Sprecher is a hometown beer but it also makes nearly 10 different sodas, as well. Getting to see the beer and soda being made should be fun for grown-ups and kids, respectively.
13. Grab a sausage at Usinger's Famous Sausage.
With its many European immigrants, Milwaukee is home to some great-tasting sausages. Usinger's is one such staple and you can buy one of theirs at their authentic old-world deli.
14. Have a need for speed? Head down to the Milwaukee Mile.
The Milwaukee Mile Speedway is the world's oldest operating racetrack and used to be the Milwaukee home to the Green Bay Packers. Now, though, visitors can watch drag racing, motor racing, bicycling events, or vintage Indy car events. Great for the vehicle enthusiast in the family.
15. Watch the USAF Thunderbirds perform at the Air & Water Show.
For three days every July, Milwaukee hosts its annual Air & Water Show, where fast planes and speedboats perform for the crowds.
16. Grab a bite at The Safe House, that is, if you know the password to get in.
This speakeasy-themed restaurant is a local favorite. While it's definitely geared towards adults for dinner and late night, the restaurant is open for brunch and lunch and is family-friendly.
17. Visit the Lakeshore State Park for a refreshing taste of nature in the heart of the city.
As the name suggests, this park is right on the shores of Lake Michigan and yet still a part of Milwaukee. Go hiking, bird watching, or join in many of the outdoor family events organized by the park.
18. Get artsy at the Milwaukee Art Museum with hands-on family events.
Besides checking out the ancient and modern art, guests can attend story time, musical performances, visits with the artists, crafts, and more. Children under 12 are free every day.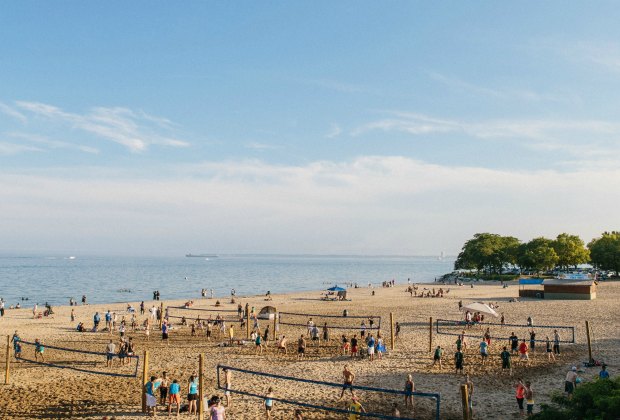 Beach Volleyball and sunshine at Bradford Beach. Photo courtesy of Visit Milwaukee
19. Catch some rays on Bradford Beach.
You certainly don't need an ocean to get a great beach. Located right on Lake Michigan, Bradford hosts a large beach volleyball league each year. Come for a game or simply enjoy the beach with your family. Access is free and there are changing rooms and facilities on-site.
20. Head over to Brew City MKE for Soda Sundays.
It may be a beer museum, but Brew City MKE also offers some kid-friendly options, including their once-per-month Soda Sundays, where parents can enjoy a locally brewed beer and kids can sip a Sprecher soda and design their own soda label.
21. Visit Pabst Mansion.
Check out this fabulous historic mansion that, for several generations, was the home of the Pabst family (owners of the brewing company of the same name). If you happen to be in Milwaukee around Christmastime, be sure and stop in for A Grand Avenue Christmas, when the mansion is decked out for the holidays and admission for children aged 16 and younger is free.​
22. Go hog wild at the Harley Davidson museum.
Milwaukee is known for a lot of things, but unless you're a motorcycling enthusiast, you might not have known this city is home to the Harley Davidson Museum. Kids can get up close with (pint-sized) bikes and gear and rummage through "Discovery Drawers" that are filled with vintage toys and models.
23. Candy shop hop.
If you haven't already noticed, Milwaukee is known for its drink and food traditions. Candy is yet another one, and so confectionaries aren't hard to find, from the Third Ward's Red Elephant to Buddy Squirrel, a candy shop with a 100-year-old history.
24. Cheer loud and proud at a kid-friendly roller derby game.
Milwaukee is home to the Brew City Bruisers, a women's roller derby team. The games are exciting, fast-paced and, just like most any sporting event, kid-friendly.
25. Stroll through Boehner Botanical Gardens.
These renowned gardens are a pleasure to walk through, and with regular seasonal events, such as their summer concert series and open-air movie nights, there are reasons to come for the flowers but stay for more.
26. Eat cheese curds.
Cheese curds are the solid springy pieces of cheese leftover during the cheese-making process. They are also a Wisconsin staple. Eat them as is or, even better, get them fried.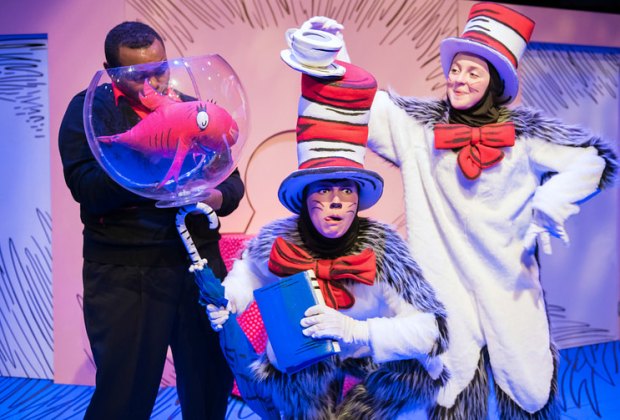 Cat in the Hat on stage at First Stage. Photo courtesy of the theatre
27. Catch a family-friendly show.
First Stage is a youth theatre company that puts on some seriously impressive shows each season. The shows are chosen specifically for families, with mostly kids acting in them.
28. Try a fish fry.
Just like cheese curds, fish is tastier fried. Many of the immigrants who settled in Milwaukee brought with them from Europe their Catholic traditions deeming Lenten Fridays as fish-only. The tradition continues today and throughout the year. Served alongside fries and coleslaw, a Wisconsian Fish Fry is a must. Check out favorite St. Paul's Fish Company in the Public Market for an always excellent fry.
29. Climb North Point Lighthouse.
Take a tour of the lighthouse grounds and then climb 74 feet to reach the top of the lighthouse and get fantastic views of Lake Michigan and downtown Milwaukee.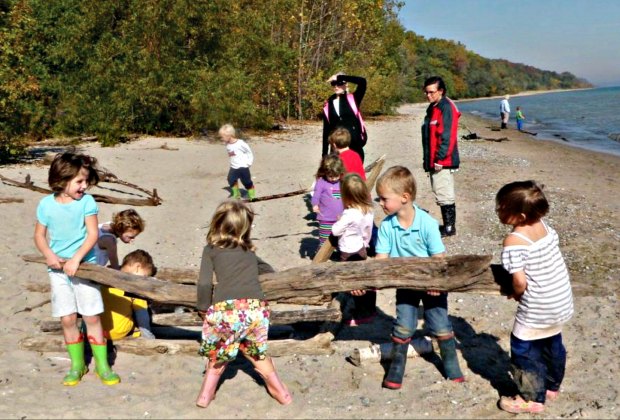 Get hands-on at the beach at Schlitz Audubon Nature Center right on Lake Michigan. Courtesy of the center
30. Explore the Schlitz Audubon Nature Center.
Over 180 acres and six miles of hiking trails sit just 15 minutes north of downtown Milwaukee, right on the lake. The park's website lists several hiking options, one of which, the Green Tea Trail is stroller accessible and gets you to the 60-foot observation tower. The park also hosts a raptor exhibit, insect hotel, veranda and nature store.
Bonus: 5 Places Worth the Drive from Milwaukee
Using Milwaukee as a home base? Willing to drive a little ways outside of the city? Then check out these five fun, interesting, and family-friendly excursions within a few hours of Milwaukee.
Bonus #1: The Dells (1 hr 55 min from Milwaukee) - A stunning glacially formed gorge initially brought tourists to the Wisconsin Dells, and along with visitors came some great resorts, water parks, and theme parks for which this area is now better known. Options for younger and older kids abound here and the accommodations for families are outstanding. And the original draw to the area, including wildlife, trails, and parks, is still popular among visitors.
Bonus #2: Madison (1 hr 20 min from Milwaukee) - Wisconsin's capital city is a college town (Go, Badgers!) with fun shops and restaurants. Catch a football or basketball game at UW-Madison in season, tour the beautiful capital building, or stroll through the Dane County Farmers Market, America's largest producer-only farmers market.
Bonus #3: House on the Rock (2 hr 8 min from Milwaukee) - Numerous structures depicting a wide variety of themes - Christmas, carnival, yesteryear, nautical and more - sit atop Deer Shelter Rock in this unique slice of Americana. Parts of the "house" are inaccessible by strollers but team members are on hand to assist. If you want to make your visit into an overnight stay, there is a resort, spa, and golf course next door.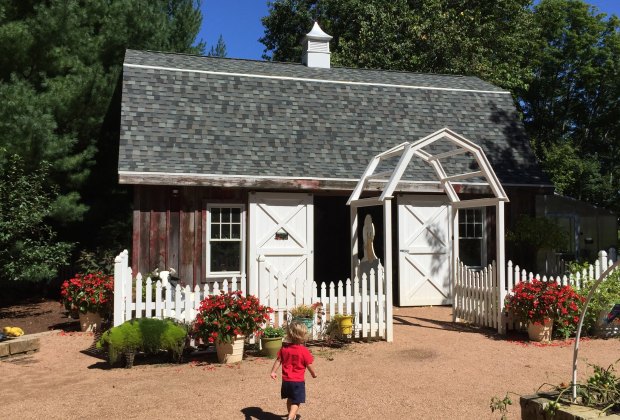 Explore a real-life Charlotte's Web barn at Bookworm Gardens. Photo courtesy of the author
Bonus #4: Bookworm Gardens (55 minutes from Milwaukee) - Located in Sheboygan, WI on the University of Wisconsin campus, Bookworm Gardens is a seasonally open children's literature garden. The space is free to the public and is sectioned off into seven themed areas with a central storybook cottage, that houses a small gift shop, bathrooms, and an events room.
Bonus #5: Chicago (1 hr 30 min from Milwaukee) -Ah Chicago! What's not to love? Eat Mackinac fudge at Navy Pier, see your reflection in Cloud Gate aka "The Bean," peer out over Lake Michigan from the Willis Tower observation room (formerly, the Sears Tower), take the kids to play in the 3-acre play garden at Maggie Daley Park. This city is an adventure all on its own but it certainly can serve as a daylong offshoot of your Milwaukee trip.
Want everyday adventure ideas? Then, be sure to subscribe to our email newsletter to get our weekly roundups of events delivered to your inbox!