The Very Hungry Caterpillar Show
DR2 Theatre

NYC Easter Brunch Cruise 2023
Event Cruises NYC

Easter Fun Cruise with Egg Hunt 2023
Event Cruises NYC
Sign up for our free newsletters.
Legoland New York Becomes Certified Autism Center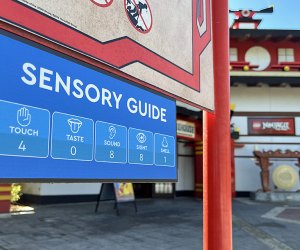 2/7/23
- By
Jody Mercier
Legoland New York is weeks away from opening for the 2023 season, but it's already making news: The resort has announced it will become a Certified Autism Center by the time it opens for its third season on Friday, March 31, 2023.
Legoland New York joins Sesame Place Philadelphia as a day trip-worthy Certified Autism Center for tri-state area residents. Read on for what the certification means, and find more local theme park fun in our Guide to Theme Parks and Water Parks for Families.
Subscribe to our newsletters to get stories like this delivered directly to your inbox.
The CAC certification comes with changes both visible—like sensory guide signage posted outside each ride and attraction—and invisible, including increased training for front-line employees to assist guests with autism or other sensory sensitivities.
Behind the scenes, guests can find quiet rooms to unwind when they need to take a break from the action. Fiirst-aid stations can dole out earplugs to guests who want to lower the sound, and Assisted Access Passes can be requested at guest services.
Families can prep for their visit with Legoland New York's Sensory Guide. If your family travels are taking you further afield, take note: In addition to the aforementioned Sesame Place, Legoland Florida and Legoland California are already Certified Autism Centers.