What's New at Legoland New York for 2023 Season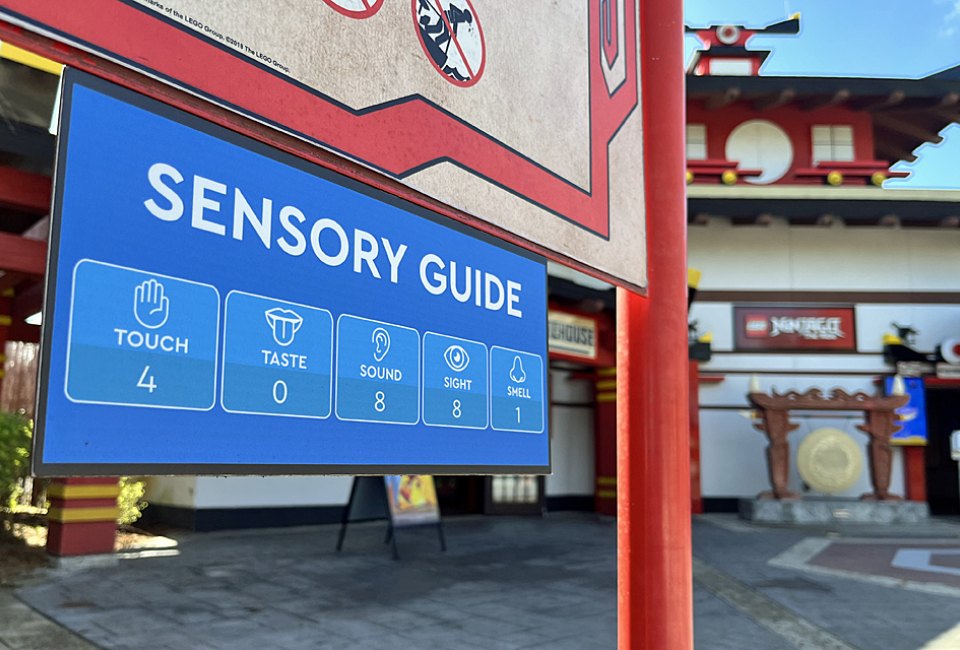 4/5/23
- By
Marisa Iallonardo
Legoland New York is open for the 2023 season and there are lots of great updates for families. One of the most noteworthy: The resort, currently in its third year, is now a Certified Autism Center.
With specific autism-friendly features, Legoland New York joins Sesame Place Philadelphia as a day trip-worthy Certified Autism Center (CAC) for tri-state area residents.
Read on for what the certification means plus what else is new at Legoland New York in 2023. Hot tip: Start planning now for a cool summer vacation when its water playground opens! We've got more wet and wild fun in our Guide to Theme Parks and Water Parks for Families.
Subscribe to our newsletters to get stories like this delivered directly to your inbox.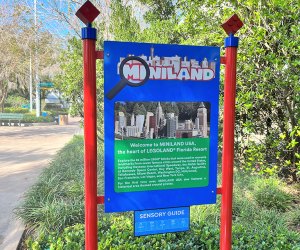 New sensory guides greet visitors at all of Legoland New York's attractions.
What Legoland New York's Certified Autism Center Designation Means
The CAC certification, which is through The International Board of Credentialing and Continuing Education Standards (IBCCES), comes with changes both visible—like sensory guide signage—and more behind-the-scenes, including increased training for front-line employees to assist guests with autism or other sensory sensitivities.
During our season-opening visit, the new elements were evident from the get-go. Take, for instance, the sensory guides, which are posted in front of every ride and attraction. Broken down by sense, like sound and sight, each is ranked from 0-9 in terms of intensity. The Palace 4D Cinema, where guests can watch a short 4D movie, complete with interactive elements, is ranked a 9 for sound, sight, and touch for instance, while the Dragon's Apprentice, a small roller coaster, ranks a 3 for sound and sight.
The signage is clear and well-marked, and the resort also offers an online Sensory Guide to help you prep for your visit before you arrive, which breaks down the info for each ride, along with more tips and tricks.
RELATED: Guide to Local Theme Parks and Water Parks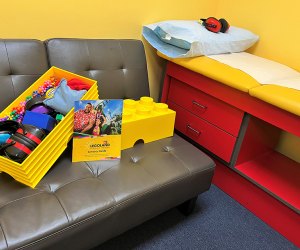 Need a break from the action in the theme park? Step into one of the quiet rooms in the Duplo Family Care Center.
At the park, guests can also find quiet rooms to unwind when they need to take a break from the action. These rooms, which have been in place since Legoland New York first opened, can be found in the Duplo Family Care Center.
Here, you'll find a series of small rooms, which can be curtained off for added privacy, with weighted blankets, calming lighting, and hammock-style seating. Welcoming Lego-themed murals on the wall make it feel kid-friendly and relaxing, as do the bean bag chairs and small table of Duplos at the entrance. Plus, the center also includes rooms for breastfeeding moms and a separate bathroom.
Along with these features, first-aid stations can dole out earplugs to guests who want to lower the sound, and Assisted Access Passes can be requested at guest services to help shorten wait times for kids.
RELATED: DreamWorks Water Park: Make Waves at American Dream Mall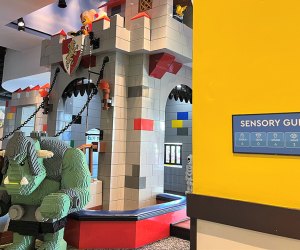 All of Legoand's attractions, including the hotel, have sensory guide signage.
And, if you decide to spend the night in the Legoland Hotel, both the rooms themselves and the attractions within the hotel offer the same sensory guide, including the on-site play area and pool.
More Happenings at Legoland New York in 2023
Along with the CAC certification, the resort is debuting a few other new additions in 2023, including:
Ninjago Days
If you have Ninjago fans in your house, then you may want to schedule your visit for the spring, when the resort is hosting "Lego Ninjago Days." Running over four consecutive weekends—from Saturday, April 29-Sunday, May 21—kids can meet their favorite Ninjago characters, including two new ones, and take part in a slew of fun, interactive activities, like a scavenger hunt, building contests, and more, along with, of course, all the rest of Ninjago World's fun. I can report that the Ninjago ride was a favorite for our family! The best part? There's no additional cost to participate.
Water Playground
Joining some of the park's other water-themed rides, like Rough Riders and Splash Battle is a new Water Playground, which is set to debut over Memorial Day weekend. You'll find lots of elements that encourage water play, including water slides and boat-building. The likely star of the show—and what your kids will be scrambling to stand under: an overhead bucket that dumps out tons of water—we're talking more than 300 gallons!
And good-to-know for parents: There will be a changing area so kids can change into their bathing suits or out of wet clothes, and the whole area isn't far from the Duplo Family Center.
Seasonal Events
While not exactly new, you may still want to keep in mind some of the special events throughout the year, including the return of its Red, White, and Boom over the Fourth of July.
Other than a few weekdays in April and May, the park is open daily through the end of the summer, and then specific days after that! See the website for complete hours and book your tickets well in advance to avoid getting shut out of the fun.
If your family travels are taking you further afield, take note: In addition to the aforementioned Sesame Place, Legoland Florida, and Legoland California are already Certified Autism Centers.
Originally posted in February 2023. Jody Mercier contributed additional reporting.
Photos courtesy of Legoland
Places featured in this article:
Click Here to Sign Up!
i