Family Friendly Vineyards and Wineries in New England that Welcome Kids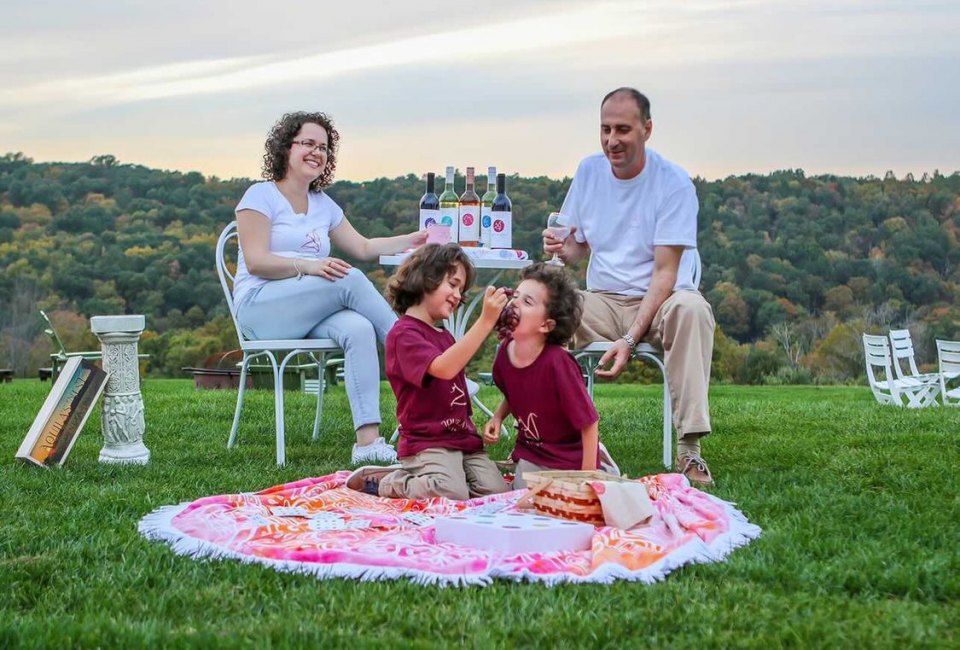 7/23/21
- By
Ally Noel
New England generally conjures up the tastes of cranberries and maple syrup, but local vineyards prove we can produce some tasty grapes, too, and those make for some fine wineries. Stretching from Connecticut's "wine trail" all the way up to New Hampshire's White Mountains, many New England vineyards aren't just great places to sip wine with other adults, but also to hang out with kids. Like Boston-area beer gardens and Connecticut craft breweries, these wineries welcome families with beautiful, spacious grounds, and in some cases apple picking, live music, wagon rides, and other fun activities.
Here are our favorite family-friendly vineyards and wineries in New England—from coast to mountaintop. See our posts about outdoor restaurants in Boston and outdoor restaurants in Connecticut for more ideas for dining, or sipping al fresco, with kids.
Family-Friendly Wineries and Vineyards in Massachusetts​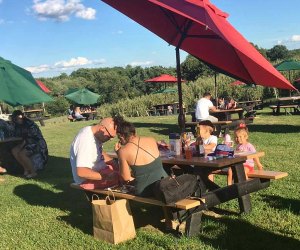 Families enjoy food truck snacks and picnics at socially distant tables in Nashoba Valley. Photo courtesy of Nashoba Valley Winery
If you like fresh country air, expansive country views, and some quiet family time, then Nashoba Valley Winery is for you. With advance planning, picnic lunches can be ordered to enjoy in the beautifully appointed picnic grounds. "Food Truck Fridays" are also a hit with families. Additionally, July to October is harvest season at the Nashoba Valley Orchard, when a variety of apples and peaches are available for picking.
Donuts, hiking, apple orchards, and wine—can you beat it? Hilltop Orchards is a perfect year-round destination for the whole family (the winery even grooms trails for snowshoes and Nordic skiing). With a packed schedule of events that range from live music to tractor drawn trail rides, a trip to Hilltop may become an annual tradition.
With a large outdoor space, kid-friendly games, and an entire vineyard to explore, Cape Cod Winery can make all your vacation dreams come true. Don't miss out on Manis & Merlot events throughout the summer; and many nights you can hear live music while sipping on that glass of vino.
Ah, Plymouth...pilgrims, a rock, and...wine?! Yes ma'am: And when there's jam samples for the kids along with wine for the parents, its a win-win! In addition to the wines, Plymouth Bay Winery's Tasting Room offers a full section of jams and cooking sauces for sampling. Reservations are encouraged for parties with six or more tasters.
This hidden gem located near Cape Cod's Rail Trail has a relaxed atmosphere that's ideal when exploring "grown-up" places with kids. The family minded owners' tasting room is open year round, but check the website for additional summer hours.
Family-Friendly Wineries and Vineyards in Connecticut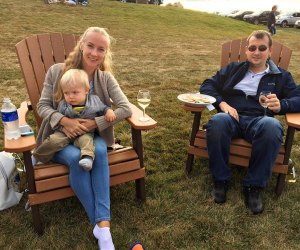 There's food, music, and plenty of space to enjoy with the wine at Hawk Ridge. Photo courtesy of Hawk Ridge Winery
Parents come for the wine and views, but kids beg to stay for the impressive schedule of local food trucks and live music at Preston Ridge Vineyard. Located in Connecticut's Quiet Corner, Preston Ridge is part of the Connecticut Coastal Wine Trail and offers a perfect spot to end a day of sightseeing.
Enjoy a tasting while the kiddos bop around to live music. Hawk Ridge Winery has a packed schedule of live music and other family friendly events (can you say "Dessert Fest"?!?) that make this one of Connecticut's most kid friendly wineries.
Most people think of Christmas trees or pumpkins when you say "Jones Family Farms," but this family operated farm stand has a pretty impressive winery as well. Enjoy a summer Friday night listening to live music at the popular "Wine Down" events that run through September. Make sure to check out the extensive "pick your own" schedule, too!
From the stunning scenery to the delicious wine, Aquila's Nest is a perfect escape from the hustle and bustle of daily life. Fire pits are set up along the hillside overlooking the forests of Fairfield County. Families are welcome to pack a picnic basket and folding chairs to enjoy a picnic with the wine. Advance reservations are recommended.
Family-Friendly Wineries and Vineyards in Rhode Island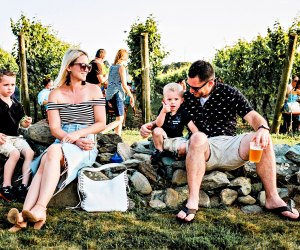 Newport Vineyards is a great place to relax and enjoy lovely views. Photo by Sunway Photography
Newport Vineyards brings the "Napa experience to Newport" with its easygoing, Left Coast vibe. In addition to its tasting room, Newport Vineyards also has a full service restaurant, Saturday farmers markets, and a pretty solid selection of live music.
Family-Friendly Wineries and Vineyards in New Hampshire
Seven Birches is part of the River Walk Resort at Loon Mountain. The tasting room is open daily in the afternoons and evenings. The stunning location with views of the White Mountains and Pemigewasset River make it an easy choice for some family fun.
This post was originally published in 2019 and has been updated since.