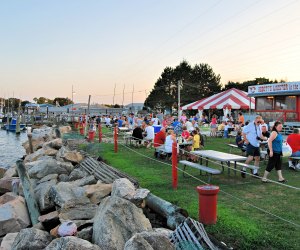 12 Outdoor Restaurants in Connecticut that Are Great for Families
With exciting views and kid-friendly vibes, outdoor restaurants around Connecticut are always a good choice for family dining—and that's especially true this summer. Restaurants all around the Nutmeg State have been busy creating expanded outdoor seating on patios, porches, gardens, and sidewalks to accommodate diners safely per Connecticut reopening guidelines. From river docks to secret gardens, these outdoor restaurants are loved by local families.
Some of these great outdoor restaurants even made our list of places where kids can play while you relax, the ultimate combination for happy dining as a family. Check websites or call before heading out to find out each individual restaurant's policies about reservations and other safety guidelines, and then enjoy the refreshing pleasures of a meal outside your own—or any!—four walls.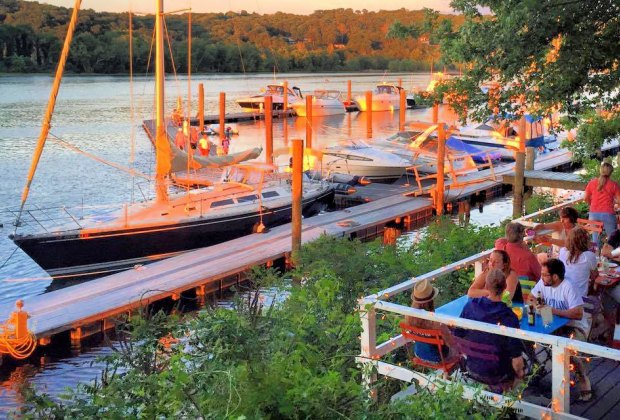 The banks of the Connecticut River is home to The Blue Oar. Photo courtesy of The Blue Oar/Facebook
The Blue Oar serves delicious food with a view. Dine al fresco at one of their brightly colored picnic tables located on the banks of the Connecticut River. Guests can park their car or boat and dine on everything from quick-and-easy bites like burgers and hot dogs to grilled salmon with lemon garlic aioli. Make note that this spot is cash only and BYOB.
The Place is a truly unusual outdoor seafood restaurant. Pull up a tree stump to bright-red communal tables and enjoy clams, lobsters, chicken breast, and corn all prepared on a crackling wood fire. Seating is first-come-first-served, and reservations are not accepted. The Place is cash only and there is an ATM on site.
The food at this quintessential New England seafood spot is rivaled only by its panoramic views of the Mystic River. Abbotts serves up classics like lobster rolls, steamed clams, and chowder, but also has some non-seafood kid favorites to keep the whole family happy. Before you leave, make sure you ask for some "fish food" and head down to the river to feed the "locals."
Summer has arrived at Wood-N-Tap in Farmington. This location of the popular chain is located on the banks of the Farmington River. In addition to patio dining, guests can enjoy riverside fire pits in the evening and live music.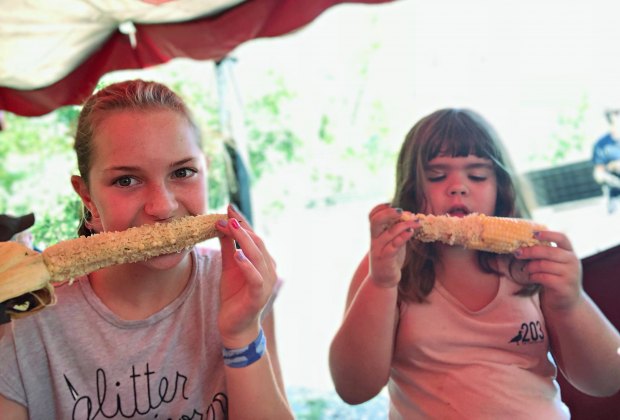 Jessica's Garden is a store—and a restaurant! Photo by Ally Noel
Grab a seat around the pond at this unique dining establishment. Typically, lobster shacks located in garden stores might make you raise an eyebrow, somehow Jessica's garden pulls is off. Enjoy hot dogs, hot buttered lobster rolls, smoothies, and ice cream in this enchanting outdoor location.
Located in historic Black Rock Harbor, Captains Cove has been a summer fun destination since the '80s. After dining, guests can stroll down the boardwalk and enjoy the marina.
Located in the Wall Street Neighborhood of Norwalk, BANC House serves delicious food in a fun atmosphere. Its kid's menu is packed with favorites like macaroni and cheese, hot dogs, and burgers. Don't skip the fried pickles and make sure you leave room for dessert.
Before you pick your berries to bring home, join Rose's for a hearty breakfast (Sundays only) which, of course, includes berries from the farm. Relax and enjoy the views while you dine on waffles, pancakes, and more. Rose's also offers pies and jams made from their harvest.
RELATED: Pick-Your-Own Berry and Fruit Farms in Connecticut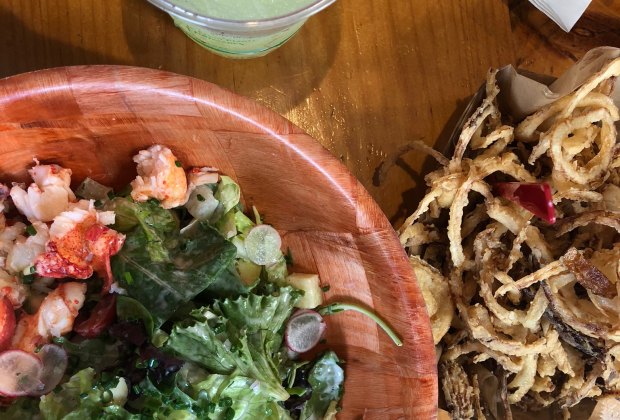 Pair lobster salad with some fries at Match Burger Lobster. Photo by Ally Noel
A fun twist on the traditional CT road shack, Match Burger Lobster offers a whimsical menu that will please all ages. Bonus points: it has a heated patio that is open year-round.
Provisions is a grab-n-go spot located in the beautiful White Hart Inn. With an emphasis on locally sourced ingredients, Provisions is open for breakfast, lunch, dinner, and everything in between. Guests can eat their food at one of the tables spread out across the porch and lawn while enjoying the charm of Litchfield County.
Located in downtown Fairfield, Flipside provides a fun and casual dining experience for families. Its known for its specialty burgers like the mac n'cheese burger, chip and dip burger, and the cheesy Hawaiian burger.
Tucked in the quiet corner, Frog Rock Rest Stop is truly a hidden gem hiding in the woods. This rest stop on Route 44 in Eastford has attracted visitors for more than a century with its iconic rock, painted to look like a frog. But it was only until recently that folks could grab a bite to eat and listen to some tunes. It's such a quirky little spot in the woods, you're guaranteed to leave with a smile.