Best Outdoor Dining in Connecticut at Family-Friendly Restaurants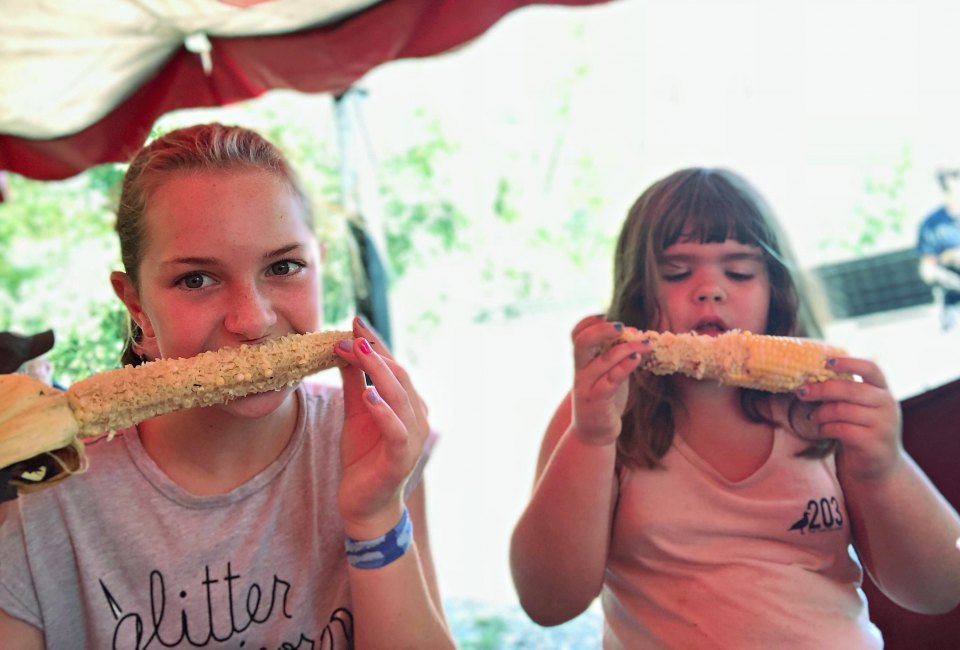 5/12/23
- By
Ally Noel
Plenty of space, lots of beautiful views and delicious menu options; restaurants with outdoor dining around Connecticut are always a great idea for families! Especially as the temperatures start to rise. From river docks to secret gardens and beachside patios, these eateries are a hit with hungry families looking for good food and outdoor seating.
Some of these awesome Connecticut restaurants with outdoor seating even made our list of places where kids can play while you relax, which is the ultimate combination for happy dining as a family. And if you're looking for a great breakfast out with the kids, look through our list of Best Breakfast Restaurants in Connecticut.
Best Restaurants With Outdoor Dining in Connecticut
What a great place to go in the summertime! The historic Deming-Standish House is home to Lou's and their Dirty Jumbo Wings. Sit outside at their 35x70 foot patio and enjoy American fare.
The Place is a truly unusual outdoor seafood restaurant. Pull up a tree stump to bright-red communal tables and enjoy clams, lobsters, chicken breast, and corn—all prepared on a crackling wood fire. There's one big menu that hangs over the dining area. The outdoor seating is first-come-first-serve, and reservations are not accepted. The Place is cash only, but there is an ATM on site.
The food at this quintessential New England seafood spot is rivaled only by its panoramic views of the Mystic River. (It even made a cameo in the hit film, Mystic Pizza!) Abbott's Lobster in the Rough serves up classics like lobster rolls, steamed clams, and chowder. It also has some non-seafood kid favorites to keep the whole family happy. Before leaving, make sure to ask for some "fish food" and head down to the river to feed the "locals."
Summer has arrived at Wood-n-Tap in Farmington! This location of the popular restaurant chain is directly along the banks of the Farmington River. In addition to patio dining, guests can enjoy riverside fire pits in the evening and live music. Choose a seat for two or a table for your whole family. This is a hot spot for outdoor dining. It fills up quickly on good weather days, so time your visit accordingly.
Grab a seat around the pond at this unique dining establishment. Typically, lobster shacks located in garden stores might raise eyebrows, but somehow, Jessica's garden pulls it off. Enjoy hot dogs, hot buttered lobster rolls, pulled-pork sandwiches, smoothies, and ice cream for dessert.
Located in historic Black Rock Harbor, Captains Cove has been a summer fun destination since the '80s. Eat your meat at the colorful picnic tables and watch the boats go by. After your outdoor dining, guests can stroll down the boardwalk and enjoy the marina and shops. Events and live music are starting to be scheduled, so be sure to check their website for updates.
Located in the Wall Street Neighborhood of Norwalk, B.J. Ryan's BANC House serves delicious food in a fun atmosphere. The kids' menu is packed with favorites like macaroni and cheese, hot dogs, and burgers. Don't skip the fried pickles and leave enough room for dessert.
Before picking berries at Rose's, enjoy a hearty breakfast (Sundays only) which, of course, includes berries from the farm. Sunday breakfasts start for the season on June 12, 2023. Relax and enjoy the views while dining on waffles, pancakes, and more. Rose's also offers pies and jams made from their harvest. Please note that pets are not allowed.
RELATED: Pick-Your-Own Berry and Fruit Farms in Connecticut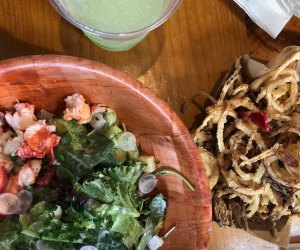 Pair lobster salad with some fries at Match Burger Lobster. Photo by Ally Noel
A fun twist on the traditional CT road shack, Match Burger Lobster offers a whimsical menu that will please all ages. The serving sizes are huge! Bonus points: it has a heated patio for comfy outdoor dining. Reservations are recommended, and there is a time limit of one hour on each table, as capacity is limited at this popular spot.
Provisions is a grab-n-go spot located in the beautiful White Hart Inn. With an emphasis on locally sourced ingredients, Provisions is open for breakfast, lunch, dinner, and everything in between. Guests can eat their food at one of the tables spread out across the porch and huge lawn while enjoying the charm of Litchfield County.
Located in downtown Fairfield, Flipside provides a fun and casual diner-style experience for families. It's known for its specialty burgers like the mac n' cheese burger, chip and dip burger, and the cheesy Hawaiian burger and huge portions. The restaurant features a huge outdoor patio, which is said to have a "Miami" vibe with a cool fire pit.
Crusty, cheesy pizza for the whole family. Start with mozzarella and build your own pizza just the way you like it. The kids menu includes mac n' cheese pizza! The relatively new outdoor patio seats visitors, but is small, so get there early.
Besides being one of the best pick-your-own destinations in the state, Lyman Orchards also boasts one of the best little family markets stocked high with local produce. The Basket also makes some delicious sandwiches, like the "Cortland" (turkey, Muenster cheese, cranberry mayo, and crispy cucumber) or the "Crispin" (grilled chicken, cheddar, onions, and a slice of apple). A pre-prepared picnic basket full of food for takeout is also offered. And did I mention fresh pies? Enjoy a meal out on the spacious patio with picnic tables and eat as you watch local fowl frolic on the pond.
Harry's Place is a beloved summer destination to come to and eat with the family. It has plenty of diet-busting comfort foods on the menu. Start with a cheeseburger or calamari and end with a double-scoop sundae. There is plenty of seating for outdoor dining under the umbrellas. Be part of a hundred-year tradition!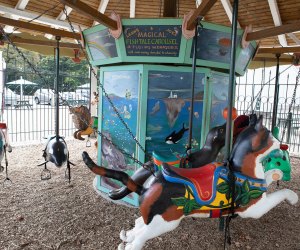 Lenny & Joe's has a charity carousel for the kids. Photo courtesy of the restaurant.
Lenny and Joe's Seafood is a restaurant that everyone remembers. The Madison location has a huge outdoor eating area and something fun for the kids: a carousel! Clam strips, lobster, scrod, and salmon are on the vast menu. Kids will love the kids' cod or clam strips platter and the cheeseburger/hot dog options. Indoor and outdoor seating is available.
Lobster Landing is an adorable hole-in-the-wall seafood restaurant with a limited menu, but tons of charm. It's literally right next to the water, so close that sometimes it has to close due to high tide! The restaurant claims to have the best lobster roll in New England. Order one and put it to the test.
Located on Candlewood Lake, Down the Hatch has a big menu including seafood and food for land-lubbers alike. Kids get a kick out of watching the boats come in and out of the docks, and they might even spot someone coming in for a landing on a sea plane. Down the Hatch opens for the season on May 12.
18. Guida's — Middlefield
Bring your convertible and drive over to Guida's restaurant. With a satisfying menu of all good things like crispy fries, clams, and the 10-inch hot dog that it's famous for, you can take a seat at the outdoor picnic tables and watch for classic cars to pull in. Guida's is easy to spot from the road. Don't leave without a 10" hot dog!
19. G.W. Tavern — Washington Depot
A historic home turned tavern, the G.W. Tavern is named for the most famous G.W. ever - George Washington! There is tons of outdoor dining space with a large landscaped yard full of flowers that kids can stretch their legs in. The restaurant is next to the Shepaug River and is open six days a week, closed on Wednesdays.
Enjoy a family meal at a picnic table right along the Mystic River. Kids love the views (especially when the kayakers go by) as well as the hamburgers, French fries, and foot-long hot dogs. The snack bar is open until 10pm on Fridays and Saturdays, and there's plenty of room for sitting outside.
This post was originally published on July 31, 2020, updated in May 2021 and May 2023
Sign up for the Mommy Poppins Newsletter today!
i