12 Connecticut Restaurants Where Kids Can Play While You Eat (And Relax)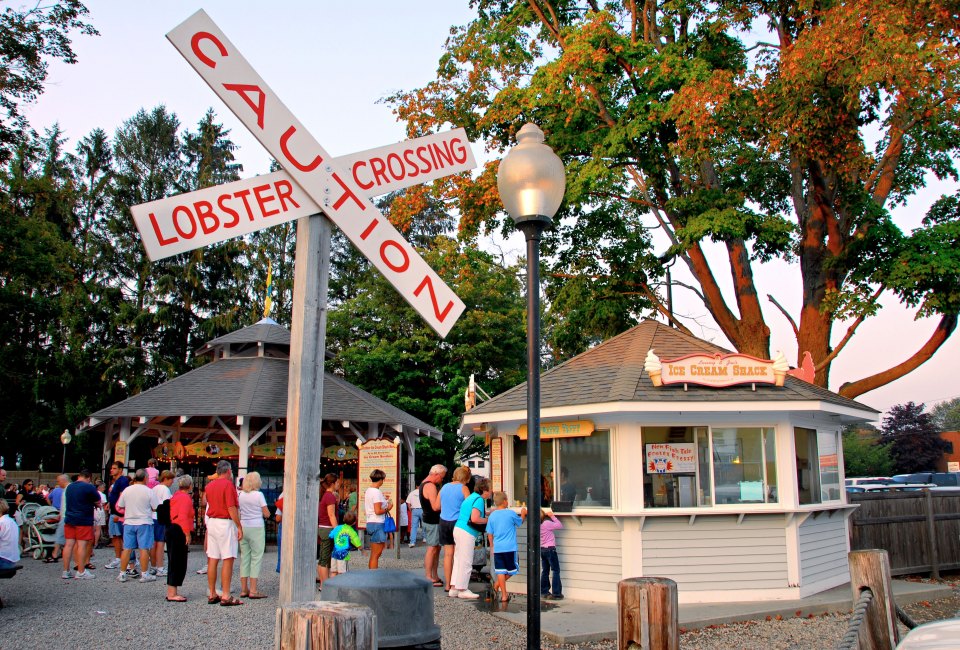 5/5/19
- By
Makayla O'Keefe
We've all been there. You've only been seated for three and a half minutes in your booth (we only go to restaurants with our children that have booths) and you're already playing referee between who gets the blue crayon and who gets the yellow. Two minutes later and a cup of ice water is knocked over into your lap. And then there are the tears. And you think quietly to yourself: why did we even leave the house?
Believe it or not, there are actually some pretty wonderful seafood restaurants, pizza joints, and even posh cafes where we parents can enjoy delectable food (while it's still hot) and the kids play (and not just stack up the sugar packets and silverware.) These 12 eateries have created spaces and activities with families in mind, from movie screens to playgrounds to a selection of lawn games.
1. Lenny & Joe's—Madison
For nearly 30 years, Lenny & Joe's Fish Tale has been serving up fresh seafood in New Haven County. Opening three decades ago with only four picnic tables, Lenny & Joe's now has three locations in New Haven, Westbrook, and Madison but it is the Madison location that has the carousel! Lenny & Joe's Magical Charity Carousel is open seven days a week from early May through October operating right alongside the widely popular seafood joint. Your kiddos will love climbing aboard the seal or lion and trying to catch the brass ring. All proceeds from the carousel are donated to charitable causes.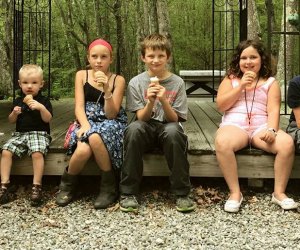 Image Courtesy Frog Rock Rest Stop
2. Frog Rock Rest Stop—Eastford
Tucked in the quiet corner, Frog Rock Rest Stop is truly a hidden gem hiding in the woods. This rest stop on Route 44 in Eastford has attracted visitors for more than a century with its iconic rock, painted to look like a frog. But it was only until recently that folks could grab a bite to eat, listen to some tunes, and stop into the small antiques shop where you can find everything from maple syrup to an antique fire engine pedal car. It's such a quirky little spot in the woods, you're guaranteed to leave with a smile. And, there's a shade-covered playground for the kiddos to play while you chow down on Frog Rock's classic American menu.
3. Uncle Buck's Fish Bowl & Grill—Bridgeport
Decked out in hand-painted sea-life murals, fish hanging from the ceiling, and dockside lanes, Uncle Buck's offers a bowling experience like no other. The bowling alley features 12 full lanes of bowling that uncover an underwater ocean experience. With bowling balls made to resemble an octopus, mermaids, sea creatures, and even a shark head ball return, you feel as though you're bowling in the ocean. It's "jaws-ome"! The best part is you sit at the table right at the end of your lane to enjoy your fish tacos or shrimp po' boy as the kiddos bowl.
4. Pizza Works—Old Saybrook
Tucked right alongside the Old Saybrook Train Station, Pizza Works offers delicious traditional New Haven-style thin crust pie AND plenty of choo-choos. If you do a little homework and check out the train schedule, you can plan to get to the restaurant at a peak departure/arrival time so the kiddos will get a glimpse at those speedy shiny bullet trains. (Especially the Acela!) We recommend sitting upstairs where two model train layouts – one is even right next to a table—will keep the kiddos busy while you wait for your pizza. There's also a TV screen showing the train station. And of course, you can just look right outside of your window!
5. Marly's Bar & Bistro—Wilton
Continuously voted "Best Burger" and "Best Seafood" in Wilton, Marly's Bar & Bistro offers a great spot to grab a burger and a beer. And for kids, Marly's offers stuff they actually will enjoy like PB&Js and Mac n' Cheese. And, every Sunday night at 5:30 the restaurant's side room becomes a kids movie theater where they serve popcorn, dinner, and dessert while you can actually relax and enjoy your food. While it's hot. Everybody wins.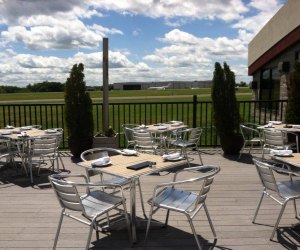 Let aircraft provide entertainment in Oxford. Photo courtesy of 121 Restaurant
6. 121 Restaurant—Oxford
Hidden in Naugatuck Valley in the small town of Oxford is a restaurant offering dinner with a view. And we're not talking water views. At 121 Restaurant at OCX, you can enjoy some pretty stellar cuisine while you watch planes land and take off. Your kids will love watching planes take off into the sky, soaring into the clouds, while they nibble on their chicken fingers and fries. It's just something you don't see everyday.
7. Captain's Cove Marina—Bridgeport
Offering outdoor fun for the whole family, Captain's Cove Seaport is a great spot to spend the day during the summertime. With its waterfront locale, quaint shops and boardwalk, the cove is a widely popular summer destination for Connecticut families. Head to the boardwalk with the kiddos Wednesdays through Sundays between 12 and 5pm and you can set off on a Captain Kidd's Treasure Hunt, included with your kid's meal. Follow the clues and uncover the treasure with your kiddos before grabbing an ice cream cone.
8. Aunt Chilada's—Hamden
So in this family, we tend to frequent restaurants that offer chips and salsa. At Aunt Chilada's you can enjoy indoor or outdoor seating while munching on, you guessed it, chips and salsa. Kids eat free on Sundays with the purchase of an adult meal between 4-8pm. Another reason to head to Aunt Chilada's on Sundays is a live performance from a magician that the kids will just love.
9. Trackside Brick Oven Pizzeria—Wallingford
Perhaps the coolest thing about Trackside is its location. Located inside a restored 1920's Philadelphia subway car, Trackside is nestled right alongside the tracks. Here you can enjoy New Haven-style brick oven pizza and fine Italian dining and watch modern trains roar past. Truly a one-of-a-kind experience for everyone.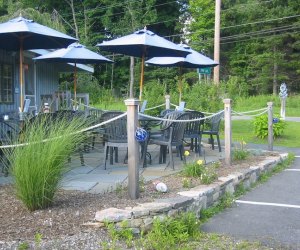 Kids enjoy the lawn (and lawn games) in Morris. Image courtesy of West Shore Seafood
10. West Shore Seafood—Morris
For a completely relaxed Cape-Cod style environment, head to West Shore Seafood near Bantam Lake in Morris to enjoy some delicious seafood and ample outdoor seating. From classic New England Clam Chowder to homemade crab-cakes and Cajun popcorn shrimp, West Shore Seafood is a treasure tucked away in Litchfield County. Plus, there's plenty of space for the kiddos to run around or try their hand at classic lawn games like corn hole. Bring a picnic blanket and stay for a while.
11. Rose's Berry Farm—Glastonbury
Come out to Rose's Berry Farm on a Sunday morning and eat a delicious and hearty breakfast. Starting in June, you can sit in their beautiful outdoor dining space overlooking the berry and fruit fields. Afterwards, grab a bucket and go berry picking!
12. Libby's Italian Ice and Pastry Shop—New Haven
Still serving tasty treats after decades and decades, Libby's has the ultimate in Italian desserts, pastries, Italian ice, and ice cream. Experience real New Haven-Italian culture. You can grab an ice and take a walk on historic Wooster Street or sit in, in their old-fashioned chairs.

Sign up for the Mommy Poppins Newsletter today!