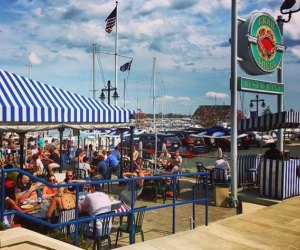 Family Friendly Waterfront Dining in Fairfield County
It took me a long to admit this to myself, but since we're among friends I'll just come out and say it: I do not enjoy eating in restaurants with my children. Or, at least I didn't. Now my kids are older and reasonable and do not have temper tantrums if their grilled cheeses are cut into quarters instead of halves--or at any rate they don't do it often. Even though, for a long time, my idea of "family friendly waterfront dining" was grabbing a blanket, some drinks, and those precisely cut grilled cheese sandwiches and heading to my town beach, I have recently branched out to actual restaurants where I leave the picnic basket at home. In the warmer months, there's nothing quite like a meal with a waterfront view, and the options in Fairfield County do not disappoint. Here are some of our favorites.
Captain's Cove Seaport—Bridgeport
Smack dab in the middle of the marina on Black Rock Harbor, Captain's Cove Seaport offers a terrific family friendly outing. The casual restaurant offers fish and chips, burgers, and all the usual bar foods, as well as an affordable kids' menu that includes the standard fare (and offers apple slices in place of fries). On Sunday afternoons, there is often music, and if you'd prefer to wander, the boardwalk is lined with little shops. Fishing charters are available and there's even a sailing school that offers classes for kids beginning at age 9.
Overton's—Norwalk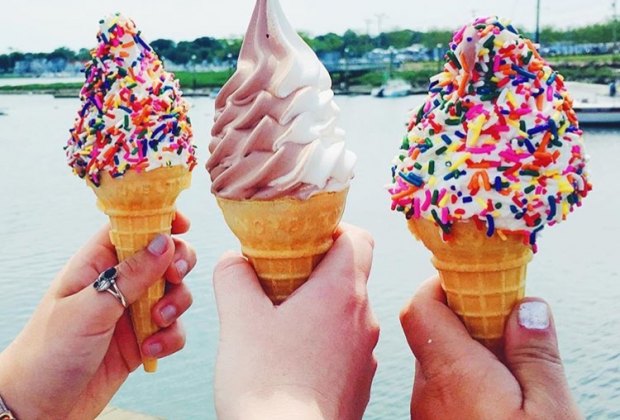 Photo courtesy of lastcupscilla via Instagram
Right on the water on Seaview Avenue in East Norwalk, Overton's is a Fairfield County tradition. With it's laid back atmosphere and casual self-serve seating on the deck behind the ordering window, it's also a perfect starter restaurant for families with young children. Overton's is known for its fried seafood (including fried clams), and my kids rave about their hot dogs. Be aware that the seagulls can be a little aggressive with unattended food so don't dawdle too long over those fries! When you've finished eating, stroll up the block to Mr. Frosty's for some dessert—their soft custard and tornado mix-ins are not to be missed!
Sono Seaport Seafood—Norwalk
You can dine inside or out right beside Norwalk Harbor at the quaint Sono Seaport Seafood. Their fried seafood (including whole belly clams) is always a hit, and it's a terrific spot to introduce visitors to the Connecticut-style lobster roll (warm, with butter). The children's menu is extensive, and the staff is accommodating. Note: Sono Seafood is not far from the Maritime Aquarium, but it can be a bit of a walk without a stroller—especially if your kids have already spent some time on their feet. There is generally plenty of parking in the restaurant's (free) lot.
Sunset Grille—Norwalk
You can't get more nautical than the Sunset Grille, which operates in the Norwalk Cove Marina from late April to October. Most of the tables are outside on the deck (there is a canopied area if you're concerned about shade) where you can enjoy spectacular views of Norwalk Harbor. As you might expect, the menu is seafood-heavy, with a nod to Italian, and there's a reliable children's menu with kids' favorites, such as burgers and fries and buttered noodles.
Rowayton Seafood—Norwalk
This picturesque spot right on the Five Mile River in the seaside town of Rowayton is my favorite special occasion restaurant. Reservations are absolutely required on busy spring and summer weekends, and though they are very accommodating of children (with a dedicated children's menu), it can be a rather expensive outing. For a slightly less expensive, more casual option, head to the Rowayton Seafood Market, right next door, which has a lobster shack vibe (you can order cooked food to eat on the patio as well as buy ingredients to take with you and cook at home). Note: Parking in Rowayton is notoriously tight, and the restaurant offers only a valet option, which can take quite a bit of time (especially when it's crowded).
Rowayton Market—Norwalk
Not to be confused with the Rowayton Seafood Market, the Rowayton Market is more of a deli, with excellent prepared foods and salads, as well as sandwiches and breakfast foods. You might not guess from the street view, but out back, there's a lovely, covered deck where you can bring the treats you've acquired inside and dine al fresco with a view of the Five Mile River. The market is also conveniently located if you want to grab something to eat before enjoying Shakespeare on the Sound.
The Crab Shell—Stamford
Located in the West Branch of Stamford Harbor, the Crab Shell restaurant can be a little challenging to find on your first visit—but it's worth the trip. Tucked away off Southfield Ave, the Crab Shell offers plenty of parking, as well as options to sit inside or outside. The Crab Shack area out on the dock is more of a bar scene with occasional music, which can be loud and raucous (especially as it gets later). At $13 per fairly standard items (chicken fingers, macaroni and cheese, etc.), the children's menu is a bit pricey but does include ice cream and a beverage, which can be just the thing on a warm summer day. Special bonus: from Memorial Day to Labor Day there's a free water taxi that runs across the harbor to Harbor Point.
Knapp's Landing—Stratford
The large outdoor patio overlooking Milford Point is a wonderful spot to savor the briny breezes. Grab a table with an umbrella, order the fish and chips (or the lobster ravioli if that's more to your liking), and enjoy the view. The menu is not particularly inventive, but it is reliable. The children's options are affordable and the staff are very helpful.
Bartaco—Westport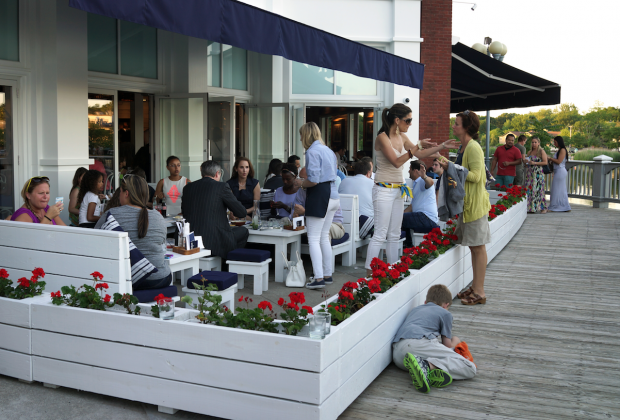 Photo courtesy of Bar Taco
Bartaco may be located on the banks of a river rather than an ocean, but that doesn't get in the way of this restaurant's casual, beachy vibe. While this spot is one of my favorite destinations for a night on the town with the grown ups, it's also a great option for dinner with family. The regular menu is well priced with individual tacos starting at $2.50 (the slightly simplified tacos on the kids' menu are $2) so it's easy for kids to sample different options even if (like mine), they wind up with the tried and true kids-a-dilla. Note: the restaurant tends to get particularly crowded on warm spring and summer evenings.They don't technically take reservations, but they invite you to "jump the wait" and call 30 minutes before you arrive to get a head start on the wait list (but even so the waits can be long).
Pearl at Longshore—Westport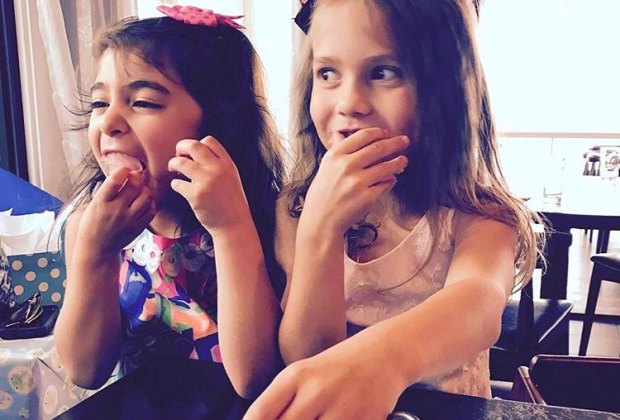 Photo courtesy of brigittebrigittebrigitte via Instagram
This newish spot right on the Long Island Sound in the middle of the Longshore Club is a welcome addition to the Fairfield County dining scene for kids and parents alike. The view is hard to beat, and though the menu is sophisticated, the setting is not particularly fussy. The raw bar offerings are extensive (and include a salmon poke option), and the regular entrees range from signature pizzas and pastas to an incredible octopus dish. Kids will find an elevated children's menu that includes Kobe hot dogs and grass-fed cheeseburgers (and parents will like that fruit is offered in place of, or in addition to, fries). Reservations are recommended.
Photo courtesy of robbies777 via Instagram
Originally published 5/18/17.