A Visit to Flamig Farm's Petting Zoo in Connecticut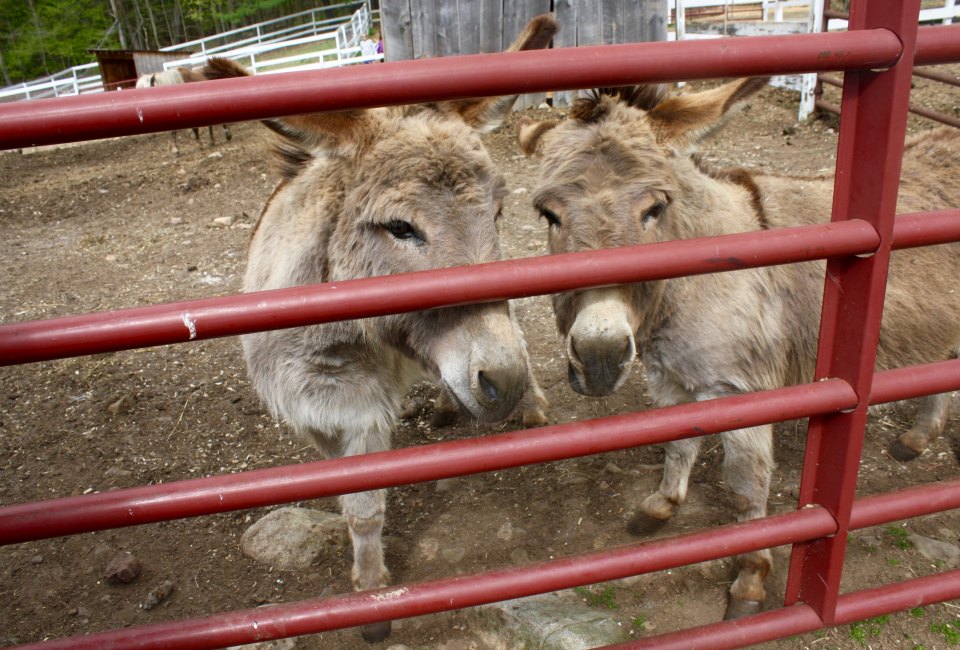 5/8/22
- By
Makayla O'Keefe
If you're anything like my three year old, you like farms. You love feeding goats out of your hand. Tractor rides are your very favorite. And, the thought of baby chicks make you giddy. Am I speaking your language? If yes, I would highly suggest taking a trip out to Flamig Farm in West Simsbury.
Founded in 1907 by Herman Flamig, Flamig Farm has evolved throughout the last century from a dairy farm to an egg retailer, with a few thousand or so egg- producing chickens, as well as a top soil mining operation, a snow plowing service, and an organic vegetable farm with 10 cultivated acres of property. For more than a century, the 10-acre farm has been passed down through generations of Flamig's to its current owners, Nevin Flamig and his wife Julie.
The Flamig's operate their family farm in Hartford County from April through November, opening around Christmas time for visits with Santa and a trolley ride to the "North Pole." At one point, Flamig Farm had three teams of draft horses and did lots of individual and customized hayrides as well as carriage rides for weddings.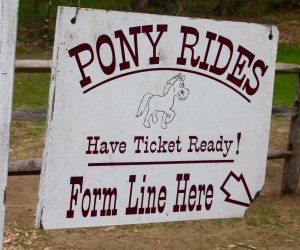 Enjoy pony rides, birtday parties, and more at Flamig Farm in Connecticut.
Today, it's all about the petting zoo. The walk able petting zoo at Flamig is open from April until November from 9 am until 5 pm.
We drove out to the farm in early May to check out this agritainment hotspot and perhaps most importantly (to my three year old) to see some baby animals. And we were not disappointed. We made the 1 hour and 20 minute drive to West Simsbury midweek, because with all of this rain and jam-packed weekend schedules, it's just what worked best. Lucky for us, aside from a couple of visiting school groups, we had the place nearly to ourselves. We picked up our tickets to the petting zoo and a cup of grain and headed straight for the ponies.
We probably could have spent the better part of the morning with the ponies as they are my daughter's absolute favorite but we moved along the route of the petting zoo from the bunnies to the chickens, followed by the draft horses and the goats. An easy loop passes by a coop filled with peacocks and alpacas. And just a warning, the baby alpaca moves freely in and out of the split rail fencing right onto the path. We were certainly not prepared for it, but at least you will be. Emus, cows, sheep and finally potbellied pigs will finish off the petting zoo loop—for a total of about 50 animals, not including the 700 or so chickens.
There are a couple of designated picnic areas and a covered pavilion with tables definitely bring your own lunch (especially if you've drive an hour and 20 minutes.) Novelty ice cream bars, juice and some snacks are available for purchase in the farm store. And, what else is in the farm store but the BABY ANIMALS.
The highlight of our visit for sure was getting to see the baby ducks, baby chicks, and baby pigs located inside of the store.
See animals down on the farm at Flamig's petting zoo!
The three piglets had just finished their bottle before we popped into the store so they were happily asleep and we did not want to bother them. Well, I did not want to bother them, my three year old definitely did. We were able to pet the baby chicks which ignited squeals of delight from my daughter.
The cream of Flamig Farm's crop is education and entertainment, offering regular field trips for schools and a fantastic summer camp program hosting 85 kids each week where kids get the chance to feed animals, gather eggs, learn about swamps and compost piles and earn their very own tractors drivers license.
Pony rides are offered on weekends 11-3pm and in the fall, Flamig Farm offers weekend hay rides and Halloween rides for an older crowd on two select weekends in October.
And, to address the elephant in the room, what's up with the backwards EGGS sign?
Years ago, a local artist and friend of the Flamig's offered to create some signage for the chicken barn. With four 8-foot-tall letters spelling "EGGS," the Flamig's knew local zoning laws would not allow an advertising sign that large. So, they decided to put the sign up backwards and call it art. Thirty years later and that piece of art still hangs, and is seen on everything from T-shirts to grain buckets.
After finishing up at Flamig, top off your visit to West Simsbury with a visit to Tulmeadow Farm, known for scooping out over 50 flavors of gourmet ice cream made right on the farm.
Originally published 5/17
Places featured in this article: