An Urban Oasis: Exploring Mill River Park in Stamford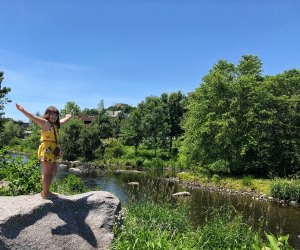 If you told me ten years ago that I would be walking through a serene landscape along the Mill River in Stamford, I would have laughed. But that's exactly what my daughter and I found ourselves doing on this absolutely beautiful day. The landscape here has changed dramatically over the past decade - and I'm not just talking about the high-rise condos that have taken over Stamford. With the help of the Army Corps of Engineers and civic collaboration, Stamford now houses a "world-class park in the heart of downtown Stamford."
The Mill River Park Collaborative is an "evolving greenspace where the community can gather to relax, play, learn, and connect with nature." The park opened in 2013 and has quickly become a pastoral oasis in the otherwise urban downtown. As it's name would suggest, the park runs along both sides of Mill River. At the northern most tip of the park, you will find the carousel pavilion.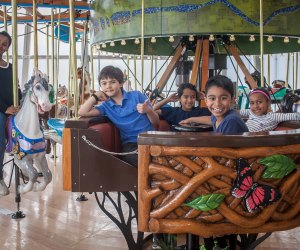 Take a ride on this fully accessible carousel! Image courtesy of Olivier Kpognon for Mill River Park
The carousel is home to 30 hand-crafted carousel figures and a fully accessible chariot. You can choose to ride traditional horses or beautifully painted bunnies or seals. The pavilion also has a small snack bar and seating to enjoy a picnic or some downtime. During the school year, the carousel is open Saturdays and Sundays from noon-5pm. Beginning on June 21st, you can take a ride on Thursday - Sunday from 10:00-4:00.
The carousel and the lawn adjacent to the pavilion is home to most of the children's programs and special events. There is a pretty steady flow of concerts, mommy & me classes, and story times. The park also hosts tons of seasonal events throughout the year. During the holiday season, we attended a fabulous "Ugly Sweater Breakfast" and Martin Luther King celebration, but there were also Cherry Blossoms festivals, Earth Day celebrations, free Easter egg hunts, pop-up women's history performances, carriage rides in the snow, and movies under the stars (to name a few). In other words, Mill River Park has it all!
On Sunday mornings throughout the summer, there is a FREE Carousel Storytime complete with a story, song, and a craft! Participants will also receive a free gift (courtesy of ineed.com) all summer long! The last Thursday of every month, you can join experts as part of the River Meanders program. Themes range from River Critters, Native Plants, Urban Birds, and more. Older kids will also enjoy the daily FREE fitness classes that are part of the Mill River Fit Club with classes such as Bolly Fit, Zumba, and Hula Hoop Fitness.


Native wildflowers are everywhere!
During our visit to the park, my daughter simply wanted to walk around and take it all in. We parked our car on Mill River Street towards the top of the park and began to explore. We were immediately struck by just how serene this park really is - it truly is an urban oasis. There were birds singing, wild flowers in bloom, and a beautiful grove of cherry trees. Like a good six year old, she ran right down to the river and dipped her toes in. The cool, clear water that flows through this park is a feat of urban redevelopment.
There are tons of little pathways that meander down and around the river where we were able to take in glimpses of native flora and fauna from wildflowers to finches (and the occasional river eel and mink!) At times, the grasses and flowers get so high that you totally forget that you are in a city. We followed the path down to the playground at the southern most tip of the park.


This bright and colorful playground is a great place to explore!
Mill River has a vision as a place for "children throughout Stamford to exercise and play together". Staying true to this belief, the playground was the first structure to be completed in Mill River Park. This playground holds a special place in my heart - it was designed by Stamford children and built by thousands of volunteers (myself among them) back in 2006. The playground itself is full of bright colorful murals and loaded with adventure and whimsy. There are towers to climb, monkey bars to swing, and a seemingly endless labyrinth of wooden tunnels to explore.
Mill River Park isn't done yet! This park has BIG plans for the future with new playgrounds featuring picnic areas and splash pads, we could see the construction underway for the skating rink and fountain. There are also plans in the works for an education center with classrooms dedicated to environmental studies for years to come.


Exploring the stone path at Mill River Park
Images courtesy of author unless otherwise noted