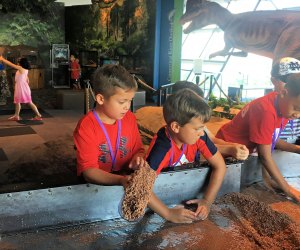 35 Fun Spring Break Activities and Events in Connecticut
Although Mother Nature sometimes has a few tricks up her sleeve, signs of spring are really and truly spreading across Connecticut. You know what that means? Spring Break is coming soon, and your kiddos will be home with you for a few days to a whole week or perhaps more. From Hartford to Greenwich to Middletown to Mystic, more sun means different things to do that will break up the routine and help you and the kids make some new memories.
1. There's no place like home, there's no place like home! The Wizard of Oz has come out from behind the curtain for a telling of the timeless story by Frank L. Baum. The Downtown Cabaret Theater has shows from April 11 to May 17.
2. Learn about an ancient culture credited with amazing architecture, their use of mathematics, and their own calendar. The Connecticut Science Center's exhibit Maya: Hidden Worlds Revealed will be on display showing off over two hundred artifacts as well as many hands-on activities.
3. Hartford's spring break starts a week earlier than most other counties in the state—keep first- through sixth-graders busy at Connecticut Science Center's Vacation Exploration Camp. Each day at the camp explores a different STEM related theme.
4. Spring Break is a great time to learn some baking skills. Lyman Orchards will teach you how to make your own hi-top apple pie (just like they make). Kids will come home with their very own, hand-made 6-inch pie!
RELATED: Connecticut Day Trips Guide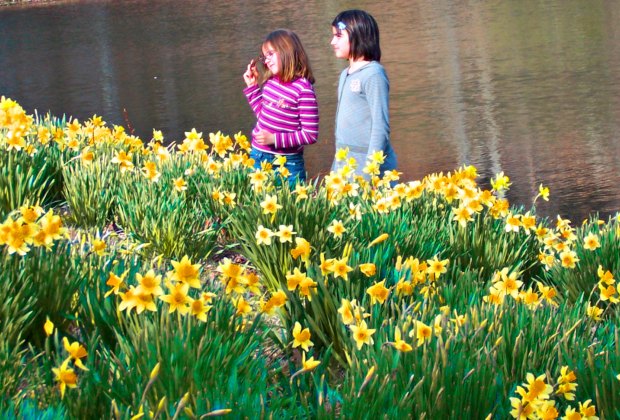 Bask in spring at the Daffodil Festival at Laurel Ridge Farm. Photo by Psyberartist/CC BY 2.0
5. Take advantage of a sunny day to visit the glorious first blooms of the Litchfield Daffodils at Laurel Ridge Farm. Spend the day exploring 51 other things to do in Litchfield County.
6. Bring your mitts and order some popcorn to cheer on Connecticut's newest minor league baseball team, the Hartford Yard Goats—opening day is April 9!
7. Point the family toward Mystic. Hunt for treasure, learn about swashbuckling history, and make a souvenir to take home during Pirate Days.
8. Children 8 and up can learn how to sew at the Fairfield Museum Sewing and Embellishment Workshop. Children will learn basic stitches, and how to embellish with appliques and more.
9. Spy a salamander or spring peeper at the Greenwich Audubon. Naturalists will help you find these rare and well-hidden creatures as they come out for their annual trek in the Spring. Bring a flashlight!
10. Your teens will love to hang out with friends at Urban Air Teen Night. From 8 to 11pm, kids 13 and up can enjoy go-karts, laser tag, virtual reality, and a slice of pizza.
11. Start exploring nature during Spring Break at the Spring Fling Spring Break Camp at 4-h Auer Farm. Kids ages 5-15 are welcome to enjoy three days of spring break outdoors.
12. Looking for an easy day trip on the coast? Spend the day in Niantic. Browse the hundreds of shelves at the Book Barn, check out the Children's Museum of Southeastern Connecticut, spend allowance money at the Niantic Toy Shop, fly a kite at Rocky Neck Beach, and don't forget to indulge in a treat at Gumdrops & Lollipops.
13. Search for eggs, score some sweet photos, and decorate some spring crafts at these fun Easter activities and bunny breakfasts around the state.
14. Jump onto Route 9 and travel to Middletown for some fun things to do including: chocolate, cupcakes, kid-fun, and books.
15. Go shelling at our state's great beaches, from Milford's Silver Sands State Park to Groton's Esker Point, before the sunburns and crowds become an issue.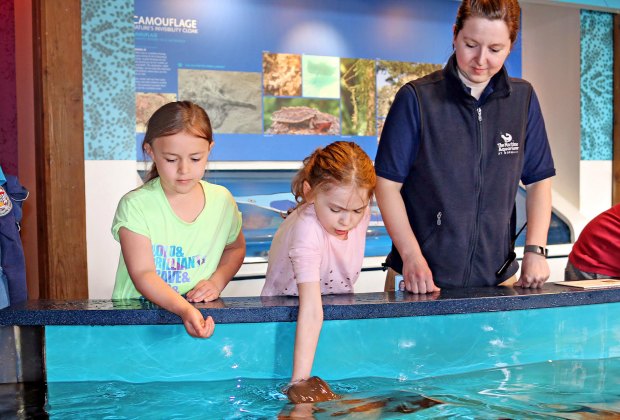 There's a new adventure every day at Aquarium Camp. Photo courtesy of the Maritime Aquarium
16. Got an aquatic-loving 6- to 8-year-old? Dive into a new adventure every day at Norwalk's Maritime Aquarium's full-day camp program.
17. Go on a prehistoric egg hunt or celebrate Earth Day...with dinos! The Dinosaur Place at Nature's Art opens for the season March 29.
18. Easter Egg hunt like the White House does at the Annual Easter Egg Roll in Southport. Bring hard-boiled eggs to decorate.
19. Keep brains busy at a local library. There are special library programs during spring break week for every age group; we're particularly psyched to check out Animal, Art and Music of Africa in Norwalk.
20. Romp in the sunshine with some adorable baby animals, from potbellied pigs to peacocks—Flamig Farm's petting zoo opens in April in Hartford.
21. Starting getting out to the playground by using Mommy Poppin's Playground Guide.
22. Love all things cold and creamy? Get one of these crazy ice cream creations in a Connecticut ice cream parlor.
23. Visit one of Family Circle's "Top 10 Towns for Families": West Hartford! Visit the home of Noah Webster, shop at Blue Back Square, grab a gift at the Toy Chest, and eat at Max Burger.
24. Play laser tag, bowl, try your luck at arcade games and grab something to eat at Nomad's in South Windsor. There is also rock climbing, neon mini golf, and bumper cars.
25. After a long winter, spend some time in glorious Mother Nature at one of Connecticut's wonderful waterfalls.
26. Take your train-obsessed preschooler on one of these fantastic train-based day trips.
Spring Break camp. Photo courtesy of The Children's Museum West Hartford
27. Spring break science and fun? The Children's Museum in West Hartford has daily themed Spring Break camp days from April 10-17, and 28. Be a inventor, learn about animals, or travel to Mars.
28. Got a teen? Make their Spring Break rock with one of these 25 Fun Things to do With Teens in Connecticut.
29. Learn all about underwater creatures by attending the Maritime Aquariums Spring Adventures Camp. Every day have a different theme and you can sign up for one or all five days.
30. Gather eggs our in the forest at the Stamford Nature Center. The Forest Easter Egg Adventure is for kids age 2 and up but don't forget to sign up ahead of time.
31. Enjoy the Wadsworth Athenuem during Spring Break at their monthly Second Saturday event. Check out the "Layered Landscapes" exhibit then make one of your own!
32. Have you ever seen a seal up close? Come out to to the Maritime Aquarium's weekend cruises where you will keep your eyes peeled for shoreline birds and maybe a seal as well.
33. Go and fly a kite at the Greenwich Kite Festival! Kids of all ages are encouraged to bring their own kite (any size, any color, any design) to catch a breeze. Awards given out.
34. Do you believe in Fairies? We do! Come to the Fairy Fest in Putnam to see the Fairy doors, gardens, fairy homes, sprites and people in costume.Paid Gnome building and carriage ride.
35. Ever been to a boundless playground? Try Jonathon's Playground in Bloomfield. Newly refurbished with a lot of fun things to do.