Stamford Museum & Nature Center: 7 Family-Friendly Things To Do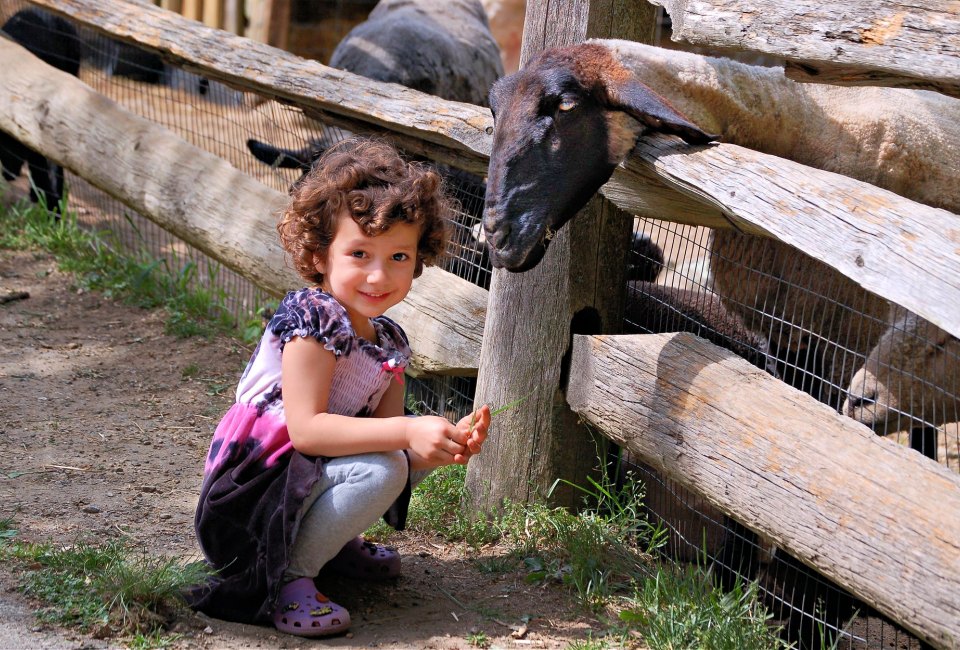 4/4/21
- By
Erin Real
There is no shortage of well-curated nature centers in Connecticut, but the Stamford Museum & Nature Center ranks among our favorites.
Celebrating its 85th year, this magical 118-acre campus is built on the four tenets of agriculture, environmental education, astronomy, and art. It houses a diverse array of exhibition and educational spaces indoors and out to fulfill its mission of inspiring creativity, discovery, and environmental stewardship.
Read on for our favorite things to do at the Stamford Museum & Nature Center and find more family-friendly outings in our Weekend Trips Guide.

Heckscher Farm is a working farm with plenty of animals to see and programs to explore. Photo courtesy of Stamford Museum & Nature Center
Opened in 1955, Heckscher is a proper working farm set on 10 acres of land. You'll find plenty of heritage breeds here, plus a dairy barn, creamery, silos, chicken coop, pigpen, and even an organic veggie garden and maple sugar house. It goes way beyond a basic petting zoo, hosting wonderful programming for all ages.
Located on 80-acres of property directly behind the Overbrook Nature Center, you find miles of nature trails to explore. It's a perfect place to enjoy the abundant wildlife, including wood ducks, red fox, white-tailed deer, and birds like the pileated woodpecker and eastern bluebirds. Trails wind through an old-growth forest of oak, birch, and beech trees and eventually lead visitors to the 88-acre Bartlett Arboretum at the property's north end.
RELATED: Exploring Teatown Lake Reservation With Kids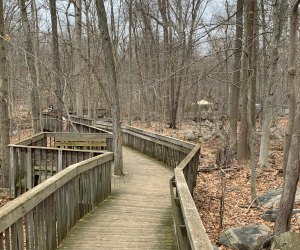 Wheels in the Woods is a universally accessible boardwalk trail through the Stamford Museum & Nature Center. Photo by Erin Real
This boardwalk path allows people of all abilities the opportunity to explore this epic nature preserve. It's one of the few universally accessible nature trails in Connecticut. Guests can meander the boardwalk as it crosses the brook and spot beautiful regional birds as they feed from the numerous bird feeders along the trail.
RELATED: 20 Spring Day Trips That Connecticut Kids WIll Love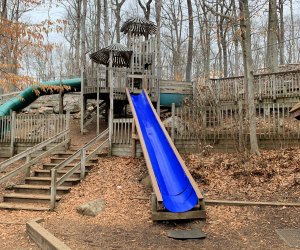 The Nature Playground introduces families to an animal's eye view of the forest and features a wild array of playthings. Photo by Erin Real
4. Enjoy Nature's Playground
Nestled into a rocky hillside amidst the nature center's woods, kids (and parents) can climb to a treehouse, then wind through a tubular slide or zoom down the otter trail slides. You can get a glimpse of what the world looks like from an animal's point of view while scampering through the giant hollowed-out log or climb into a hawk's nest.
North American River Otters are long-time residents at the Stamford Museum & Nature Center. These frisky mammals are known to burn the midnight oil, so if you want to see them in action, they're most active from early evening through the early morning. Winters don't slow them down either; they're busy even on the coldest days, and fun fact: Otters like to play more than most wild animals and can be found wrestling, sliding, diving, and chasing each other.
RELATED: Best Nature Centers to Visit With Connecticut Kids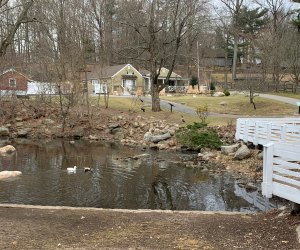 With more than 118 acres to explore, the Stamford Museum & Nature Center has plenty to keep your family entertained. Photo by Erin Real
This interactive exhibit and classroom is home to an assortment of live animals and plants from around the world, where visitors can interact with tarantulas, lizards, snakes, and more through interactive demonstrations and special events. After-school programming is also offered.
On select Friday nights, the Knobloch Family Farmhouse hosts visitors wanting to explore the night sky. View celestial bodies through telescopes and enjoy talks on planets, stars, galaxies, and more.
Know Before You Go to the Stamford Museum & Nature Center
Currently, all visitors must use the Farmhouse Entrance to access the Stamford Nature Center & Museum.
It is open daily, except for New Year's Day, Thanksgiving Day, and Christmas Day.
Admission is $14 for adults; $8 for children ages 4-17; children ages 3 and younger are FREE.
Masks must be worn by everyone ages 2+ when social distancing cannot be practiced, as well as at all times on the Nature Playground.
Places featured in this article:
---
Stamford Museum and Nature Center