Exploring the Mashantucket Pequot Museum and Research Center with Kids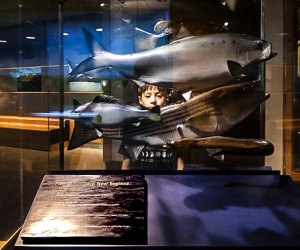 Nestled in the woods of Southeastern Connecticut, the Mashantucket Pequot Museum and Research Center explores the histories of Native Americans in the region. Owned and operated by the Mashantucket Pequot Tribe, the museum wows visitors of all ages with traditional arts and crafts, videos, permanent and temporary exhibits, and amazing archaeological finds. The displays bring the rich history of Indigenous Peoples to life while openning windows into what Connecticut looked like thousands of years ago.
Do your kids love history? There are lots of ways to learn about Connecticut's history in New Haven, Fairfield and Hartford too! For more great educational activities, check out A Visti to the New England Air Museum in Connecticut with Kids and the Stamford Museum & Nature Center: 7 Family-Friendly Things To Do.

The mastodon is one of the exhibits that kids will be surprised to see. Photo courtesy of the Museum
Follow the little purple paw prints on the sidewalk to the front door of the Mashantucket Pequot Museum and Research Center, where you will be greeted by helpful staff. After purchasing your ticket, jump on the escalator and descend (actually, I think we rode this three times) into the past where you will hear the rushing of water and be surrounded by faux ice-covered walls. Welcome to the ice age.
Why the Mashantucket Pequot Museum is an Awesome Family Destination
The history of these Native people's goes back to before Connecticut was truly inhabitable. This museum offers you a peek back into the time when the mastodon (much, much bigger in person!) and dire wolves roamed the land unhindered by humans. Kids will be amazed at the life-like statues of animals they have only read about in books. In this same area you will see some of the earliest Native people. You can hear their voices as a pre-recorded conversation takes place right in front of you. See their caribou-skin clothes and watch how they hunt the animals and interact with one another.
Moving forward, an exhibit of forest-life in Connecticut. It looks like it could be your backyard complete with squirrels, birds and other very familiar animals. Don't hurry by the small movie theatre which shows a short movie on how the Native made and used tools.
This 16th Century scene of daily life was just one of the ones that kids can get up-close to. Photo by Jennifer Coe.
Must See Things at the Mashantucket Pequot Museum
Our very favorite place in the museum is the 16-century Pequot village exhibit. This exhibit shows what life was like before the Europeans and afterwards. See how a young woman keeps the birds away from her corn, how the boys fish in the pond and what role the older members of the tribe have. Come close to the women weaving a bull-rush net for catching fish and walk inside a wig wam and see how much space the community had to come together around a fire and tell stories. It also depicts how life for the Natives drastically changed after the arrival of the Europeans as they faced new threats like warfare and devastating disease.
My son walked up close to the scenes looking at the details and asking questions. He really enjoy poking around inside the open wig-wams and imagining himself as a Native American.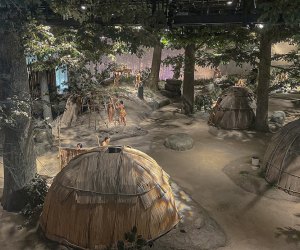 See how Native Peoples lived in years gone by. Photo courtesy of Mashantucket Pequot Museum.
He was particularly interested in the video vignettes of the English and Dutch traders and the Native community member as they explained their complex and changing relationship to one another and to the land. The museum also shows a documentary-style movie about the Pequot War where 600 Pequot men, women and children were killed. We decided to wait to see this until my son was a little older as it is reflective of how violent that time was.
As you move forward in time, you will also see how the Pequot attempted to re-establish their lives and return to their homes in Southeastern CT but simultaneously lost people to war, migration and white settlement.
One might ask why teach your children about the Native heritage of Connecticut? The reason is that they have been here for thousands of years and have almost lost and then had to fight to maintain their rich cultural heritage. Their story is truly one of perseverence.
To learn more about Connecitcut's Native history, make a visit to the Institute of Native American Studies.
Know Before You Go
The museum is open from 9 am to 5 pm, Wednesday through Saturday; last admission is at 4 pm. Admission is $22 for adults, $13 for kids 6 to 17, and free for children 5 and under. From July 1 to September 5, Connecticut children 18 and under (along with one accompanying Connecticut adult) receive free admission. Children under 15 must be supervised by an adult at all times. All backpacks and oversized bags need to be checked at the entrance. Strollers are allowed.