Engineering Fun at the Eli Whitney Museum with Connecticut Kids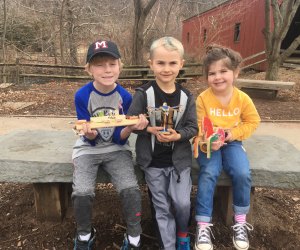 Got a future innovator on your hands? Perhaps an engineer in the works? Whether your budding genius is a novice inventor or a future mechanical pioneer, you're sure to find entertaining exhibits and engaging hands-on workshops to stimulate their minds at the Eli Whitney Museum. Eli Whitney is remembered as the inventor of the cotton gin and a leader in the concept of interchangeable parts which became the manufacturing standard in the Industrial Revolution. Teaching his workers how to craft tools and other skills required for his factories, Whitney's legacy of workshop education lives on inside the Eli Whitney Museum.For more fun near Eli Whitney, check out our top picks for things to do with kids in New Haven. Or, take a peek at our museum guide.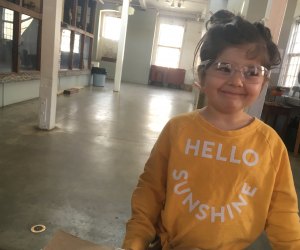 While there are historical exhibits about Whitney and many other notable inventors here, the museum considers itself more of a workshop: they build things. In a place where learning by doing is the focus, children can dive into invention by designing and building their own machine, constructing a little house, or perhaps erecting a Rube Goldberg contraption. They can even render a Leonardo da Vinci paddle boat. Or, a pinball machine.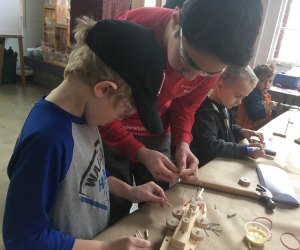 From Labor Day to Memorial Day the museum is open on Saturdays from 10 – 3 and Sundays from 12 – 5, offering weekend walk-in workshops sure to entertain and inspire little innovators of the next generation.
When you head to the museum on a weekend day, an apprentice will work side by side with your child as they assemble a project and begin to experiment. There are no time restrictions or registration required. Sessions last as long as you'd like them to, but they typically range from 20 minutes to an hour.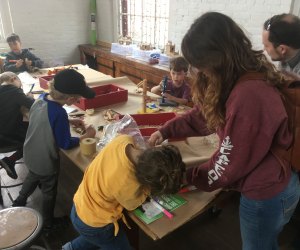 We stopped in on a Saturday morning, just after the museum opened for the day. There were about a half dozen children working on a range of projects, from a T-Rex to a Marble-maze Tree, to a Star Wars space ship. We selected a battleship and a rocking horse.
The projects took about half an hour to assemble and then another 15 to 20 minutes to color.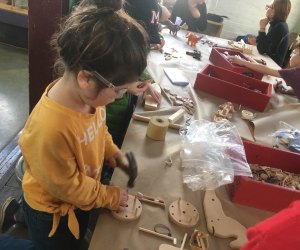 Prices may vary by project. Most are $10 for non-members and $8 for members.
The museum features several permanent installations to check out including The Marble Wall, where children can discover the power of marbles through this interactive wall space, and The Water Lab, featuring a series of water and sand tables that offer fundamental engineering experiences in a really relatable way for kids.
The museum sits on a historic site alongside The Mill River, flowing through the Whitney Armory site out to Long Island Sound and backs up to East Rock Park. On a warm day, you might spend an hour or so in the museum, pack a picnic and head out through the covered bridge and out onto the trails. Also, be sure to check out Eli Whitney Museum's summer camps. Tip: They fill up quickly.