Best Pizza Places in Connecticut for Families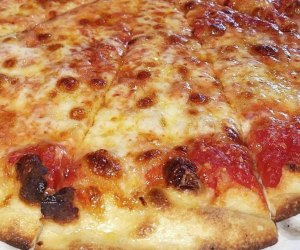 2/5/21
- By
Ally Noel
One food we know families can't live without—pandemic or otherwise—is pizza. Lucky for us, Connecticut doesn't just have passable pizza—it's famous for it! Next time the family has a hankering, consider venturing beyond your neighborhood and ordering a pie or two from one of Connecticut's best pizza places for families, from standard-bearers Frank Pepe and Roseland to relative newbies like Swyft and yPizzeria Marzano. Whether dining in or takeout, we can promise the pizza will be delicious, and you will be helping a small business through trying times for the restaurant industry.
Look to our Connecticut restaurant guide for more kid-friendly brunch, lunch, or dinner outings, including igloo restaurants and heated patios that are operating outdoors through the wintertime.
Frank Pepe - New Haven, Fairfield, Danbury, Manchester, West Hartford, Waterbury, Mohegan Sun
Let's start with the award-winning gold standard (according to the Daily Meal) of pizza - Frank Pepe. The New Haven location has been serving up coal-fired pizza since 1925. The crust is thin, the toppings are plentiful, and this legendary pizzeria lives up to its reputation. Make sure you try the classic White Clam Pie (and maybe a classic pepperoni for the kids).
Sally's Apizza has been proudly serving up some of the best coal-fired pizza in the country since 1938. It's White Potato pie is the house specialty. Make sure you try out The Tomato Sauce Pie and The Fresh Tomato Pie are always crowd-pleasers.
Rounding out the New Haven Trifecta of Pizzarias is Modern Apizza. Modern also delivers some of the best pizza in the country - including popular favorites like the Italian Bomb (bacon, sausage, pepperoni, mushroom, onions, pepper, garlic) or the Veggie Bomb (spinach, broccoli, olive, mushroom, onion, pepper, garlic). True to its name, Modern also offers gluten-free options.
Colony Grill - Stamford, Norwalk, Fairfield, Milford
Colony Grill may have started off as an Irish American Tavern, but these days, this spot is best known for what is arguably the best thin crust pizza on the East Coast. It's so good, there is no need to offer anything else —pizza is the only item on their menu! The Hot Oil Pizza is its claim to fame, but there is a wide variety of toppings for everyone to pick from, including gluten-free crust.
The pies at Coalhouse are "handmade the old fashioned way" and we are here for it. Everything here is made in house and by hand: the pizza dough, the sauces, the burger meat, and more. And, you sure can taste the difference. The pizzas are all personal-sized, so, everyone can get what they want.

Roseland Apizza has been open since 1935. Photo by Ally Noel
Roseland has received national recognition for making some of the best apizzas in the country. Roseland's doors opened in 1935, and they have been filling local bellies ever since You will definitely want to order their plain tomato pie (no cheese), the Roseland Special (sausage and mushrooms), or Mashed Potato (mashed potato, bacon, mozzarella.)
If you are up for something a little different, give Willington Pizza House a try. Known for its thick crust pizzas, this spot gives The Quiet Corner a claim to fame. Pizza fanatics swear by the national award-winning Red Potato Pizza and Seafood Casino Pizza. Its menu is stacked with tons of build-your-own options as well as a gluten-free crust.
Romanacci - Trumbull, Norwalk
Simply translated "Romanacchi" refers to something being "from Rome", so you are definitely in for an authentic Italian experience. Romanacchi pizza's come in two sizes: personal, and "enough to feed the neighborhood." This spot offers up a variety of authentic Italian treats ranging from panini, pizzas, pastries, and so much more.
Swyft has definitely brought a basic pie to the next level. Its pizza dough is a mix of five different organic flours. Many of the toppings are sourced from nearby Rock Cobble Farm, and the burrata is made in house. With pies intriguingly named Tiger King, The Alchemist, and Forager, an order from Swyft is definitely worth a drive up to Northwestern Connecticut.
Located right at the exit of the Route 8/ I-95 Interchange, Brewport's location makes it an ideal stop to grab a bite to eat. Brewport serves New Haven-style pizza and, as the name suggests, a wide variety of their own beers - including their very own Wellington's Root Beer. The menu here is simple and focuses mainly on pizza and salad, and there is a steady rotation of daily specials.
Comparatively a newcomer, Marzano's has been "bringing Naples to the Neighborhood" since 2009. But, in that time, it has established itself in the Connecticut pizza scene. The dough is "top secret", and its ingredients are locally sourced or imported straight from Italy. Stop by and order a "Grandma Pie; you won't be sorry.