Online Robotics Camp
Young Gates - Kids Online Personalized Classes

Artificial Intelligence with Scratch Online Camp
Young Gates - Kids Online Personalized Classes

Spark Math: Free Trial Class
Virtual
Sign up for our free newsletters.
Igloos, Greenhouses, and Heated Patios: Fun Outdoor Restaurants in Connecticut for Winter Family Dining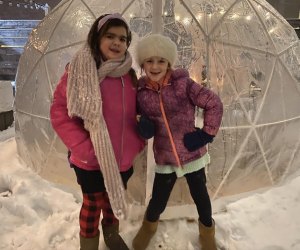 1/11/21
- By
Clementina Verge
It's not only safer to eat outside these days; it's more fun, too! As indoor dining in Connecticut remains limited, some restaurants have winterized their patios and deck spaces to include not only tents and heaters, but creative structures like igloos, greenhouses, and more. Because some of the best memories are still made around a dining table, consider the following family-friendly outdoor restaurants for a fun winter night out. Big appetites and cozy blankets are encouraged!
Make an afternoon of it by pairing a visit to one of these outdoor restaurants with a winter day trip to a local park or farm. Our Connecticut Winter Fun Guide includes more ideas for keeping kids safe, warm, and entertained in the coming months.

2021 editor's note: While we are trying to promote safer activities that occur outdoors or with social distancing guidelines in place, please keep your family and others safe by always wearing a mask and maintaining appropriate distance. If you arrive at a venue that appears too crowded, try using the see all locations in this article or "nearby" search feature on our event calendar to find something else to do.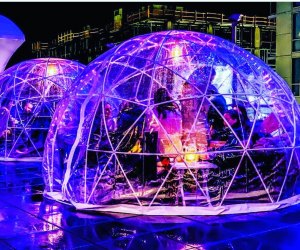 Sign of the Whale's rooftop igloos glow come evening. Photo courtesy of the restaurant
Harbor Point's rooftop lounge serves not just playful cocktails, but lunch, brunch, and dinner, too—in cozy igloos, no less! Be sure to reserve ahead, as the igloos, which seat 4 to 8 people on the weekends, are super popular. The "Igloo Menu" features calamari, wings, pizzas, and more.
Dining here is "like going to your abuela's house on a Sunday afternoon." Their igloos require advance reservations. The $50 cost per person includes Mexican & Spanish inspired dishes using ingredients from local farms and "rooted in authentic flavors." Think empanadas, quesadillas, and other delicious burrito and burger creations, including gluten-free options.
Whether you're craving crowd-pleasers like crabcakes, wings, pizza, or more exotic choices like Mediterranean haddock or veal saltimbocca, you will enjoy your meal in a heated gazebo draped in string lights or a heated boxcar that makes you feel like you are in Paris. Gas fireplaces keep diners warm and safe, but if you forget a layer, the restaurant sells warm merchandise bearing its name, such as hoodies, pullovers, and hats. Reservations required.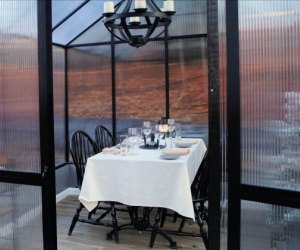 Warm up (and fill up) in the greenhouse. Photo courtesy of Millwright's
Eating in one of eight small greenhouses is available by reservation only and incorporates the following measures: only one party is seated per greenhouse per night and the greenhouses are sanitized after each use. Guests can choose between little or no contact with their server, and can use a remote or phone number to call for service. You'll enjoy the crème brulee even more, knowing it comes with enhanced safety.
Whether you choose to warm up with some butternut soup, savor Coq au vin, or indulge in profiteroles (the "or" can easily be replaced with "and"), this restaurant is "motivated by innovation and whimsy." If you are not comfortable dining inside (plexiglass barriers have been implemented indoors), choose a table in the outdoor garden where plenty of heaters guarantee a cozy experience. Reservations are required (for up to 90 minutes) and patrons must wear masks when not eating or drinking.
When the club reopens on February 11, families will be able to warm up inside or in the outdoor "Treehouse"—a heated, tented space that's cozy in any weather. Expect traditional seafood favorites like New England clam chowder, raw bar items, lobster, mussels, and scallops. There is also pork, beef, and veal for those who don't love fish.