10 Things To Love About the Connecticut Science Center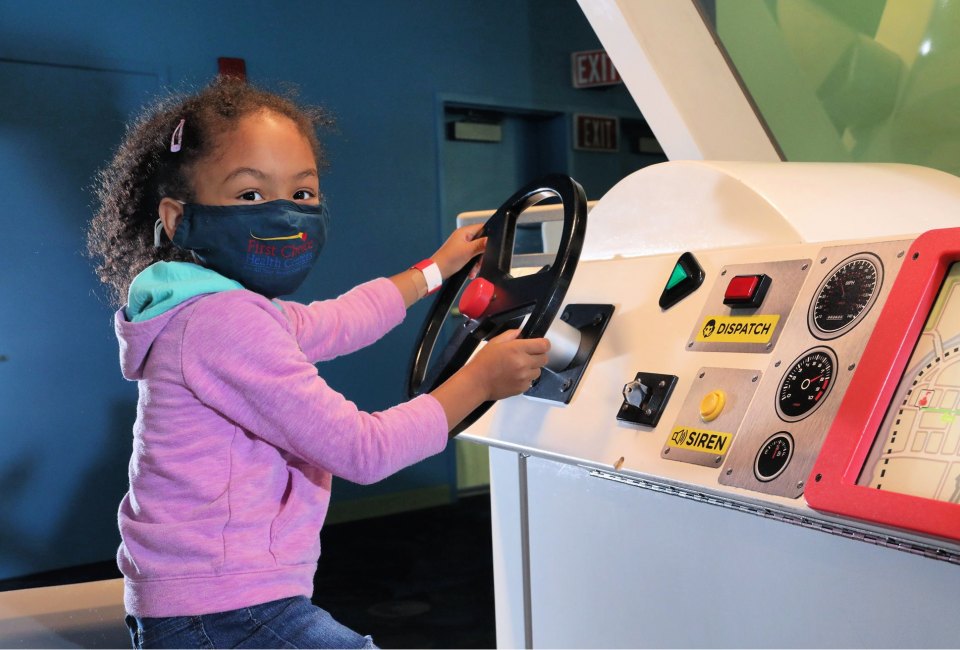 2/8/21
- By
Jennifer Coe
For local families with curious kids, the Connecticut Science Center is one of the best places to spend a chilly or rainy day. Kidspace, the Engineering Lab, Invention Dimension, and Our Changing Earth are just some of the exhibits and activities that simultaneously entertain and educate youth of all ages. Also, there are traveling exhibits that change regularly, making it worthwhile to come back to the Connecticut Science Center more than once during the year. Add in take-home projects and school vacation enrichment programs, and it's no wonder that a visit to this brainy museum is one of our favorite things to do in Hartford with kids.
Read on for our 10 favorite things to do at the Connecticut Science Center—including the new dinosaur exhibit—and don't miss our Connecticut Museum Guide for more enriching outings with kids.
Best Things To Do at the Connecticut Science Center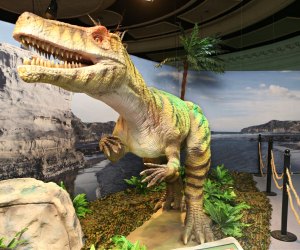 Dinosaurs Around the World is the newest exhibit. Photo courtesy of the Connecticut Science Center
New Exhibit: Dinosaurs around the World
The newest exhibit opening in March 2021 is Dinosaurs Around the World. Kids will "dig" the advanced animatronics, realistic landscapes, fossils and narrated displays. Located on Level 2, the Dinosaur exhibit will take up an entire side of the Museum and transport visitors back to Earth during the times of Pangea. Can you say Oviraptor, Amargasaurus or Hadrosaur?
Butterfly Encounter
Open year-round, Butterfly Encounter is an opportunity to be surrounded by beautiful flying creatures even when it's snowy outside. Inside the butterfly pen, there are between 40 and 50 different species of butterflies (new species are added weekly). The butterfly pen is kept at a balmy 80 degrees year-round with more than 30 different plant types. To enjoy the butterflies, the purchase of an additional timed-ticket is required for a 20-minute visit.
Kidspace
This is a favorite destination for any parent with children ages 7 and under. Kidspace has a huge water table for floating balls, gears and gizmos, and a tornado tube. Word to the wise: try to hold off on visiting till the end because there is a high probability kids will get seriously wet.
Engineering Lab Exhibit
For children interested in any form of engineering, the Engineering Lab should be on a must-visit list. Can you build a structure that will withstand an earthquake? Can you lift yourself off the floor? Do you know the basics in building electrical circuits?
Rooftop Garden
The beautiful Rooftop Garden is open all summer starting on Earth Day. Native species have been especially chosen and arranged in a water conserving design. There is a water feature as well and of course a great view!
3-D Movie Theater
(Note: The theater is temporarily closed due to the pandemic)
Visitors are surrounded by sights and sounds at the 3-D movie theater. View astounding productions on a 30x40 foot screen with Dolby surround sound. Movies played include: The Day the Dinosaurs Died, Black Hole Apocalypse and The Search for Life in Space.
Best Programs at the Connecticut Science Center
The Investigate program is an intensive science program open to teens. Photo courtesy of the Connecticut Science Center
STEM Kits
CSC has at-home STEM kits! Yes, you read that right! Each STEM kit is designed for 1-2 children and covers 3 entire weeks of STEM fun and learning. Included with the purchase of the box, your family will have a virtual one-on-one time with an educator from the Center. There are three different themes available: Take Flight, Celebrating Black History Month, and Walking with Dinosaurs. The boxes can be shipped or picked up and themes are changed regularly.
Investigate for Teens
Investigate is a program for teens in high school. If accepted into this program, they will learn about what STEM is, work with one another on hands-on projects and investigations as well as be assisted by educators and STEM professionals. This is an in-person program.
School Vacation Discounts
The Science Center is open with special programs on school vacation days. During February Vacation, every ticket is kids' price!
Space Saturday Overnights
(Note: The overnights are temporarily on hold due to the pandemic)
A completely memorable experience. Spend the night at the Science Center with some friends or as an individual (1 adult per 8 children). Explore the 165 exhibits, visit with live animals and participate in an educator directed lesson. Late night snack and breakfast included.
Places featured in this article:
---
Connecticut Science Center