Mark Twain House Welcomes Young Visitors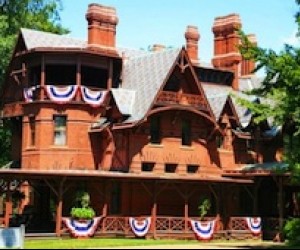 Living in New England, we are privileged to dwell in the birthplace of American literature. As Hartford County residents, my family and I enjoy close proximity to the home of one of the most entertaining literary voices: Mark Twain. Though lavishly designed and furnished, his Hartford mansion is a place where children were obviously comfortable, as are today's young visitors. It might also spark (or strengthen) a lifelong love of reading. This is a museum worth visiting.

A father of four, Twain related well to youngsters and offered clever advice especially for "good little girls" (he had three of his own): "You ought never to 'sass' old people unless they 'sass' you first." The short story containing this proclamation was enough to spark my sassy 8-year-old's interest in the author, and after three visits to his home, she still asks to return.
She especially likes the second floor of the house where the Twain daughters shared bedrooms and a bathroom. Whimsical wallpaper, antique dolls, and faded books are reminders of the girlie giggles that once echoed throughout the house.
Another hit is the "classroom" - the Twain children were homeschooled and various artifacts, including a piano gifted by their grandmother, offer insight into their education. The oohing and ahhing continue over the old telephone, typewriter, and the story of the cat who loved the billiard table in the author's third-floor office.
The picturesque 25-room house, named by National Geographic as one "of the best 10 historic homes in the world", also offers plenty for parents to admire. Imported furniture, a dining table set to welcome guests, and the daily menu posted in the kitchen are just a few glimpses into Victorian opulence.
Overall, expect a guided-tour (the only option) that lasts between 30 and 45 minutes; perhaps longer if your group has many questions, which our tour-guide readily answered.
Admission to the Mark Twain House and Museum, though certainly worth it, is not exactly a bargain at $18 per adult and $11 for children over 6. We have been able to save by using Groupon ($20 admission for two is offered a few times a year) or a museum pass from our library. If yours offers one, you will be able to purchase one adult ticket and get one adult or two children admitted free.
Twain described 20 years in his Hartford home as the happiest of his life. Plenty of free onsite parking, clean bathrooms (located in the museum center), and a café that features sandwiches, cookies, and locally-made Avery's Soda will leave you happy, too.

The Twain house is located at 351 Farmington Avenue, Hartford.