Cape Cod's Shining Sea Bike Path: Cycling in Falmouth, Mass with Kids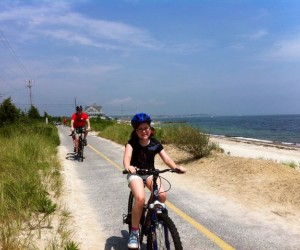 One of the highlights of our family vacation in Upper Cape Cod was the day we biked the Shining Sea Bike Path from Falmouth to Woods Hole. The Shining Sea Bikeway is 10.7 miles of converted rail trail traveling along cranberry bogs, salt marsh, a bird sanctuary and ocean beaches. We biked the three mile stretch between Falmouth and Woods Hole and back again. As a family we are not big bikers, but this trip is easy enough for family bikers of any level and a wonderful outing.


We rented bikes from
Corner Cycles
in Falmouth, which is conveniently located just two blocks from the bike path so we could park at their shop and start our journey right from their front door. Corner Cycle rents kids bikes and trailers, as well as tag-along tandems, as well as adult bikes, so, no matter what age or ability your children are, they have a solution that should help get you on the road. If you are planning to start the trip at the North Falmouth end of the trail, I understand that
Art's Bike Shop
is similarly set up.
Although I would love to have biked through the North Falmouth section of the trail through pink cranberry bogs and salt marshes filled with wildlife, we headed South toward Woods Hole on our trip. The first section of the trail that we rode is a bird sanctuary. There are footpaths for exploring the sanctuary and bird watching, but we stayed focused on our ride and just enjoyed the shade provided by the woods.
We rode straight through to Woods Hole, making lots of water breaks to rest the littler legs. The trail ends at the Martha's Vineyard Ferry Terminal in Woods Hole, which is a little jarring in its industrial feel after our bucolic ride, but we quickly got over that as we popped in to
Jimmy's
right across the street for a much needed ice cream after our long, hot ride.
After that emergency treatment was administered we walked up Luscombe Avenue to check out the town. Turning right onto Water Street we found
Pie in the Sky Bakery
, an adorable little place with outdoor seating, delicious breads, soups sandwiches and baked goods. Still hot and tired we stopped in at
Coffee Obsession
where we enjoyed the air conditioning and homemade Italian sodas. Next to our table was a shelf of games and books so we sat awhile, resting our muscles and cooling off.
Of course, there are lots of other
things to do in Woods Hole,
but we had a long ride back home, so, after our restorative lunch, we jumped back on our bikes and headed back on the bike path. A stop at Trunk River Beach, a rocky strip along the ocean was a refreshing break on the way home. After a swim and some play time, we didn't mind being wet and salty as we got back on our bikes. It was worth it and the hot summer sun dried us off quickly.
The 6.5 mile round trip ride was definitely challenging for our 11 year old, but she handled it well. My 6 year old rode on the rented tag along and could contribute his pedal power or just ride when he got tired, which made the long trip doable with a smaller child. I don't know if the kids would pick riding the Shining Sea Bike Path as their favorite day of this vacation. We did
lots of fun stuff
that was less grueling, for sure, but it was definitely one of my favorite days and one I remember for the beauty of the ride and the enjoyment of rising to the challenge together as a family.
You can find directions to the Shining Sea Bike Path as well as a great map of the path, noting attractions along the route, facilities, bike rental and more on the
Falmouth town website.
The trip I detailed above would be from point 6 on that map to Woods Hole.