Best Places to Go Bowling With Boston Kids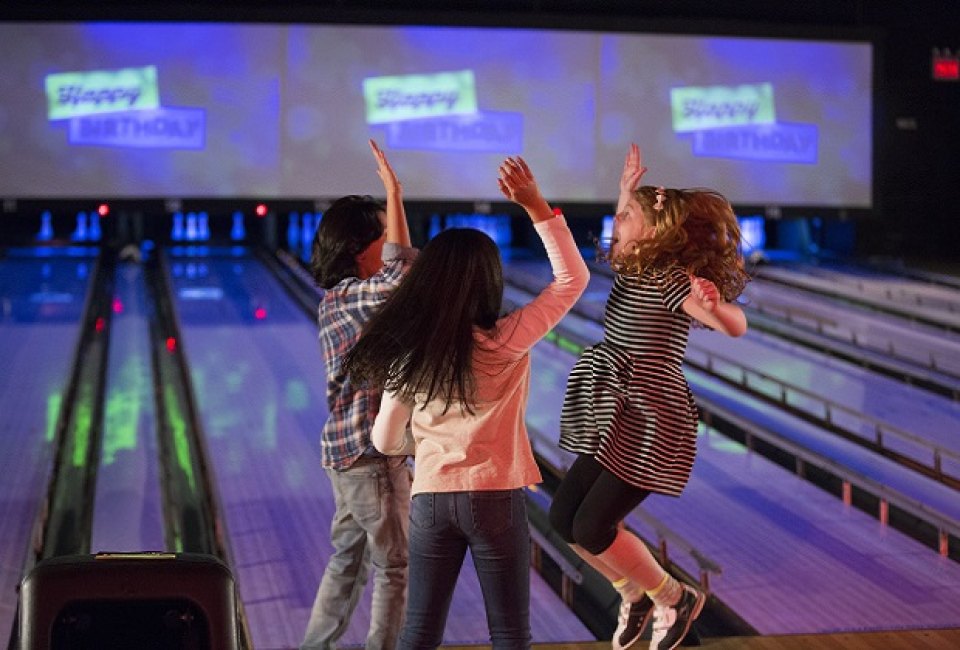 2/12/16
- By
Scott Wallask
Bowling is fun for all ages, but hitting the lanes with children is particularly enjoyable because it's an activity that's hard to strike out with, whether a kid is on target hitting the pins or just whips the ball down the gutter. And not a lot has changed in bowling since parents were young.
Greater Boston offers a lot of bowling choices, many of them family-friendly places that have been around for decades. Be warned that this rundown skips some very cool bowling meccas, such as Lucky Strikes on Landsdown Street in Boston or the King's chain, because those places attract 20- and 30-somethings who come to drink and eat well while they bowl – not the best spots to bring your 5- or 6-somethings to. With that in mind, here are a dozen bowling lanes that cater to families looking for a fun afternoon out or an indoor birthday party place.
Many places offer both candlepin and ten-pin bowling. Estimated costs are based either on renting one lane for an hour or on a group of four people bowling one game each. Note the prices may increase for special events such as glow-in-the-dark bowling. Birthday parties cost extra, too.
Boston Bowl
820 Morrissey Blvd., Boston, MA 02122
Cost: $
This place is open 24 hours a day, which is great news for parents who need to get the kids out of the house at odd hours of the day. The bowling alley offers leagues for youngsters, and there are several birthday party packages to choose from. There's also a large, kids-themed arcade, at which the games spit out tickets to redeem at a prize counter.
South Boston Candlepin
543 East Broadway, Boston, MA 02127
Cost: $
Calling itself "an old bowling alley," this affordable spot pushes its family-friendly vibes and nostalgic environment. Bumper lanes are available, as are birthday bashes (although party details are hard to come by online).
Lanes and Games
195 Concord Turnpike (Route 2 east) Cambridge, MA 02140
Cost: $
This two-floor landmark on Route 2 near the Alewife Red Line station holds an incredible 50-plus lanes and a pro shop selling equipment and accessories. Saturday morning junior leagues welcome bowlers from ages 5 to 20. Birthday parties can also be booked here, and bumper bowling is available upon request.
Needham Bowlaway
16 Chestnut St., Needham, MA 02492
Cost: $
This subterranean spot in Needham Center is very popular with families, particularly during school vacation weeks, when it is outright mobbed. It's the type of place where it's expected that someone else's toddler will wander into your lane to toss a ball. As a nod to the younger crowd, every lane always has bumper pads up along the gutters. No-frills birthday parties are offered.
Woburn Bowladrome
32 Montvale Ave., Woburn, MA 01801
Cost: $
Opened in 1940, this downtown Woburn stalwart celebrated its 75th year in business in 2015. Even more impressive is the alley houses 40 lanes. The establishment also offers a detailed array of birthday party options if parents want to book a special day for their youngster.
Cape Ann Lanes
53 Gloucester Ave., Gloucester, MA 01930
Cost: $
This affordable, down-to-Earth Gloucester alley offers parties and bumper bowling for kids. The spot is big on presenting a family-friendly atmosphere, including kids-only special pricing on weekday afternoons from the close of school until 5 pm.
Leo's Super Bowl
84 Haverhill Road (Route 110), Amesbury, MA 01913
Cost: $
Unlike like most lanes, Leo's divides its Saturday morning junior leagues into two age brackets: ages 6 to 12 and ages 13 to 17. Birthday parties include free bowling-themed invitations and tokens for an adjacent arcade.
Brunswick Zone Lowell Bowl
647 Pawtucket Blvd. (Route 113), Lowell, MA 01854
Cost: $
With 44 lanes, this large site sits near the Rourke Bridge in the Pawtucketville section of Lowell. Brunswick Zone gets points for its humorous, mom-themed video clip promoting its kids birthday parties.
Westgate Lanes
5 Westgate Drive (Route 27), Brockton, MA 02301
Cost: $
This large bowling alley with 62 lanes is open 365 days a year. On Saturday mornings, bowlers ages 5 to 19 can compete in Saturday morning junior league, while toddlers can enjoy the "pee-wee bumper bowling" league. Birthday parties are also offered.
Ryan Amusements
1170 Main St., Millis, MA 02054 (other Massachusetts locations, too)
Cost: $$
Owned by a family steeped in Massachusetts bowling alley history, Ryan's in Millis, along with five other sister lanes south of Boston and on the Cape, provides bumper bowling and bowling ramps, which are basically little slides that kids can aim a ball down for a straighter shot to the pins. There also are birthday party options that include admission to the adjoining arcade.
AMF Town & Country Lanes
405 Boston Turnpike (Route 9), Shrewsbury, MA 01545
Cost: $
This location (pictured above) is along Route 9 in Shrewsbury just east of the Oak Street intersection. Free Wi-Fi will keep parents happy among the 40 lanes here, and birthday parties include the guest of honor receiving a bowling pin signed by friends and family.
---
Photo courtesy of AMF Country Town & Lanes
Click Here to Sign Up!
i