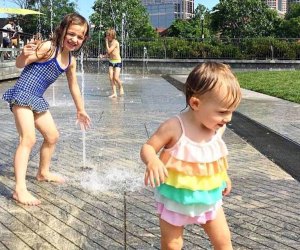 Best Spray Parks and Water Fountains for Preschoolers in Boston
Boston has a lot of big, splashy, exciting spray parks and fountains that can be great fun for families in summer. But I've learned the hard way that not every water playground is suited for preschoolers.
A few years back, when one of my sons was 4, I took him and his brothers to the Christian Science Plaza fountain along Huntington Avenue. To me as a parent, it was a wise selection: awesome fountain, I didn't have to walk far from the parking spot, and bathrooms were nearby in the Prudential Center. But my 4-year-old kid was horrified by the fountain and how big it was. It took him a half hour to even wander up to the where the water shot out of the ground, and soon after he got soaked and was freezing. It was not the best choice for a young child.
With that thinking in mind, we've rounded up some gentler, preschooler-friendly local fountains and splash pads. Be sure to check out these outdoor pools with fun slide and spray features for more ways to cool off this summer, or if a climate-controlled environment is more your family's speed, consider a visit to a preschooler-friendly indoor water park. There are plenty of ways to get wet around Boston—without tears!
Copley Square Fountain—Copley Square
This older fountain, located right off the Green line, rests in the shadow of the looming Hancock Tower and across the street from Boston Public Library. It is not unusual to see dozens of people dipping their feet into the running waters, and young kids can even go knee-high in the pool.
Sculpture Fountain in Norman D. Leventhal Park—Post Office Square
Take the Blue or Orange line to the State Street Station to check out this fountain. If you've got kids with different tolerances for splashing water, the sculpture fountain is a great option. Children can run around the outer bench ring and not get wet, dip their fingers or toes into the water plumes coming out of the ground (see photo above), or dash right through the main bronze-and-glass fountain and get soaked.
OUR LATEST VIDEOS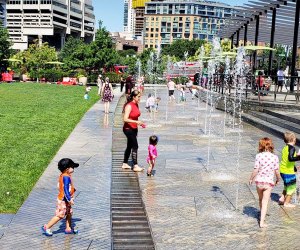 Rings Fountain. Photo courtesy Rose Kennedy Greenway Conservancy
Rose Kennedy Greenway Fountains—North End, Wharf District, Chinatown
There are seven different places to cool off on the Greenway, but these are the most tot-friendly, and all within walking distance of each other.
Canal Fountains, North End Parks—New Sudbury Street and North Street
The gentle running water of these close-to-the-ground fountains welcome younger kids, who can spend hours there trotting back and forth across the spouts. It's amazing how engrossed a toddler with a beach pail can get here.

Labyrinth Fountain, Armenian Heritage Park—Cross Street and Mercantile Street
Youngsters and adults will get a kick out of walking along the winding stones of this interesting park, which features a small fountain bubbling at the center.

Rings Fountain, Wharf District Parks—Milk Street
This fountain quickly became a landmark in downtown Boston when it opened, as it's easy to see from a distances thanks to the jets of water that shoot up from it. For that reason, only brave preschoolers will like going into the fountain, although it's great fun just to watch the action from a safe distance, too.
Public Garden Fountains—Back Bay
A series of four small fountains dot the perimeter of the lagoon here. Kids can easily climb into the fountain basins and run around in the shallow water.
Bremen Street Park Spray Deck—East Boston
This huge park in East Boston features a circular spray fountain. There are also a bunch of playgrounds and swings just a short walk from the spray deck.
Artesani Park Spray Deck—Brighton
Located on Soldiers Field Road in Brighton along the Charles River, this park features a wading pool with tall fountain spouts and a newer spray deck, the latter of which if far better for preschoolers. There's plenty of free parking here, too.
Waltham Spray Parks—Waltham
This city has a surprising amount of spray decks (ten at last count). The best one is Fitch Spray Park at Ash and Crescent streets, which features an array of odd shapes and layouts that can keep young kids busy.
Ryan Wading Pool—Mattapan
This shallow wading pool is a great way for your little ones to play in the water without all the spraying. For more daring toddlers there is also an animal-themed splash area.
Beaver Brook Reservation Spray Deck and Playground—Belmont
Designed for kids 5 and under, your toddlers won't have to worry about the big kids splashing. Water does spray, but your kids can just climb on the rocks on the edges if they don't like to actually be sprayed. There is also an adjacent playground.
Bradley Palmer State Park and Wading Pool—Topsfield
For kids that want to cool off but don't want to get splashed, there is a shallow wading pool perfect for toddlers. Next to the wading pool is also a fun splash area for older siblings or daring toddlers and a playground. There is a $5 parking fee for this park and the lot fills up quick on hot days.