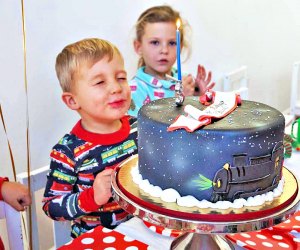 14 Great Indoor Kids' Birthday Party Places around Boston
If you want to have a wonderful party for your child, but you're overwhelmed by the choices and don't have time to mine for information, I have a gift for you: Recommendations for 14 super-fun, parent-lauded indoor birthday party places in the Boston area, and everything you need to know about them.
The places featured are different in many ways, but they all have some things in common: They have been recommended by local parents, are indoors (so you don't have to worry about the weather), minimize the amount of work you have to do, and offer parties that kids with a wide range of interests enjoy. So read on, pick a place, and have a party your child will be talking about for a long time to come. Since prices may fluctuate and there's a range of packages at many places, we give you an idea of costs ranging from $ (inexpensive) to $$$ (more pricey).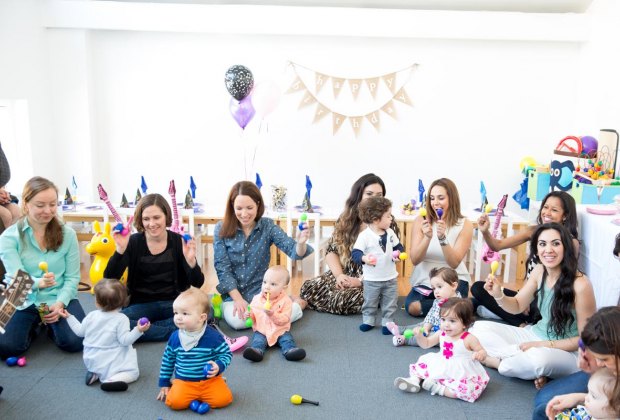 At the Little Lovage Club you can choose your own party theme - like Little Musicians - for a unique party spin
1. Little Lovage Club—Boston
Little Lovage Club boasts "Instagram-worthy parties," and they aren't kidding: The clean, lovely, and light-filled space bucks every stereotype of the birthday "partyplex" you might imagine when considering an indoor bash for your child. They'll do everything for you for one of their popular theme parties, which include "Farm in the City" (with cuddly friends), "Fairy Tea Party," "Little Musicians," or whatever you like. That includes setting up beautiful decor related to your kid's passion du jour, running play activities (there's a coordinator for every party), serving lunch or brunch, and creating party favors.
When: Saturdays and Sundays morning through evening
How long: 2 hours
Food: As part of their themed parties, Little Lovage will supply food, drinks, and treats.
Number of guests: Maximum 16 children
Cost: $$$
Contact: email kelsey@littlelovageclub.com
Good to know: If you'd prefer to handle details yourself, you can rent the space for three hours.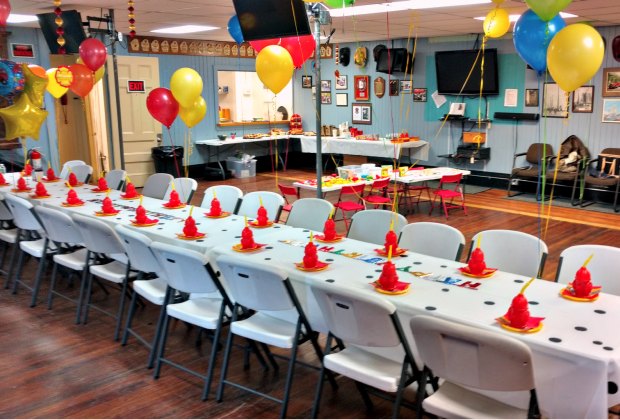 2. Boston Fire Museum—Boston
The Boston Fire Museum is a gem of a place for a child's birthday party. It's located in a beautiful circa-1891 firehouse, and the staff takes good care of you from the moment you walk in the door. And for two full hours of this great service, it's less expensive than many indoor party places, especially in the city. Parties include a tour of the fire museum (kids can climb on the old engines and try out gear) and exclusive use of the entire second floor, with one large room for games and running around and a smaller room with a table that seats 24 kids. All the kids get their very own fire helmet as a gift. The museum also supplies a host/hostess to help with the party.
When: Saturdays and Sundays at 10:45am and 2pm
How long: 2 hours
Food: You bring your own food and supplies. You can also have pizza delivered from one of the neighborhood pizza joints on West Broadway.
Number of guests: Maximum 70 adults and children
Cost: $-$$
Contact: email birthdayparty@bostonfiremuseum.com
Good to know: There will be other visitors in the museum, but not on the second floor. You get a reserved, free parking spot nearby, which makes it easier to move gear in and out of the party.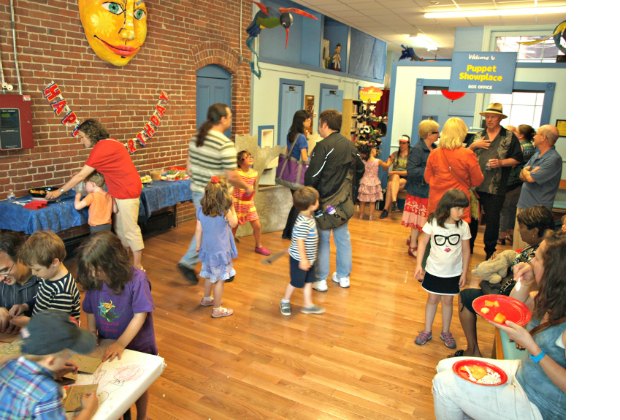 3. Puppet Showplace Theater—Brookline
Not many people know that this charming little theater in Brookline Village, a magnet for some of the country's best puppeteers, hosts well-run birthday parties, too. Hosts for a Puppet Showplace Theater bash can have a "public party" that includes a puppet show (part of a public performance) and then rental of their well-lit lobby for a half-hour or hour; or a "private party" that features an exclusive puppet show, use of the lobby for an hour, and a theater staffer to help run activities.
When: Check calendar for showtimes; parties are designed around them
How long: 1.5-2 hours
Food: You bring your own food and supplies and the theater will have tables and tablecloths on hand. A small kitchenette is helpful for assembling food. Theater staffers will help set up your decor, food, and activities during the performance.
Number of guests: A maximum 60 people fit in the lobby (including children).
Cost: $-$$$
Contact: email boxoffice@puppetshowplace.org
Good to know: A non-refundable $100 deposit is required to book a party. The gift store includes small puppets starting at a quarter that are perfect for party favors. You can also book a touring show to come to you if you prefer an at home party.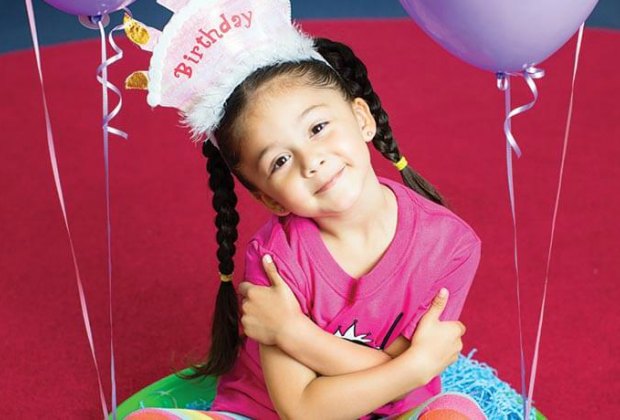 4. My Gym Boston—Allston/Brighton (there are also locations in Newton, Framingham, Burlington, and Medfield)
My nine-year-old daughter had her third birthday celebration at My Gym, and she still talks about it. She says it was her best birthday party ever, and I don't disagree. Kids love My Gym parties because they're fun – the perfect balance of structure and free play, physical activity, and relaxation. Parents love My Gym parties because they have to do so little to yield so much fun. My Gym has three different party packages available, ranging from the basic "Grand" to "Premier", which includes food and all the bells and whistles. All packages can pick a party theme. Add-on options include a bouncy house, pizza for the adults, an extra ½ hour of party time for the last party of the day, and a donation option for those who want to make their celebration a philanthropic opportunity.
When: Friday evenings, Saturdays and Sundays
How long: 1.5 hours.
Food: You bring your own or can add on pizzas, unless you go with the Premier birthday party package which includes both the pizza and cake.
Number of guests: 20 children included in all three packages; additional children may be added for a fee. No more than 30 children can be on the gym floor.
Cost: $$-$$$
Contact: 617-789-3669, bostonstaff@mygymboston.com
Good to know: There is a $125 non-refundable deposit payable at time of reservation; balance is due at conclusion of party.
5. Jump On In—Boston (there are also locations in Woburn, Haverill, and Lowell)
Parents we know report that a Jump On In party is the least amount of work for the greatest amount of fun. The best thing about this place? The kids are tired after all that jumping, sliding, and climbing. If you want the detailed scoop on Jump On In of Boston, read our review. If you choose the Big Jump Party package, you get 2 hours total (45 minutes in first gym followed by 30 minutes in second gym, and 45 minutes in the private party room), a sound system, and paper goods.
When: Daily starting at 9 m (there is no pizza available for the 9 am party). Parties can be booked online.
Food: You may bring your own cake, soft drinks, or snacks to enjoy in the party room, but no food or beverages are allowed in the gymnasium areas. They have an exclusive arrangement with their local pizza shop, so they do not allow people to bring in pizza. You order directly from them. There are lots of other food and drink options you can order through Jump On In too if you prefer they do all the work.
Cost: $$-$$$
Contact: 617-789-5867 or Boston@jumponinfun.com
Good to know: Socks are required, and having the guests' parents sign waivers before the party will help to make things go smoothly the day-of. The online invitation option, which you can set up through the website, is a nice and convenient touch.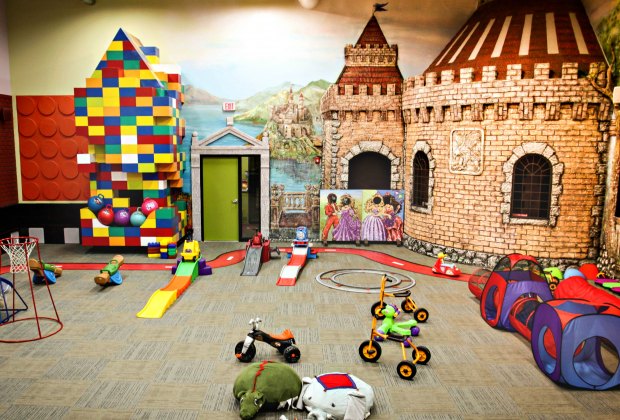 6. Jump N' Slide—Newton
This huge play space in Newton is a hot destination for birthday parties. Jump N' Slide packs a lot of fun into each party, with active play areas that suit both toddlers and bigger kids, lots of big inflatables, and even an "arcade castle." Staffers help set up the party room, serve food, and direct the kids in the play areas. Perhaps most unique at all: There's no time limit for parties. There's structured play for two hours, but partiers can stay and play as long as they'd like. You can choose from four party packages—some packages include theme options like Lego Party and Tiny Chef. There are also add ons like build a stuffed animal and a pinata to enhance any party package.
When: Thursday and Friday evenings, Saturday and Sundays all day. Parties can booked online.
How long: 2 hours structured time; kids can stay and play longer
Food: Party packages include pizza, drinks, and cupcakes. There's also an on-site kitchen you can order food from.
Number of guests: 10-15 kids (customized parties allow for more)
Cost: $$-$$$
Contact: 617-906-6206 or hello@jumpandslideboston.com
Good to know: A non-refundable deposit of $100 is required to book a party. Waiver forms are required for each child, and filling them out online in advance of the party helps.
7. Dance Place—Arlington
Whether your child loves to dance, dress up, or just roll around on a mat, Dance Place has a birthday party celebration already planned out for you. All you do is invite the kids and bring the food – they do the rest. You get private use of both studios and the teachers lead the activities. Everyone goes home happy, with a craft they made at the party in hand. And the cost for a two-hour party is about half of other party places around the city. You may choose from one of three party themes; Tumbling Party, Dance Party, and Dress Up Party.
When: Sundays
How long: 2 hours
Food: You bring your own food, which you may store in their fridge. You can order pizza from the restaurant across the street, My Brother's Place.
Number of guests: Up to 14, including the birthday child.
Cost: $
Contact: 781-643-8456 or info@arlingtondanceplace.com
Good to know: Once you set your party date and choose a theme, they will give you inserts for your invitations that include a description of what the kids will be doing and directions to Dance Place.
8. Create a Cook—Newton
With Top Chef Junior and other cooking shows becoming more and more popular among kids, a culinary party is definitely on trend. If you have a child 5 or older, you can book a two-hour party for up to 12 attendees at Create a Cook, the Newton school that also offers popular kids' cooking classes throughout the year. Birthday boys and girls get to pick a theme and menu ranging from pizza to Asian food to "cupcake wars."
When: Saturdays (Sundays are periodically available, call to check).
How long: 2 hours
Food: There are eight different menu variations to choose from, and kids make and eat their food. DIY cupcakes and beverages are also provided for children.
Number of guests: 12, including the birthday child.
Cost: $$$$
Contact: 617-795-2223 or info@createacook.com
Good to know: All guests must be 5 or older, Cupcake Wars parties are for kids ages 8 and up. Call if you want to have a party with more than 12 guests, there are options to rent two kitchens.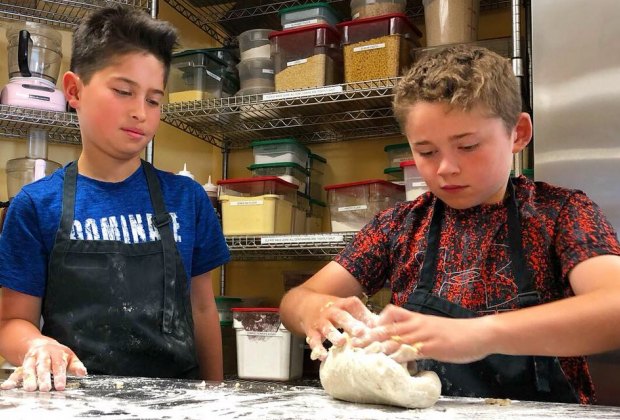 ​
Create A Cook. Photo by Aley Lewis
9. Goldfish Swim School—Brookline (there are also locations in Braintree, Burlington, Marlborough, Milford, Needham, Norwood, Rockland, and Westford)
If your birthday boy or girl loves the water, Goldfish Swim School in Brookline is a great choice for a birthday party to remember. The two-hour party packages include private access to the pool as well as t-shirts, invitations with matching envelopes, tropical decorations, balloons, centerpieces, cupcakes and drinks, and nice paper goods. And to make it even a better deal for busy parents, all setup and cleanup is provided as well. Jump in and enjoy!
When: Saturdays from 2 to 4pm; limited Sundays may be available
How long: 2 hours
Food: Cupcakes and beverages are provided for children. Parents can choose to bring pizza in themselves; the school also can order directly from a number of local pizza shops.
Number of Guests: No specific maximum but must pay for extra lifeguards for parties large than 24 guests.
Cost: $$$$
Contact: 781-417-5315
Good to know: One adult is required to be in the pool per child that can not swim independently.
10. Imagine Playspace—Cambridge
With a ball pit, bouncy house, slides, swings, climbers, three-level ship, and special kids "play town" (plus a whole lot more!) Imagine Playspace is a party spot that has it all for children up to age eight. Five private rooms and two large halls are available for party rentals in standard two hour time slots; if your group is having too much fun to leave (and let's face it, they probably will be), you can have the option to extend your playtime for an additional cost. Hooray for flexibility!
When: Daily
How long: 2 hours, with an additional 15 minutes before and after the party for setup and cleanup
Food: Parents provide food, cake, and beverages (peanut products are not permitted). The play space can provide paper goods.
Number of Guests: Various party packages from 25 to 100 guests
Cost: $-$$
Contact: 617-661-0077 or imaginecambridge@gmail.com
Good to know: Discounts may be available for parties that take place Monday through Thursday (with the exception of holidays).
11. Rock On Adventure—Norwood
For little thrill seekers, a rock climbing party is a great option! Pick a combination of three party themes—Rock Climbing, Dodge Ball, Nerf Tag, Dance Party, and Kids Ninja Warrior—to customize your event plus every kid gets to go for a ride on the zipline. All parties include at least two instructors to help guests get vertical and run activities and your event is private so you don't have to share the space. Paper goods are supplied, but you're welcome to bring in any decorations or themed decor.
When: Daily, parties can be booked online.
How long: 2 hours
Food: You can bring in your own food or have them order pizza for an additional cost.
Number of Guests: 10 guests are included in package but you can pay for additional guests.
Cost: $$-$$$
Contact: staff@rockonadventure.com
Good to know: All attendees must fill out a waiver if it's their first time visiting. Waivers are available online so guests can do it advance.
12. CoCo Key—Danvers
Don't let the weather dictate whether or not you can have a pool party! Kids can splash down water slides, ride tubes around Adventure River, dare to stand under dumping buckets and more at this indoor water park. Depending on the party package, guests can splash around for 4 hours or keep the partying going with an all-day pass. Throw on a towel for pizza and cake in a party room, all run by your personal party Captain. You can even add on arcade cards if you really want to push the party over the top.
When: Daily, parties can be booked online.
How long: 4 hours
Food: Pizza or hot dogs and drinks are included in most party packages (no outside food), option to purchase cake through them or BYO.
Number of Guests: 10 guests are included in each package but you can pay for additional guests.
Cost: $$$-$$$$
Contact: 978-777-2500
Good to know: When doing your head count remember that ALL guests are counted, you must pay for swim and non-swim participants, although non-swimmer guests are cheaper.
13. MuckyKids Art Studio—Cambridge
It's ok to get messy at these fun crafting parties—and you don't even have to worry about clean up! The studio will work with you to come up with a project for literally any theme your birthday kid can come up with. Parties are private and take over the whole studio and MuckyKids will provide instructors to help guests with their projects.
When: Sundays
How long: 1.5 hours
Food: Bring in anything you'd like, there is no food provided.
Number of Guests: 12 guests included (option to pay for more)
Cost: $$-$$$
Contact: info@muckykids.com
Good to know: While you have the option to pay for more than 12 guests, the studio is cozy, so if you are inviting more kids you may want to limit the adults.
14. Legoland Discovery Center—Somerville
This one is a splurge but it won't be a party your birthday kiddo will soon forget. Your party team will take care of everything—food, paper goods, goodie bags for guests, set up and clean up are all included, so you just literally need to show up. Spend an hour in the party room where guests will work on a special LEGO build and then have pizza and cake. Admission to the main area is included, so after the party room set the kids free to hit the rides, catch a 4-D movie, and play on the indoor play structure.
When: Daily
How long: 1 hour in private room, unlimited time at attractions. Parties can be booked online.
Food: Pizza, cupcakes, and drinks are all included.
Number of Guests: 25 guests
Cost: $$$$
Contact: bostongroups@legolanddiscoverycenter.com
Good to know: While admission is included, you and your guests can not enter Legoland before the party time, the exception is the 5 pm party. Guests can stay to play as long as they would like after the party room time.
All photos courtesy of the facilities