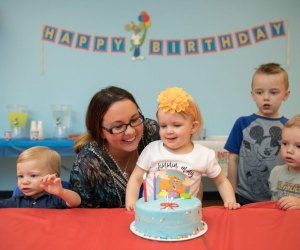 Indoor Birthday Party Spaces in Boston for Kids in 2021
Whether your child's birthday falls in winter or you'd just rather not worry about weather (or your house getting wrecked), Boston's indoor birthday party spots are great for no-stress kids' celebrations. From sports to crafts, these kids' party venues appeal to a wide range of interests, and offer many amenities, like supervision and paper goods.
These play spaces, gyms, and crafting spots are offering kids' parties in 2021, for kids who are yearning for an in-person celebration. All businesses are operating with enhanced safety measures, including capacity restrictions and mask mandates, so connect with the party places to learn more about how they are keeping little party animals entertained and safe. For more birthday outing ideas, check out these indoor play spaces, igloo-themed restaurants, and of course, our favorite birthday cake bakeries in Boston.
2021 update: At press time, many popular kids' birthday spots, including Boston Fire Museum, remained closed for parties due to COVID-19. Check with these businesses directly to learn more when they plan to start booking parties again.