Ninja Warrior Gyms, Obstacle Courses, and Parkour in Boston for Kids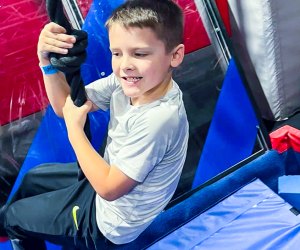 2/10/23
- By
Elyse Andrews
When the weather keeps you inside and your child is literally climbing the walls, it's time to head to ninja warrior gyms, obstacle courses, and parkour facilities in Boston. These gyms channel the TV show American Ninja Warrior. Just like the show, the indoor obstacles at these family-friendly gyms and indoor play spaces in Massachusetts require speed, agility, balance, and strength to complete. They are perfect for little monkeys who love to climb and appreciate a physical challenge. If your kids are inspired by the show, or just need a productive way to channel their energy, we've got a great list of Boston-area gyms with obstacle courses perfect for aspiring ninja warriors.
We love Boston's indoor play spaces for helping kids get their energy out. Find that and more in our Boston Indoor Fun Guide; it has great ideas for keeping kids active when it's cold or wet outside. And if your little one isn't so little anymore, see our guide to Teen Birthday Parties in Boston: Cool Party Places for Teens.
Ninja Warrior Gyms, Obstacle Courses, and Parkour - West of Boston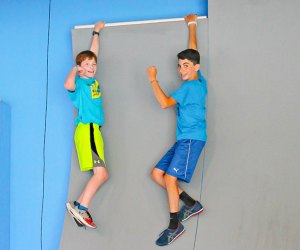 Hang out with other ninja warriors at obstacle courses near Boston. Action Athletics photo by Kelly Heyworth
Action Athletics in Wellesley and Norwood houses ever-growing numbers of obstacles designed by actual American Ninja Warriors, so you know you're getting the real deal. The gyms offers classes for kids ages 4 to 14 years old in nine-week sessions. In the classes, little ninja warriors learn STEAP—strength, technique, experience, accountability and positivity—while engaging the obstacle courses. Action Athletics also offers private training and open gym, so you can tailor your ninja's training to your schedule. These ninja warrior schools also host programs during school vacation weeks.
Editor's Note: Action Athletics is planning on opening an obstacle course facility in Boston's Allston neighborhood in Spring 2023!
Choose from Ninjastics (ages 4 to 5) or Ninja Trainer (ages 5 to 7) at Exxcel Gymnastics and Climbing. The classes packed with obstacles, challenges, and more. This gymnastics facility features the perfect equipment to train little ninjas while they learn about teamwork and following directions. Classes are offered in seasonal blocks. Exxcel also offers ninja warrior birthday parties.
Obstacle fitness organizes obstacle course parties and events, bringing the obstacle course to you! The obstacle course can be in your yard or the neighborhood park for a unique birthday party or family gathering. Choose from 45-minute events (perfect for kids 6 and under) or 75-minute obstacle course sessions. Obstacle Fitness caters the obstacle courses to the ninja warrior skill level of the participants.
Ultimate Obstacles in West Boylston prides itself as the largest ninja obstacle course in New England. Over 40 ninja warrior-style obstacles include rings, salmon ladders, cargo nets, and more. The obstacle courses are sized for adults and kids as young as five. Ultimate Obstacles offers 8-week ninja warrior classes, summer programs, competition training, and open gym time. Families can also book a ninja warrior birthday party as well.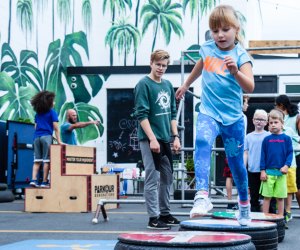 Watch their confidence and coordination grow as they master obstacles. Photo courtesy of Parkour Generations Boston
Ninja Warrior Gyms, Obstacle Courses, and Parkour around Boston
While Jump On In might be best known for its giant inflatables, this location has obstacles that are the right size for smaller kids. From a climbing wall to scaling ramps, ninjas of all ages will love the challenges. Single day open gym passes are available daily. And, of course, Jump On In is known for its birthday parties.
At Extreme Ninja Martial Arts Center, little ones as young as three learn some seriously cool ninja moves while also learning martial arts. Classes teach self-defense while helping students develop their attention span, basic motor skills, and social skills. Trials are available and then ninjas need to sign up for a membership.
Kids can attend indoor and outdoor Parkour classes in locations around Boston. Parkour Generations offers classes for beginners, advanced practitioners, and everything in-between. Kids from 5 to 16 learn everything from the basic movements to acrobatics. Parkour Generations also offers clinics and camps. Check the website for free introductory class offers.
Everett's Sky Zone has plenty of action for the ninja warriors in your clan. Beyond a challenge course and several climbing walls, the facility has a ninja warrior course. There are also plenty of trampolines (and dodgeball and a foam zone) for getting warmed up for the obstacle course. Tickets and passes are available, as well as parkour workshops, sensory hours, and other programs.
Ninja Warrior Gyms, Obstacle Courses, and Parkour - South of Boston

Find obstacle courses designed by real American Ninja Warriors! Photo courtesy of Team Awesome Fitness
With three appearances on American Ninja Warrior, you might say that the owners of Team Awesome Fitness are obstacle experts. They've used their experience to create two family-friendly gyms with fun and challenging adventure courses. Kids ages 5 and up can experience it through classes that take on obstacles like monkey bars, rope climbs, and swinging obstacles. Sign up for an eight-week ninja class or dip your toes into the ninja world with a drop-in class. Both Team Awesome Fitness locations also offer open gym sessions and host birthday parties.
The Ninja Wipeout Arena at Supercharged Entertainment is truly one-of-a-kind. The obstacle course offers challenges for ninja warriors of all skill levels. A full hour costs just over $20. Supercharged Entertainment is also home to a multi-level go-kart track, bumper cars, and an arcade. Your budding ninjas will find plenty to entertain them, whether you stop in for a quick visit or a birthday party. The Wrentham facility also has an on-site restaurant.
Norton's Hub Parkour Training Center dubs itself a movement academy, a place where kids (and adults) can take beginner, intermediate, and advanced parkour classes. Classes are offered for ages 7 through 17, with junior classes catering to ages 4 to 8. Hub Parkour Training Center also features trampoline and ninja warrior classes. Open training, open gym, and school vacation camps are available, along with a rotation of special and themed events. This movement academy also provides a great venue for a ninja-themed birthday.
Ninja Warrior Gyms, Obstacle Courses, and Parkour - North of Boston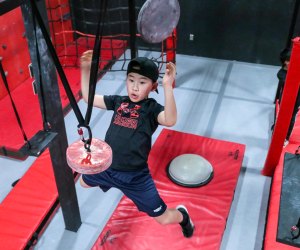 Boston kids can elevate their activity level at these ninja warrior gyms. Photo courtesy of Gymja Warriors
Gymja Warrior has a convenient location in Peabody. The facility offers classes that focus on building strength through fun, challenging movement that combines techniques from gymnastics, Parkour, free running, and rock climbing. Gymja offers four levels of age-appropriate classes for kids ages 6 to 17 years old. In the classes, young ninjas are kept physically and mentally active while doing creative drills on Gymja's many obstacles. A class for the littlest ninja warriors (4 to 5 years old) provides instruction in the basics of climbing, balance, and strength.
13. Launch—multiple locations
Launch trampoline parks and entertainment centers have five locations in the Boston area. Launch's facilities in Framingham, Methuen, Norwood, Westboro, and Woburn all have awesome ninja obstacle courses. Courses are tiered so little ninjas and adults alike can enter the course and feel challenged. And outside of the ninja course itself, there are also plenty of other ways to test your little warrior's strength and agility, from climbing walls to bounce tracks. A fifth location—Leominster—is scheduled to open soon.
One Stop Fun in Westford is everything it claims to be. With pools, water slides, trampolines, gymnastic apparatus, and party facilities, One Stop Fun has something for everyone to enjoy. But the ever-changing obstacle course and ninja training classes are what will get the little ones most excited. Classes for kids age 4 and up are held in an 18,000 square feet facility where budding ninja warriors learn confidence, strength, and conditioning. One Stop Fun has summer programs for gymnastics and ninja training as well.