25 Things To Do With Kids in Woodstock, Vermont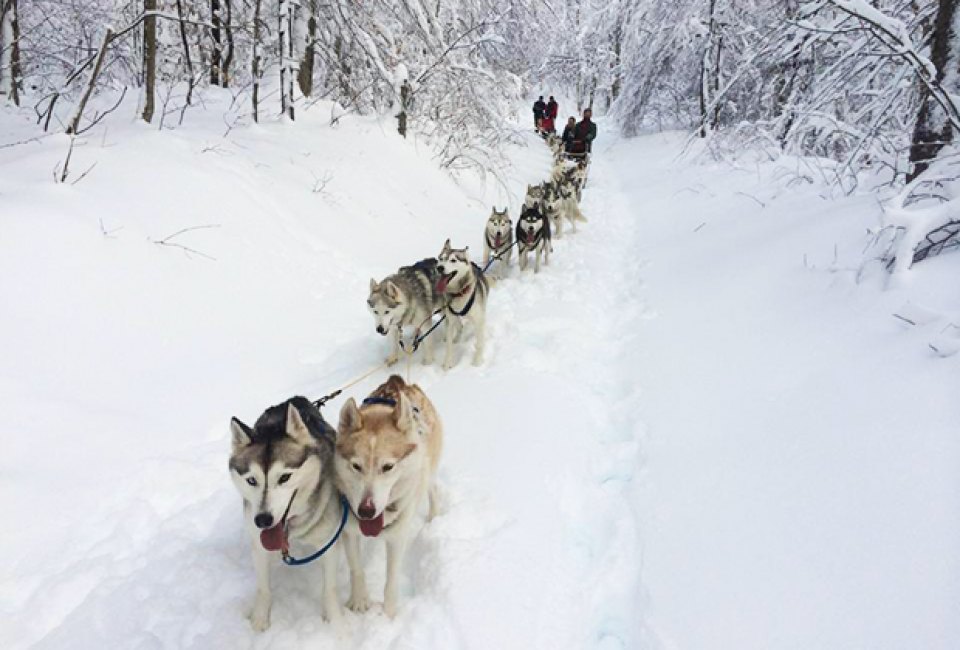 1/13/17
- By
Elyse Andrews
Winter, spring, summer or fall, there's never a bad time to visit Woodstock, Vermont. There's plenty to do for all ages, but it's an especially nice place to travel with kids. There are farms with animals to meet, nature trails to explore, and lots of great family-friendly food to enjoy. The town itself looks like a postcard and the surrounding areas are absolutely breathtaking, especially with fall foliage or fresh snow on nearby peaks.
Since we love Woodstock so much, we put together this list of 25 things to do with kids in and around the town. It'll give you fun ideas no matter the season!
1. When you arrive stop by the Town Crier, a large chalkboard that lists Woodstock events and happenings, to find out what's going on during your stay.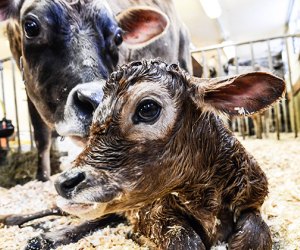 A newborn calf at Billings Farm. Photo courtesy of the farm.
2. If there's one thing you absolutely can't miss on a trip to Woodstock, it's the Billings Farm & Museum. The farm lets you get up close and personal with real animals and is a great place to romp.
3. Right across the street from Billings Farm is the Marsh-Billings-Rockefeller National Historical Park. This is an excellent place to take a family stroll through the woods.
4. Tuck into delicious egg sandwiches, paninis and homemade soups at the Mon Vert Cafe. Mom and dad will appreciate that beer, wine, and mimosas are served all day.
5. You don't even have to leave town to take a hike with spectacular views. The trail for Mount Tom leaves from Faulkner Park, which is right in Woodstock.
6. Everywhere you go in Vermont it seems someone is making and selling cheese and maple syrup. One of the best places to get both is at Sugarbush Farm, which also boasts nature trails and farm animals.
7. Take in live raptor shows, check out feeding time for reptiles and amphibians, and explore nature trails at the VINS Nature Center in nearby Quechee.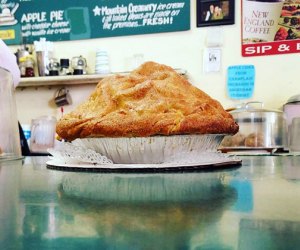 Try the Mile High Apple Pie at Mountain Creamery. Photo by Nathan Snyder via Instagram.
8. You can get breakfast or lunch at the Mountain Creamery, but we really recommend stopping in for a slice of the Mile High Apple Pie.
9. In warmer months take a horse-drawn carriage tour of Woodstock, and in the winter, cozy up in a horse-drawn sleigh to take in the scenic beauty of Vermont.
10. The Woodstock Farmers Market is less like the pop-ups we have in the city and more like a regular store chock full of locally made goodies. It's the perfect place to stock up for a picnic.
11. Catch a movie, show or live music at the Woodstock Town Hall Theatre, a former opera house right in the center of town.
12. You never know what you'll find at F.H. Gillingham & Sons, a classic Vermont country store that's been serving Woodstock for 130 years.
13. Just a little north of Woodstock in Barnard, you'll find Silver Lake State Park. This is a great spot for swimming, fishing and boating.
14. A glass shop may not seem like an obvious place to bring kids, but Simon Pearce in Quechee is a must-see. The highlight is downstairs where you can watch glass blowing demonstrations.
15. No stroll through the town would be complete without a stop on Woodstock Green, where you can run and play in the center of all the action.
16. Pop into the Village Butcher in the morning for fresh coffee and pastries then come back for a lunch of house made sandwiches, salads and soups.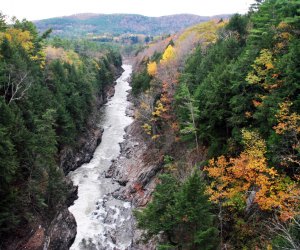 Quechee Gorge is gorgeous in all seasons. Photo by Angela N. via Flickr.
17. Quechee Gorge is a nice stop on the way from Boston to Woodstock. It's absolutely beautiful and there are some nice paths near the gorge so you can stretch your legs.
18. One of the most popular times to visit Vermont is in the fall and it's easy to see why. The leaf peeping there might just be the best in New England.
19. Winter is also a lovely season to visit the Green Mountain State. Near Woodstock you can hit the slopes at both Killington Ski Area and Suicide Six.
20. The beautiful Ottauquechee River runs right through Woodstock and it's the perfect place to take in some of Vermont's many quaint covered bridges.
21. Pretend you're in the Iditarod when you go on a dog sledding adventure with Siberian Huskies leading the way.
22. The whole family will love the hearty eats—and the adults will love the festive drinks—at the lively Worthy Kitchen.
23. Check out the programming at BarnArts in nearby Barnard. The theater often has children-specific shows, like The Little Prince and Alice in Wonderland.
24. Head to the Woodstock Pharmacy to stock up on fun games and toys. We found a puzzle there that became a family favorite.
25. When you stay at the Woodstock Inn & Resort, you might feel like you never need to leave the property. From spacious rooms with porches and fireplaces to an outdoor pool, a nordic and snowshoe center, and a pet-friendly policy, it's the perfect place for families to call home away from home.
---
Top photo: Go dog sledding in winter with Braeburn Siberians. Photo courtesy of the Braeburn.
Places featured in this article:
Click Here to Sign Up!
i