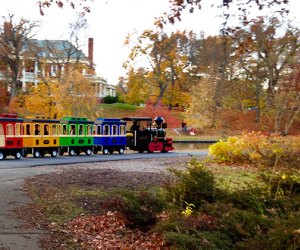 15 of Our Favorite Family-Friendly Fall Getaways in New England
Summer vacation gets all the attention, but in New England, fall can be an even better time to get away. Leaves are changing colors and the air is cool and crisp, making outdoor activities a must. To help with your fall getaway planning, we've compiled a list of 15 family-friendly destinations in New England that we love. They're all kid-tested and parent-approved, so you're sure to have fun and make memories that will last a lifetime.
New Hampshire
Lake Winnipesaukee: Most people visit Lake Winnipesaukee in the summer, but the region is even more stunning in the fall. Hike West Rattlesnake, bike the Cotton Valley Rail Trail, and canoe on the lake's calm autumn waters for a festive family weekend up north. And don't miss the nearby Sandwich Fair, which takes place in October.
Mount Washington Valley: People come from around the world to see New England's trees turn brilliant hues each fall and there are few better places to see the colors than in the Mount Washington Valley. Take them in by biking the Great Glen Trails, driving the White Mountain Trail, or taking a ride on the Mount Washington Cog Railway.
Portsmouth: Head to this historic city for a weekend of fall family fun. In Portsmouth, start with a trip to the Strawbery Banke Museum, refuel at The Friendly Toast, and experience a history lesson like no other aboard a Gundalow Company river cruise.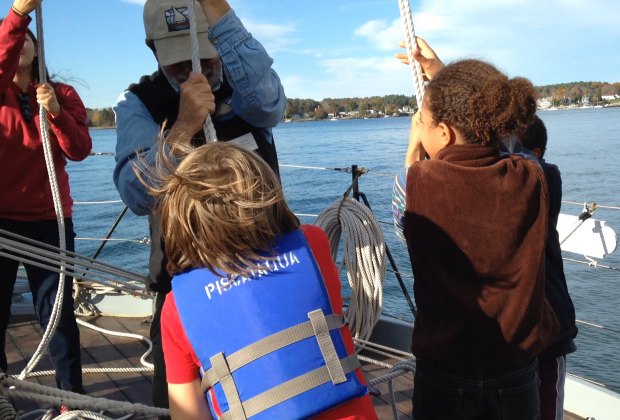 Joining the crew of the Gundalow Company in Portsmouth, NH. Photo by Tara D. Jackson.
Massachusetts
Falmouth/Woods Hole: Cape Cod is a top summer destination for Boston families, but it shines in the fall too, especially because it's less crowded. Bike from Falmouth to Woods Hole on the Shining Sea Bike Path and explore everything the area has to offer in the off-season.
Provincetown: One of the best parts about visiting any town on the Cape in the fall is how quiet and peaceful it is. In Provincetown you can still go on a whale watch, take a dune tour, or bike the local trails in the off-season.
Springfield/Western Massachusetts: Not only will you get to take in some beautiful fall foliage on the drive out to Western Mass., but once you arrive, there's so much to do. From literary-themed stops in Springfield like the Dr. Seuss National Memorial Sculpture Garden to outdoor activities on the Connecticut River Walk & Bikeway, your family will be anything but bored.
Wellfleet: While Wellfleet is a popular summer destination, it also shines in the fall. Don't miss the Oysterfest in October, go for a hike on Great Island or bike the Cape Cod Rail Trail.
Connecticut
Hartford: Spend a fall weekend exploring Connecticut's capital, which has a lot to offer families. In Hartford, don't miss the apple festival or chance to go apple picking at a local farm, then check out the Children's Museum.
Northwest Corner: To see some of the best fall foliage in New England, head to Litchfield Hills. The kids will enjoy stops at local farms to pick the perfect pumpkin and get lost in a corn maze.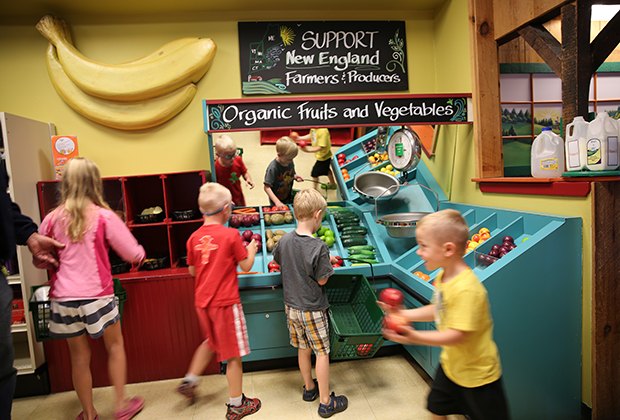 Children's Museum in Portland. Photo by Shira Kronzon.
Maine
Portland: Two hours to the north of Boston you'll find Portland, a lovely little city bursting with activities for families. In the fall, check out the Children's Museum and Theatre of Maine, the Portland Observatory and ride on a narrow gauge train on the waterfront.
Rhode Island
Newport: Not far to the south, Newport is a beautiful, exciting destination with kids in the fall. Visit the famous Breakers mansion, hop aboard a seal watch, and hike the Cliff Walk for a fun-filled weekend away.
Warren and Bristol: A visit to these two towns on Rhode Island's East Bay will have you feeling like you've traveled a lot farther away. Warren and Bristol offer quaint New England charm at its best with an old-fashioned soda shop, a beautiful state park, and bike path.
Providence: Only a little more than an hour from Boston, Providence has a lot to offer families in the fall, from the Providence Children's Museum and the many activities in Roger Williams Park to the fall WaterFire events.
Vermont
Stowe: Vermont is one of the top destinations for leaf peeping, so we had to include a couple of fall getaways to the state on our list. Head to gorgeous Stowe for biking along the town's Recreation Path and hiking up to Sterling Pond—and don't miss a stop at the famous Trapp Family Lodge.
Woodstock: Another classic fall destination in Vermont is Woodstock, one of the most charming towns in New England. Visit a local farm, hike nearby trails and cap it off with a slice of mile-high apple pie from a local diner.
---
Lead image: Roger Williams Park in Providence, RI. Photo by Tara D. Jackson.