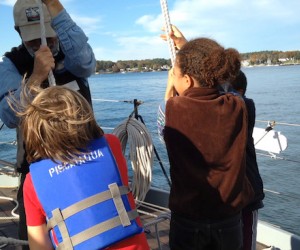 An Historic Adventure in Portsmouth, NH: A Kid-Friendly Early American History Itinerary
Portsmouth, New Hampshire is one of my favorite destinations for a quick family getaway. Although we've visited the charming New England seacoast city several times, on this occasion we went specifically to experience its history. With a kid-friendly living history museum and numerous historic destinations around town, early American life comes alive in ways that are fun for kids and the whole family. We spent a day of walking, playing and sailing through old times, with a side of foodie goodness—a perfect family day in Portsmouth.
Read on to follow our itinerary for an historic adventure. Find more things to do in Portsmouth, New Hampshire and other towns in our New England Family Travel Guide.
Start your morning in the welcoming and cheery Café Espresso, where breakfast is served up all day with a smile. The adorable mini watering cans filled with crayons and the availability of gluten-free bread were big hits with my kids. Both the breakfast and lunch offerings are excellent, but it's the super-friendly and helpful staff that really sets Cafe Espresso apart. After filling up on pancakes, bene and French toast, stop by Hannaford Market to pick up fixings for a picnic lunch.
Next, head to the Strawbery Banke Museum (which is actually an entire village) to walk, garden, and play through more than 300 years of history. As you stroll through the stunning gardens and enter the historical houses, you get to see architectural styles and objects used in everyday life from 1695 to 1954. Whether you're visiting the Governor's Mansion or a family-run grocery store, there are volunteers who are happy to answer questions, and baskets of activities for the little ones. Some of the houses feature interactive exhibits where you can see potters at work and try your hand at a weaving loom, or have your kids don the fashions of 1785. The Discovery Center is packed with games and toys from the past, wonderful building block sets, and a retro play kitchen. It's a young child's paradise, but the games and exhibits are designed for adults and children to enjoy together. A piece of advice: Give yourselves plenty of time to explore the Discovery Center, and if you're short on time, make it your top stop at Strawbery Banke.
The various gardens of Strawbery Banke aren't just magnificent eye candy—they provide lots of hands-on opportunities to engage kids. In the Victorian Children's Garden, send the kids on a search for a tea party, a two-story tree house and fairy houses. Let your curious kids pepper the volunteers with questions—they are delighted to connect with children, and may even send yours home with seeds to grow in their own garden. There's also a good chance you'll bump into the Governor's wife, Mrs. Goodwin, or another costumed role-player. Challenge your kids to a game of croquet or Needle's Eye on the lawn, and go exploring to find the teepee for a little shade and relaxation.
Across the street from Strawbery Banke at the entrance to Prescott Park, the Liberty Pole stands as a reminder of Revolutionary War times and the patriots who railed against taxation without representation. During the summer, Prescott Park is the social and cultural hub of the city thanks to the Prescott Park Arts Festival, but it's also an important part of Portsmouth's history. You might see signs of the city's maritime past out on the water, and there's a stop on the Black History Trail in the park. The gardens, sculptures and fountains all have stories to tell about Portsmouth's past. You can spread out your blanket for a waterfront picnic (as long as an Arts Festival event isn't going on), enjoy the lush gardens, and contemplate bygone days.
For an afternoon adventure, hop aboard the Piscataqua, which is docked at the end of Water Street in Prescott Park. The Piscataqua is a traditional reproduction of the flat-bottom gundalow barges that were once prevalent along local waterways. As the gundalow sails down the Piscataqua River, your journey spans two cities in two different states, Portsmouth, New Hampshire and Kittery, Maine, which may totally blow your kids' minds. The crew and Onboard Educators are great about engaging the kids: They patiently answer an endless stream of questions, let the kids steer, and recruit passengers to join the crew in raising the sail. A calm, breezy sail is combined with a fun history lesson about the boat, the river, and the city's history. You're welcome to bring snacks and drinks, and there is a single bathroom on board (but you may want to stop in the Gundalow Gift Shop or the restrooms in Prescott Park before boarding). Good to know: On Saturday mornings in late May through the end of August, kids sail free with a paying adult.
After your relaxing and educational sail, venture into downtown Portsmouth for dinner at River House, which features a deck with fabulous water views. Make reservations in advance and plan to dine early in the evening, because the River House is a very popular spot. The menu features award-winning clam chowder, seafood dishes with a twist, and plenty of comfort food, too. My kids loved the little cardboard boats their meals arrived in, and I was especially pleased to see a gluten-free menu and the care with which they prepare the gluten-free dishes.
Walk off your dinner with an evening stroll along Market Street and the waterfront. For a sweet treat, stop at Orange Leaf to overindulge in fro-yo with toppings galore and spin the tables around to share (or just for fun). Before calling it a day, step into the whimsical Pickwick's Mercantile to travel back in time and pick up a souvenir from your family's day of living history in Portsmouth, New Hampshire.
---
Thanks to the New Hampshire Division of Travel and Tourism Development for inviting us to experience the living history destinations mentioned in this post.