Take the Kids to These Fall Fairs in New England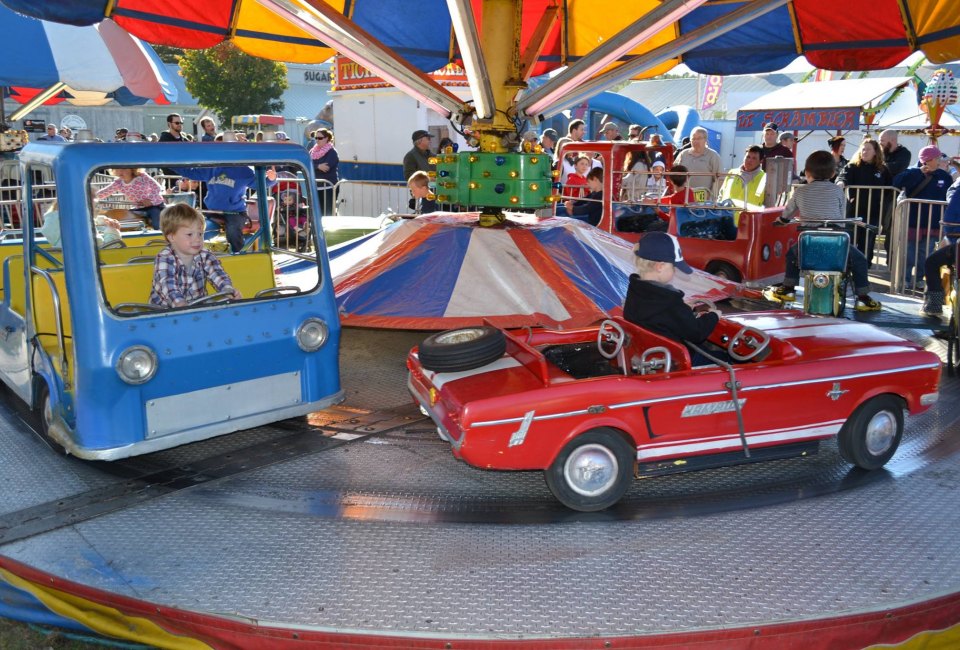 9/20/16
- By
Elyse Andrews
Fall brings with it a lot of fun traditions like pumpkin carving and apple picking. It also means it's time for the annual fall fair, a really fun way for families to spend the day together. New England is home to dozens of quaint agricultural fairs that feature farm animals, midways with rides, and fair food like fried dough. We've rounded up one of the best fall fairs from each New England state so you can experience this classic seasonal tradition with your kids while enjoying fall foliage day trips all over the region.
Connecticut: Durham Fair
Dates: September 22-25
The 98th Annual Durham Fair might not be Connecticut's oldest (that honor goes to the Four Town Fair), but it is the state's largest. And it has a special focus on kids, making it well worth the two-hour drive from Boston. The Durham Fair even has a mini-fairground designed especially for children that features activities like a pedal tractor pull and all sorts of games, plus a kids' stage with critter and magic shows. And that's in addition to the regular fairground, which has all the usual fun, like rides and animals.
Maine: Fryeburg Fair
Dates: October 2-9
The Fryeburg Fair is the farthest away from Boston, but that doesn't stop people from traveling from all over to experience one of New England's finest fall fairs. The fair has some unique spins that celebrate what makes Maine special, like Woodsmen's Field Day with an exciting competition featuring log-rolling, axe-throwing, and tree felling. The fair has all kinds of farm animals, from draft horses to llamas, plus the McDonald's Farm Park has entertainers geared to kids.
Massachusetts: Topsfield Fair
Dates: September 30-October 10
Probably the most well-known fair on the list for Bostonians is the Topsfield Fair, which takes place in our backyard. The origins of this fair go back nearly 200 years and it's truly a classic fall agricultural fair. Topsfield has everything from the midway with rides for all ages to the many farm animals, like pigs, goats, cows, chickens and rabbits. There's also a Kiddie Korral with shade for when little ones need a break, plus a petting farm and area where kids are encouraged to learn where their food comes from.
New Hampshire: Sandwich Fair
Dates: October 8-10
Two hours north of Boston, you'll find the Sandwich Fair, a quaint fall fair full of small-town charm. The fair's stunning setting in the foothills of the White Mountains during what's usually the peak of fall foliage in the area make it the perfect place to spend an October weekend. Saturday at the fair is Children's Day, which includes a kids' pedal tractor pull and Mo the Clown. Sunday is Family Day, where you'll find a miniature horse demo and the Grand Street Parade. While you're at the fair, hike nearby West Rattlesnake or check out some of the other things to do near Lake Winnipesaukee.
Rhode Island: Coggeshall Farm Harvest Fair
Dates: September 17-18
Rhode Island isn't known for its agriculture, so the state doesn't have a lot of the typical county fairs found in many other New England states. But that doesn't mean it's not a good place to visit in the fall. Head to the Coggeshall Farm Harvest Fair in Bristol for all the old-fashioned fun a family could want. The event takes place at a working 18th century farm and features hay and pony rides as well as heirloom sheep and cattle. Plus you can try your hand at unique games, crafts and try food from the farm's historical period.
Vermont: Tunbridge World's Fair
Dates: September 15-18
The Tunbridge World's Fair in Vermont has been operating continuously since 1967 except in 1918 due to the flu epidemic. The fair is a two-and-a-half hour drive from Boston, but the beautiful fall foliage you'll encounter along the way will make it more than worth it. Tunbridge has a lot that will appeal to kids, like pig races, a children's barnyard and entertainment like jugglers and magic shows. That's in addition to a midway with kids' rides and livestock barns filled with sheep, goats, and cows.
---
Photo courtesy of the Fryeburg Fair