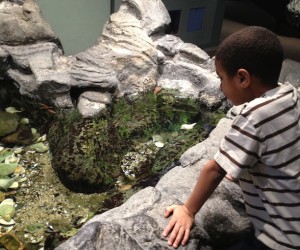 Top 15 Things to Do With Kids In Warren and Bristol, RI
Two of Rhode Island's East Bay towns, Warren and Bristol, make a perfect day trip or weekend getaway. When we visit them, we feel like we're worlds away from everyday city life. Classic New England, these neighboring towns have it all: Natural beauty, history, arts, culture, and plenty of activities for families. Looking for great shopping and dining? They have that too. Read on for our top 15 things to do with kids in Bristol and Warren.
1. Explore the artsy side of Bristol and Warren during their family-friendly Art Nights, happening the last Thursday of every month from April through October.
2. Channel your own inner artist and pick up a few supplies at Don's Art Shop, a family-owned art supply and framing shop on Main Street in Warren. They have a small but interesting selection of art supplies for kids, a friendly dog, and reasonable prices.
3. Venture to the southern end of Water Street on the Warren River and dip your toes in the water at Warren Town Beach. Play on the playground and enjoy the view of Narragansett Bay. (Admission is free, but you pay to park if you are not a resident of Warren.)
4. Get a taste of history at Federal Hill Brick Oven Pizza (495 Main Street, Warren).
5. Stop in for Story Hour or just stand outside and admire the architecture of Warren's beautiful George Hail Free Library.
6. Let your imagination run wild at Imagine Gift Store, a huge (largest in New England), multi-floor gift shop with unique, fun items. This Warren treasure is also home to a 1950's style ice cream and candy shop and to seven Parade Cows, including the one pictured above.
7. If you do nothing else in Warren, order a coffee cabinet for the adults and a vanilla cabinet for the kids at Delekta Pharmacy, a place steeped in history. Be sure to go to the back of the shop to check out their mini-museum.
8. Meander through the Blithewold Mansion, Gardens and Arboretum in Bristol. Visit during the Daffodil Days if you can, in late April. They also host Family Fun Fridays during July and August, featuring live performances and picnicking.
9. Breathe in the fruit trees, watch a game, have a picnic, take a walk, or check out the Chapel-By-The-Sea at Colt State Park, considered by many to be the gem of the Rhode Island parks. (Open year round and adjacent to Bristol Town Beach.)
10. Enter the world of The Great Gatsby at Linden Place in Bristol, a part of Rhody Ramble - a family adventure to explore Rhode Island's historic places. (Open for visitors from May 2 until October 11, and during the month of December.)
11. Experience the roles of ordinary people during the founding years of a New Republic, and explore 48 acres of woodland, fields, and salt marsh at Coggeshall Farm Museum.
12. Learn about whales in a big way, search for birds, take a walk, or do a little shopping at RI Audubon's Environmental Education Center in Bristol.
13. Bring a skateboard to the skate park at Bristol Town Beach - or, if you have younger kids, play on the newly renovated playground. If you venture down to the shore, wear water shoes. Tip: If you don't want to pay the $10 parking fee in the summer, just park in the gravel lot a little further down (toward the Colt State Park entrance).
14. For the sailors (real or make-believe) in your family, the Hereshoff Marine Museum/America's Cup Hall of Fame is sure to delight. You'll see big ships, model ships, and the interior of a yacht. (Open late April through December.)
15. See Warren and Bristol on two wheels: Ride the the East Bay Bike Path for spectacular waterfront views and access to several state parks and coastal marshes & ponds. This is truly the best way to get around - traffic can be a bear, especially after Memorial Day.