Fall Bucket List for Kids: Top Things To Do in Boston This Fall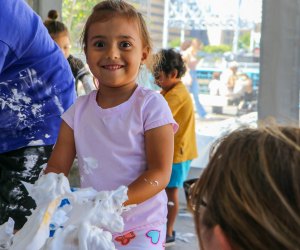 9/8/23
- By
Kelley Heyworth
A fall bucket list for kids is a must-have in New England. There are so many fun things to do in Boston in the fall. For some, autumn is the prime season to enjoy the outdoors. Things to do with kids in the fall include hiking, apple picking, corn maze exploring, or celebrating all things spooky and sweet on Halloween. There's a lot for kids of all ages and stages to enjoy during a beautiful autumn in New England. Here's a list that can point you in the right direction when you're searching for the "best fall activities near me." We've rounded up some of our favorite must-do autumn activities in September, October, and November for the best things to do in Boston this fall. Read on for our fall bucket list for kids, and enjoy New England's signature season!.
For more fall fun, see 15 Fall Day Trips from Boston for our guide to autumn getaways. For more family activities this fall, be sure to check out our Boston Fall Fun Guide.
Fall Bucket List for Kids: Things To Do in Boston This Fall
The Arnold Arboretum is a great (and local!) spot for leaf peeping. Photo courtesy of the Arnold Arboretum
Grab a discovery pack and hike, discover, and explore this free park. The adventurous can get a sweeping view of the Boston skyline at the top of Peter's Hill.
Boston Children's Museum is a popular destination in any season. The hands-on activities are enlightening, enriching, and entertaining.
3. Cheers! Raise a glass of local wine or a pint of beer over picnics, games, or music.
Spend a fall day sipping a glass of wine or trying out tasty beers at one of these family-friendly wineries or beer gardens.


Play tourist and see some top attractions in Boston this fall. Photo courtesy of the Boston Red Sox Facebook page
4. Play tourist for a day.
See how many places you can visit on this list of famous Boston tourist attractions that even Boston native kids love doing.
5. Say "hi" to the animals at a zoo.
There is no shortage of animals in the Boston area. Pick one of these zoos for a wildlife adventure.
6. Have an impromptu picnic
Visit one of the outdoor restaurants that are fun for families that is still offering al fresco dining in the cool fall air.
7. Visit a Boston area museum
Check out the season's newest exhibitions and old favorites. Many Boston museums feature autumnal themes and displays for the fall.

The Big E is a fall tradition in New England. Photo courtesy of the Big E Facebook page
8. Enjoy the state's biggest fair
Visit the Big E in Springfield for carnival rides, fun food, and more.
9. Walk Boston's iconic Freedom Trail on a nice day.
Most attractions can be appreciated outdoors, so you can enjoy the beautiful fall air.
10. Hit the streets—or farm—for a festival!
With the cooler weather comes so many fall festivals celebrating everything from food to neighborhoods to farm fun.
Fall Bucket List for Kids: Things To Do Near Boston This Fall
11. Travel back in time to Old Sturbridge Village.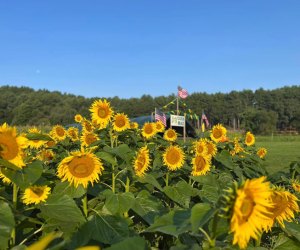 The fall harvests around Boston are worth a day trip or two. Photo courtesy of Hanson's Farm
12. Get lost in a field of flowers or corn.
Stop and enjoy at the sunflowers at Hanson's glorious Sunflower Field. The farm's corn stalks make a challenging maze.
13. Go for a spooky or not-so-spooky hayride.
Choose your scare level and hop aboard a hayride at a local farm near Boston.

Get together as a family for an apple-pickin' good time! Photo courtesy of Connor's Farm
14. Pick some juicy, ripe apples.
McIntosh, Golden Delicious, Honey Crisp, Ginger Gold, Cortland, Roxbury Russet...find and pick your favorite apple varieties at a local apple farm.
From little mazes for a quick walkthrough to huge corn mazes that you'll need your walking shoes for, there's something for every explorer.
New England's biggest theme park puts on a Halloween spectacular, with age-appropriate fun for the little ones by day—and some wicked good chills for the bigger kids by night!
17. Get outdoors and explore a state park.
Check out our list of kid-approved Massachusetts State Parks and Forests and visit one on a nice fall weekend.

Find the right pumpkin and check it off that fall bucket list! Photo courtesy of Parlee Farms
18. Pick out the perfect pumpkin.
Get ready for Jack-O-Lantern time at a pumpkin patch near Boston.
19. Lace up the littlest hiking boots.
Get outside to enjoy some fresh air and exercise on one of Boston's best family hikes.
20. For little legs, opt for a shorter hike.
Take your preschooler on a short, one-mile-or-less hike and enjoy the smiles of pride after reaching a small peak or finishing a loop.
21. Find indoor and outdoor fun at the Discovery Museum.
Nestled amid the trees in Acton, the Discovery Museum combines science, art, and fun!
22. Go on a leaf-peeping day trip.
Take a fall day or overnight trip to one of New England's prettiest, leafiest towns.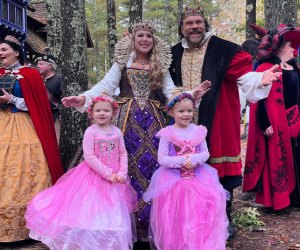 Nothing says fall in Boston quite like King Richard's Faire in Carver. Photo courtesy of King Richard's Faire
Dress up as princesses and knights and hit this Renaissance Fair for a day filled with jousting, turkey legs, and fun contests.
24. Take to living outdoors for a fall camping trip.
Hike, roast s'mores, and make new friends on a camping trip at one of these family-friendly campgrounds.
Get some ideas for your own pumpkins as you stroll this spectacular display featuring thousands of intricately carved pumpkins all lit up. Tickets must be purchased online and the event is open in light to moderate rain.

Get a close-up look at the fall foliage by soaring through the trees! Photo courtesy of Tree Top Adventures
26. Soar through the trees on zip lines.
If adventure is what you're looking for, these zip line and obstacle courses near Boston are just the ticket.
Check out the fall foliage by riding a train up into the White Mountains to the highest peak in the Northeast.
28. Visit America's Halloween capital: Salem.
Soak up the spooky season with a month of Halloween events, including kid-friendly Wicked Wednesdays at the Phillips House featuring family programs, crafts, and more.
29. Decorate for Halloween.
Have a ghoulishly good time decorating for Halloween.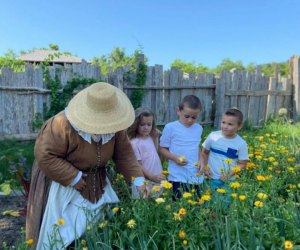 Plimouth Patuxet Museum shows kids wat fall was like in Boston's history. Photo courtesy plimoth.org
Formerly Plimoth Plantation, this living museum brings you in touch with the past, as with these authentic recipes.
Click Here to Sign Up!