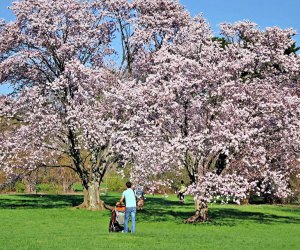 10 Things To Do at Harvard's Arnold Arboretum with Kids in Boston
Do you know that one of the area's most beautiful and peaceful parks is inside city limits—and absolutely free to visit? The second largest "link" in the Emerald Necklace of green space that encircles Boston, the Arnold Arboretum is 281 rolling acres of four-seasons fun, operated by Harvard University and located in Boston's Jamaica Plain neighborhood. The Arboretum is most well-known for its springtime blooms, especially lilacs, but families also flock here for summer hikes, fall foliage, and wintertime sledding. Here are 10 ideas to while away a day in nature, just a short drive or subway ride from downtown.
1. Start at the Hunnewell Visitor Center. While you won't want to hang inside for too long if it's a nice day at the Arnold Arboretum, this is a good spot to get your bearings. Kids can push a button on an interactive map to see where certain plant highlights are throughout the big property, and peek through a microscope to see certain specimens up close.
2. Take a guided family walk. From the visitor center, staff members lead families on guided walks through the arboretum's collections. These walks are geared to children ages 3 and up, and include some interactive activities kids will love.
3. Pick up a Discovery Pack. Containing materials that encourage children to interact with the plants and other features of the arboretum, these cute little backpacks can be borrowed from the visitor center. Kids get to choose from three packs: Living Museum, Science Lab, or Be an Engineer—the newest discovery pack offering that includes sticks and other materials for crafting bridges and swings.
4. ...or design a D.I.Y. scavenger hunt. For older toddlers and preschoolers, make a list of things to find while you're in the Arboretum. Depending on your time, the season, the age of your child, and his or her interest level, you might include pine cone (easy to find along Conifer Path), dandelions, acorns, interesting stones or pebbles, or twig shapes.
5. Play I Spy the tree of the month. Every month, Arnold Arboretum picks a new tree to highlight (you can find it on this webpage). Read some information about this special tree before your visit or once you arrive, and then try to find it on the grounds (or use this handy ArbExplorer webpage). Bring paper and crayons to do rubbings of the tree's bronze labels, bark, or leaves (if they've fallen).
6. Marvel at the bonsai trees. Show kids how gardening can be an art by strolling through the Bonsai and Penjing Collection, located by the Dana Greenhouses and about a 10-minute walk from the Arborway or Forest Hills Gates.
7. Play Wildlife Bingo. Lots of animals, from hawks to dragonflies, make the Arnold Arboretum their home. Print out and bring some of these wildlife bingo cards to play as you walk.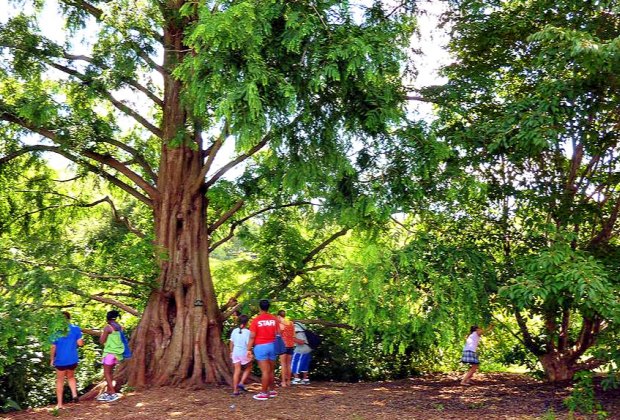 8. Go on a wildflower walk. Weld Hill, a favorite wintertime sledding hill is blanketed with beautiful wildflowers throughout the warmer months.
9. Hike up Peter's Hill. The highest point in the park offers a nice payoff at the top: Sweeping city skyline views.
10.Come in May for lilac season. The lavender and mauve blooms are on showy display in mid- to late-spring. Consider spending Mothers' Day at Lilac Day, the free annual Arnold Arboretum event with music and food trucks (picnicking is allowed on the grounds for this one very special day only).

Lilac Sunday. Photo by Sarah Morris/CC BY 2.0
Know Before You Go...
The Arboretum is open from sunrise to sunset every day of the year.

There is no admission charge, but donations are appreciated.

There are restrooms on the ground floor of the visitor's center (by the Arborway Gate).

Ample parking is available by the Arborway Gate, but regulars often like to park at Bussey Gate—there's plenty of room, and it's not such a busy street.

Picnics are prohibited in the Arboretum except on Lilac Sunday (Mother's Day). If you do bring snack for your child with you, remember to take any refuse back out with you.

Organized sports are prohibited on park grounds, but bring some bubbles to blow or a kite to fly.

Pace yourself. The Arnold Arboretum is a big space, best explored over a number of visits. Use the Map of the Landscape to decide what you want to see. But…give yourself permission to meander, travel down a secret path, deviate from the plan, or just look up for a few, beautiful minutes. You'll know it's worth it when your kid tells you in the car, "look mommy! The trees are growing. It's springtime."
Photos courtesy of Arnold Arboretum, unless otherwise noted