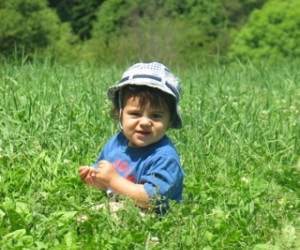 20 Things to Do with Kids in Jamaica Plain
Jamaica Plain is a great neighborhood for families and kids, whether you are making your home there or just visiting. With tons of green space, playgrounds, and children's classes, it is easy to find activities for kids of all ages.
Outdoor Activities
1. Explore the Arnold Arboretum's 281 acres of trees and shrubs. The Arboretum (pictured) has family activities for preschoolers and kids, but is also great fun for toddlers to explore.
2. Walk the Southwest Corridor. The 4.7 mile park runs along the MBTA Orange line and features paths for both walking and biking. With 11 tot lot areas, two spray pools, seven basketball courts, five tennis courts, two street hockey rinks and two amphitheaters, the Southwest Corridor Park has something for kids of all ages.
3. Visit Jamaica Pond. Part of Boston's Emerald Necklace of parks, Jamaica Pond covers 68 acres of land. A frequent meeting place for new and expectant mothers out for a walk, the Pond provides relaxation, exercise, and entertainment for all ages. Toddlers will love throwing pebbles into the water and watching the ducks, and families with older children can rent kayaks, row boats, or learn to sail with the Courageous Sailing Center. The Pond is also stocked with fish for the anglers among you.
Cultural Activities
4. Watch a performance at the Footlight Club. Founded in 1877, the Footlight Club is America's oldest community theater. While they do not specialize in children's theater, tween and teen theater buffs will enjoy their selection of dramas, comedies and musicals.
5. Beginning in 1979 when community activists successfully stopped the expansion of Interstate 95 into Jamaica Plain, the Wake Up The Earth festival celebrates what people from all backgrounds can accomplish when the work together. Held on the first Saturday in May by the Stony Brook MBTA station, the festival also celebrates the beginning of spring. With four stages of music, dance, and theater performance, a parade, and numerous craft and food vendors, Wake Up The Earth is a vibrant community event.
6. With roots in Dutch tradition, the Lantern Parade occurs every October. As the sunsets, JP residents parade around the pond with handmade lanterns to light up the evening. The event has been incorporated into Halloween festivities and children often participate in costume.
7. If you really love lanterns, you can also check out the Forest Hills Cemetery Lantern Festival which takes place annually in July. Rooted in the Japanese Buddhist Bon festival, the Lantern Festival is a memorial celebration to honor and remember lost loved ones. For a $10 donation you can make a rice paper lantern decorated by volunteer Japanese calligraphers and your own personal message. The lanterns are floated out across the cemetery pond at dusk. The festival also features music and dance performances from a variety of cultural traditions.
Classes and Storytimes
8. Help your kids learn to relax with yoga classes. Blissful Monkey yoga studio offers Kindermusik in two sections: one for newborns to 18 months and one for kids 18 months to 3.5 years. They also offer Mama and Baby yoga classes. Akasha studio has Playtime Yoga for Children and families for kids age 0-10 (those under 4 must be accompanied by a caregiver), and Baby and Me Yoga for babies up to one year.
11. Take a class at Spontaneous Celebrations: The have Toddler Drumming on Sunday mornings for a donation and Spontaneous Stilts and Unicycle for children 8 and up (and their parents too!) to learn to walk on stilts or ride unicycles.
12. Sing Positive JP. Sing Positive is a family friendly choral group that meets Sunday mornings at Spontaneous Celebrations to rehearse, and then performs throughout the year. While tuition is pricey ($150 for adults and $100 for children from toddlers to 18), they do have scholarships and sponsorships available to defray the cost. Children can participate in the music, or hang out with a babysitter while the parents sing.
13. If you want a more child-focused music experience, check out the Children's Music Center of Jamaica Plain (CMC). Located in the Brewery Complex, CMC offers everything from Music Together classes for infants to instrumental lessons and musical theater for children up to age 8.
14. The Elliot School of Fine Arts has classes from the Tot Zone (ages 2-3) up to teens (and adults too of course!), as well as a Summer Program for kids aged 6-12. Topics range from painting and woodworking to inventing and mosaics, with everything in between.
15. For fiber loving families, check out the kids classes and clubs at J.P. Knit and Stitch. The offer both knitting and sewing classes for kids, as well as one time thematic workshops on things like felted ornaments.
16. Kids from 12 to 18 can learn the basics of bicycle mechanics and safe city riding at Bikes Not Bombs. Over the course of their Earn a Bike program, teens learn dismantle and rebuild an old bike of their choice. Best part? You get to keep the bike. There is also an all-girls version of the workshop called Girls in Action.
17. Jamaica Plain boasts two branches of the Boston Public Library. The Jamaica Plain Branch offers story time for babies 6-18 months, a Creative Drama for ages 7-12 and other arts and craft activities for kids. The Connelly Branch Library in Hyde Square has a bilingual English/Spanish story time for ages 1-3 and other occasional cultural and artsy classes. Both branches offer homework help for school kids.
Support Local Businesses
18. Shopping for toys for infants or children is nothing but fun at Boing! Jamaica Plain's independent toy shop. Boing! specializes in toys that encourage healthy imaginative play. Most things will not require batteries. They also have events--check out the calendar for visits from clowns, musicians or Santa Claus!
19. While there are JP Licks Ice Cream stores all over Boston, the one in Jamaica Plain is the first (hence the "JP" in JP Licks). If great ice cream isn't enough incentive, the Centre Street JP Licks also features the enormous fiber glass cow head on the outside and the life size cow statue inside are great fun. Plus, they have a chalkboard nook and chalk for kids to entertain themselves and work out the sugar rush.
20. Shop for eco-friendly toys and clothing at Hatched. Everything is sourced from companies that use organic or other eco-friendly materials, treat their workers well, and manufacture in a sustainable way. Hatched carries products for infants through tweens.
---