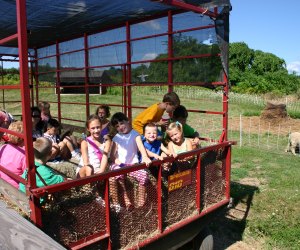 Hayrides Near Boston: Harvest or Halloween Fun
Hayrides are an fall ritual for many families. Depending on the age of your child, you might be in search of a gentle meander through fields or a spine-chilling adventure that sparks Halloween excitement. Tons of Boston-area farms offer hayrides, and we've rounded them up for you here. The best part? Most of these farms also offer other activities to entertain your family like apple picking, corn mazes, and delicious cider doughnuts. Happy—or spooky—trails!
Check back soon for 2020 updates!
1. Davis Farmland—Sterling
Davis Farmland is a discovery farm designed especially for kids ages 12 and under. Running Thursday to Saturday from early- to mid-October and then just weekends for the rest of October, the Safari Hayride is totally unique and ends at a pasture with large farm animals. Cross the street to try to navigate the giant corn maze on fall weekends. Rides included with $23.95 on weekdays and $25.95 on weekends, general admission ticket.
2. Smolak Farms—North Andover
Smolak has two options: night hayrides or hop-on rides. Night hayrides (cider and doughnuts included!) run from May through November, every day of the week. Visitors can ride through the farm's scenic fields and orchards to a bonfire site where they can relax and enjoy the evening. Hop-on hayrides run from May to October and allow farm visitors to jump on a hayride for a daytime tour of the farm's land. $4-16
3. Connors Farm—Danvers
Connors not only offers hayrides, but a seemingly endless list of fall activities for the whole family, including a corn maze, baby animals, a mechanical bull, and a variety of pumpkin-themed pursuits. Rides included with $9.99-$14.95 general admission ticket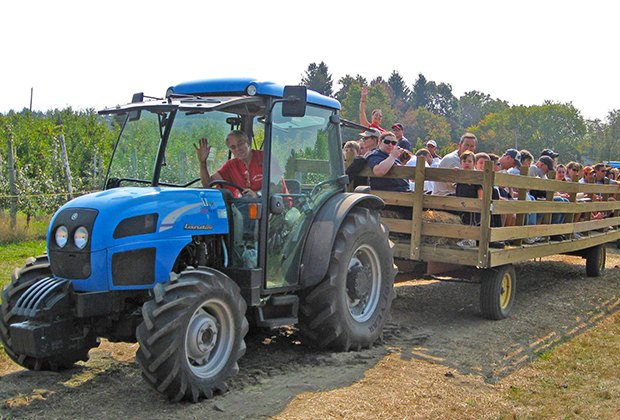 Honeypot Hill hayrides are just $2, and free for kids under 2.
4. Honeypot Hill—Stow
There are daily hayrides for the family at Honeypot. In addition to the hayrides, visitors can try their hand at navigating the hedge mazes, cuddle with farm animals, and pick some delicious apples. $2 (kids 2 and under ride free).
5. Kimball Farm—Haverhill
In addition to hayrides through their farm fields, Kimball has pony rides, a giant slide, and weekend pumpkin painting—not to mention a corn maze. $2-4
6. Drumlin Farm Wildlife Sanctuary—Lincoln
Hayrides at Drumlin Farm take you on a tour of the farmyard and run all the way through Thanksgiving weekend. Meet barnyard animals, do pumpkin crafts, and more throughout the season. Rides are $1.50-2.50 (free for ages 2 and under) on top of $6-9 general admission ticket
7. Parlee Farms—Tyngsboro
Make your apple picking adventure even more special when you head to Parlee Farms—on the weekends a hayride is included with the purchase of an apple picking bag. Kids also love the "hay play" area, the mini tractor driving course, and Annie's Animal Barn petting zoo. Rides included with $25+ apple collecting bag
8. Marini Farm—Ipswich
For one weekend in October, the 19th and 20th, Marini Farm runs a trick-or-treat hayride. The tractor drives around the 8-acre corn maze with special stops along the way, featuring costumed characters with lots of treats to share. Costumes are encouraged! Along with the hayride, there is also a huge corn maze, and maze park filled with bouncy houses, a pirate ship playground, apple cannon, huge tube slide, and more. $10.99-$15.99 (children 2 and under are free) general admission ticket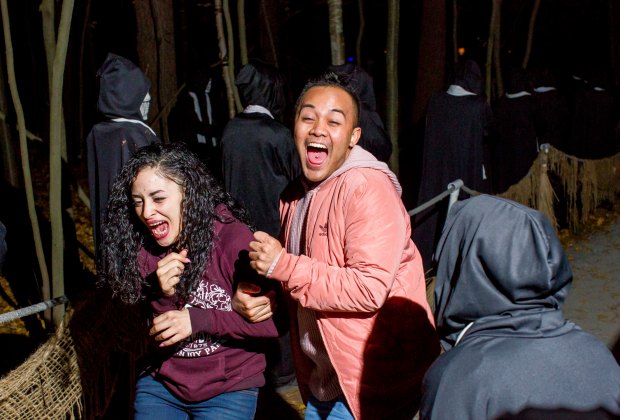 Be ready to encounter witches, ghouls, and more in Witch's Woods. Photo courtesy of Witch's Woods
9. Witch's Woods Halloween Hayride and Haunted Screampark—Westford
A terrifying hayride is located at Nashoba Valley in Westford. Please note: this hayride is not ecommended for children under six. Babies and toddlers are not allowed at the park or any attraction. At Witch's Woods, guests are confronted by witches, ghouls, and werewolves, among other scary characters. Open Thursday to Sunday nights, Witch's Woods is open for the month of October. Tickets are $39 per person and include the Haunted Hayride, Castle Morbid, Nightmare Mansion, and other activities; carnival games, rides, and concessions are accessible without a ticket.
10. Hanson's Haunted Farm and Hayride—Framingham
Hanson's has been scaring the daylights out of families since 1993. Not for the faint of heart, Hanson's Haunted Hayride features more than 100 volunteers to shock and scare visitors every Friday and Saturday in October. For skittish visitors, Hanson's Farm also offers pick-your-own pumpkins and a corn maze. $14-16
11. Spooky World: Nightmare New England—Litchfield, NH
Another hayride that will have you screaming and jumping out of your seat is at this horrifying Halloween theme park. Each year Spooky World pops up for the season offering haunted houses and games along with the hayride. WARNING: this hayride is not for the faint of heart. The one-mile ride takes you through a dark forest with live actors and special effects. While there are no age restrictions, the park warns some adults may not even be able to handle the scares. $35.99-45.99 general admission ticket
Top photo by Jim Larrison/CC BY 2.0. All other photos courtesy of the farms