25 Reasons to Visit Woods Hole With Kids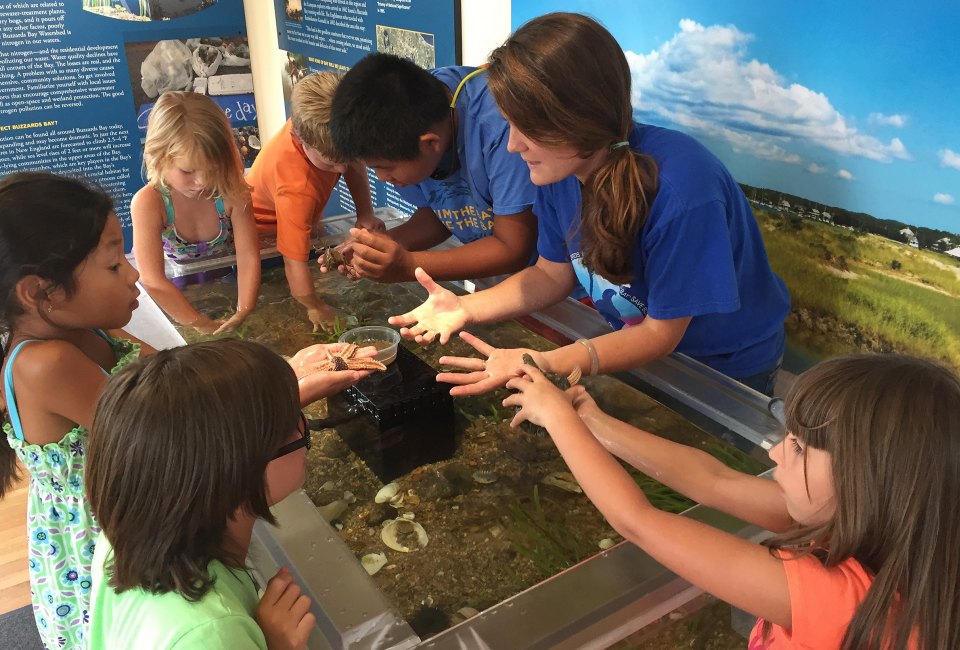 6/7/16
- By
Elyse Andrews
Cape Cod is a great destination for families—its beaches, bike paths and classic charm make it a quintessential summer getaway. Off the beaten path on the Cape, you'll find Woods Hole, a tiny village near Falmouth that straddles Buzzards Bay and Vineyard Sound. The town may be small, but it's absolutely packed with fun activities for families. Below you'll find 25 of the best reasons to visit Woods Hole with kids.
We can hardly imagine a better place to see fish and other animals from our local waters than at the Woods Hole Science Aquarium, the country's oldest marine aquarium. Admission is free, there are twice-daily seal feedings and a touch tank with sea creatures like lobsters and quahogs.
Head just out of Woods Hole Village to visit the beautiful, historic Nobska Light, which has guided boats between Buzzards Bay and Vineyard Sound for nearly 200 years. If it's hot, take a dip in the water at nearby Nobska Beach.
The name says it all for this next one. Stop by Pie in the Sky, a cozy nook of a cafe, for a variety of fresh pies and other baked goods like croissants and popovers. The savory food here is great too, but let's be honest, we're all really in it for the pie.
Just across the Sound from Woods Hole is Martha's Vineyard, which you can get a good glimpse of from the Nobska Light. If you want to really familiarize yourself with this iconic summer destination, hop on a ferry from Woods Hole and you'll be there in no time.
Woods Hole Oceanographic Institution dominates this little town so a visit here should include a stop at the Ocean Science Exhibit Center. At the center, you'll learn all about the work and tools of the institution, including the Alvin's discovery of the Titanic wreckage.
No visit to the Cape would be complete without eating a lobster roll or stuffed quahog. The two best places to do this in Woods Hole are the Captain Kidd Restaurant and Shuckers, both with views of scenic Eel Pond.
You never know just which ships will be docked in Woods Hole, but there's always something fun to see. If your kids are a little older and are really into watercraft, a Summer Walking Tour of the docks and other restricted areas is a must-do activity.
It's not every day you see a working drawbridge, but there's one in Woods Hole and it does not disappoint. It's fun to watch it go up and down as boats go in and out of the harbor and getting stuck on one side provides a nice chance to stop and gaze out at the sparkling sea.
On one side of the drawbridge is Eel Pond, a sort of inner harbor in Woods Hole. Take a walk around the perimeter to stretch the legs in local neighborhoods and take in yet another beautiful view of this picturesque town.
Your one-stop shop for made-to-order, unfussy lunches is the centrally located Woods Hole Market. There's truly something for everyone at the market, which makes it perfect for picky and non-picky eaters alike. Don't miss the almost secret back patio on Eel Pond.
Stop by the Pierce Exhibit Center at the Marine Biological Laboratory to see live animals, view unique underwater footage and play with a hands-on microscope. Tours are available in the summer for those looking to learn even more.
The small Woods Hole Historical Museum is worth a stop to check out the scale model of Woods Hole from 1895 and pop into the Swift Barn/Small Boat Museum where kids can climb aboard the Cape Cod Knockabout Penguin boat and try their hands at knot-tying.
Stony Beach in Woods Hole is perfect for kids because it lacks both waves and rocks. Little ones can busy themselves by hunting hermit crabs at this sandy spot.
The Buzzards Bay Discovery Center is the place to discover what's in the ocean right outside the door. The touch tank will introduce kids to creatures like sea urchins, spider crabs and bay scallops. Show up at the right time and you can even watch the touch tank feeding!
Touring all the museums, aquariums and science centers in Woods Hole is fun, but so much time inside can make everyone a little stir crazy. Swing by Waterfront Park in Woods Hole to get some energy out and watch boats in the harbor.
If waterfront dining is what you're after, then look no further than the Landfall Restaurant. This classic Cape Cod eatery is family-approved and a great place to watch boats sailing by.
Hop on the Shining Sea Bike Path in Woods Hole and take it all the way to neighboring Falmouth. This paved, nearly flat path runs for more than 10 miles and is a great way to avoid summer traffic while seeing the sights.
Please both parents and kids with a stop at Coffee Obsession. It's the place to go in Woods Hole when mom and dad need a caffeine fix. Kids will love the housemade Italian sodas.
One of the most storied running events in the world, the Falmouth Road Race, starts in Woods Hole. While cheering on the runners is fun, getting in one the action is even better. Kids can do just that when they take part in the children's races the day before the big event.
Take the nature trails out to the The Knob, a spit of land extending from Woods Hole with views of New Bedford and the Elizabeth Islands. The Knob is a a fun off-the-beaten path place to spot birds and have a picnic.
Take a trip back in time with a stop at Candy Go Nuts where kids can get the classic penny candy experience.
Though this next one is technically just over the border from Woods Hole in Falmouth, it's too good not to mention. Surf Drive Beach, a skinny, sandy stretch of land near Nobska Light, is just perfect for hot summer days.
Near both Eel Pond and Stony Beach is Woods Hole Park. This is a great place to pit stop in between touring the aquarium, museums and science centers in Woods Hole.
The Marine Biological Laboratory's Fourth of July Parade is a special and unique experience for all ages that ends with free watermelon in Waterfront Park. This is small town charm at its best.
No summer day would be complete without ice cream and there's no better place to go for it in Woods Hole than Jimmy's. Choose from 32 flavors to enjoy as you stroll around town.
---
Top image courtesy of the Buzzards Bay Coalition.
Places featured in this article:
Click Here to Sign Up!