Cape Cod With Kids: Free & Inexpensive Rainy Day Activities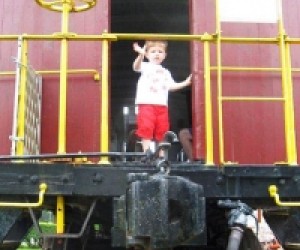 It's hot in Boston, and we're hopeful that our Cape trip in August will be sunny and warm, and just a tad cooler. But we're bringing a few rainy day toys with us, just in case, packed alongside coolers and camp chairs, sunscreen and bug spray. Maybe we won't need them, but one thing I've learned from traveling with a two year old is that it's better to be prepared, for sunny days and not-so-sunny ones. Here are six great indoor activities around the Cape to help you weather the storm, or at least buy you some time until it stops raining.
---
Woods Hole Science Aquarium
This was one of the first places I ever visited on the Cape, on a truly rainy day. A smallish, public aquarium, Wood's Hole offers hands-on exhibits that let kids see a wide variety of sea life and sea creatures. Seal feeding and training happens twice a day, at 11am and 4pm, so time a visit to catch one (and hope the weather cooperates; the tank is outside, though the rest of the aquarium isn't). Be prepared to supervise your child's time there, but also to reap the rewards of a self-guided tour: real scientists feeding and caring for marine life. An inspiring place.

Woods Hole Science Aquarium, 166 Water Street, Woods Hole, MA 02543. Hours: Tuesday-Saturday 11am-4pm. Admission: donation
---
Cape Cod Potato Chip Factory Tour

I make an exception to the no-potato chips rule in the summer, and especially at the beach. This free self-guided factory tour, which comes with two small complimentary bags of potato chips, takes visitors through the life of a potato chip, beginning with the humble potato itself, and ending in the factory's gift shop, where plenty of potato chip swag awaits. A word of warning: some of the windows are a bit high up, so you may want to bring a carrier so your little one can see.

Cape Cod Potato Chips, 100 Breed's Hill Road, Hyannis, MA. Contact: 1-888-881-CHIP (2447). Tour hours: Monday-Friday 9am-5pm, CLOSED WEEKENDS. Admission: free
---
Cape Cod Children's Museum

An easy place to spend an entire day, the Cape Cod Children's Museum offers a wide variety of play areas geared towards younger children (up to the age of 8). Kids can stage a pirate insurrection on board the museum's model pirate ship, pretend to navigate a submarine from deep waters, serve up pretend breakfast at the "Starfish Galley" diner, or just take a story break by the Museum's reading wagon. A relatively inexpensive way to get some downtime.

Cape Cod Children's Museum, 577 Great Neck Road South, Mashpee, MA 02649. Phone: 508-539-8788. Hours:
Sunday Noon-5pm, Monday-Saturday 10am- 5pm. Admission: $
---
Chatham Railroad Museum
I don't know when my daughter fell in love with trains, but she's definitely smitten. If you happen to find yourself in or near beautiful Chatham, this kid-friendly museum is located in a restored railway depot, and boasts a restored wooden caboose, complete with an audio system than provides realistic sounds of a train rolling along, for the young, and the young-at-heart, to explore.

Chatham Railroad Museum, 153 Depot Road, Chatham, MA 02633. Contact: 508-945-5100. Hours: Mid-June through mid-September, Tuesday-Saturday 10am-4pm. Admission: donation
---
Snow Library, Orleans, MA (or really any library near where you're staying)

Libraries around the Cape offer air-conditioning, story hours, and occasional story time and craft sessions, as well as extended summer hours. The Snow Library in Orleans, MA even offers Harry Potter Hogwarts Academy training for your young wizard or witch.

Snow Library, 67 Main Street, Orleans, MA 02653. Contact: 508-240-3760. Hours: Mondays 10am - 5pm, Tuesdays 10am - 8pm, Wednesdays 10am - 8pm, Thursdays 10am - 5pm, Fridays 10am - 5pm, Saturdays 10am - 4pm. Admission: free
---
Cape Rep Theatre Kids' Programs

Held inside on rainy days, the Cape Rep Theatre offers original and interactive programming for kids of all ages (and excellent evening theater for grown-ups, too). The company curates its seasons carefully, choosing shows that are off the beaten path, and boasts both indoor and outdoor performance spaces. This season's performances include Dinosaur Pirates From Outerspace, and for a little bit more subdued fun, Pitter Patter Puppets, an inventive and funny puppet program with a guest juggler.

Cape Rep Theatre, 3299 Rte. 6A, Brewster, MA 02631. Box Office: 508-896-1888. Tickets/Admission: $-$$
---
Photo: courtesy Chatham Railroad Museum Photo Gallery.