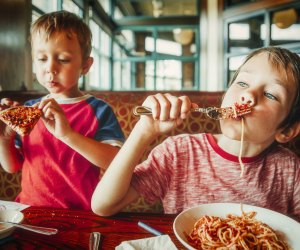 Best Pizza and Ice Cream Near Family Attractions in Boston
Introducing children to a great hiking trail, museum, or landmark is always fun; that is until someone suddenly—and it's always suddenly—gets hungry. We've found that the best strategy for a smooth outing en famille is to pair an activity with a quick meal and easy dessert. Avoid frantic last-minute smartphone searches and map out these pizza and ice cream parlors, which are conveniently close to some of our favorite day-trip sites and also just happen to serve up some of the best slices and scoops in the area.
NEAR SoWA, NEWBURY STREET, OR THE BOSTON PUBLIC LIBRARY (BACK BAY AND SOUTH END)...
Picco—Boston
Picco serves both pizza AND ice cream (and wine and beer), and it's one of my favorite pizza places in the area, period. Try the Alsatian pizza (bacon, crème fraiche, caramelized onions, gruyere), and share it (if you must). Their ice creams are even dreamier, and they have outdoor seating, for lovely summer days. It's a little more upscale than your average pizza joint, but it's also way above average.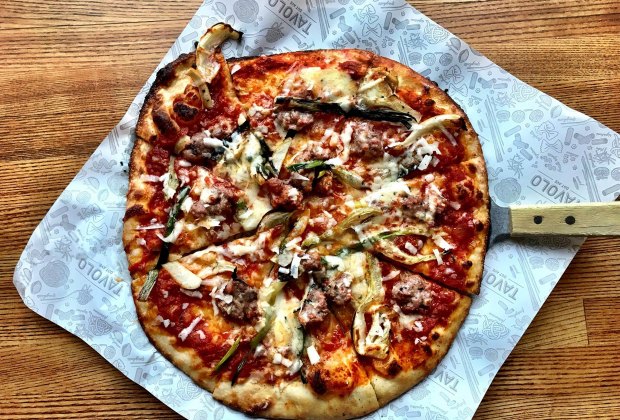 Dig into pizza or seafood after a hike or zoo visit at Tavolo. Photo courtesy of Tavolo
NEAR THE FREEDOM TRAIL AND NEW ENGLAND AQUARIUM (NORTH END AND WATERFRONT)...
Regina Pizzeria—Boston
A chain that first opened here, in 1926, Regina's is Boston's most famous pizza joint. It earns its crowds, with super-fresh, bubbly, thin crust slices. The booth seating is great for kids. Go before noon to avoid long lines at lunchtime, or before 5:30pm to steer clear of dinner crowds.
Lulu's Sweet Shoppe—Boston
With candy, cupcakes, and creamy homemade ice cream, Lulu's has something for every type of sweet tooth. Try the salted caramel or purple cow flavors.
NEAR FRANKLIN PARK ZOO, MASS AUDUBON'S BOSTON NATURE CENTER, AND BLUE HILLS RESERVATION (DORCHESTER, MATTAPAN, QUINCY)...
Tavolo—Dorchester
Serving up great pizza as well as delicious local seafood, Dorchester's kid-friendly Tavolo is reasonably priced and elegant in an unpretentious way—a special treat after a long day at the zoo or on the way home from the hiking trails. Note: open for dinner, only.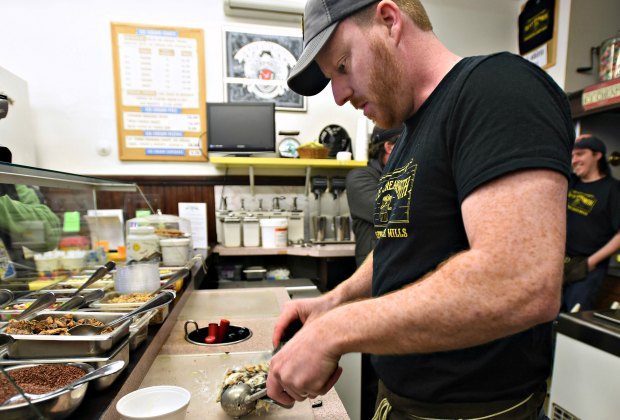 The Ice Creamsmith has been serving ice cream for over 40 years. Photo by Isabel Leon / Boston Mayor's Office ​
The Ice Creamsmith—Dorchester
This old-school ice cream shop on Dot Ave makes ice cream on the premises, with a wide variety of flavors to boot. It's been in the neighborhood since 1976, and boasts simple flavors like maple walnut and frozen pudding. Nothing against fancy creameries or virtuous yogurt places, but I like my ice cream with a scoop of soul, and this place has that.
NEAR DRUMLIN FARM, WALDEN POND, OR THE DECORDOVA ART MUSEUM (METROWEST 'BURBS)...
Sorrento's Brick Oven Pizza—Concord
This place looks so unassuming that you might skip over it by accident. Don't. In addition to having an awesome variety of wood-fired pizzas, terrific service, and even some greens on the menu, they also offer a gluten free crust. Our two year old loved watching the family photo stills on the (modest, not obtrusive) flat screen television in the corner. And the pizza is as good as any specialty place in the city. Perfect.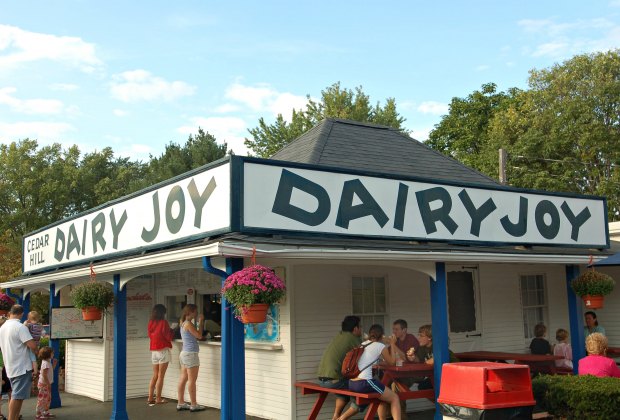 Photo by Laura 47/CC BY 2.0
Dairy Joy—Weston, MA
It can get crowded on busy summer weekends (it's open seasonally), but it's perfect for a soft-serve ice cream (or sundae or frappe or lime rickey) after a visit to the farm, sculpture museum, or pond. Bonus: There's plenty of outdoor seating. Note: Yelp reviewers complain about the prices, which is why my recommendation is for ice cream, not lunch. But I wouldn't turn down clam strips or a burger from there, either.
Top photo via Bigstock