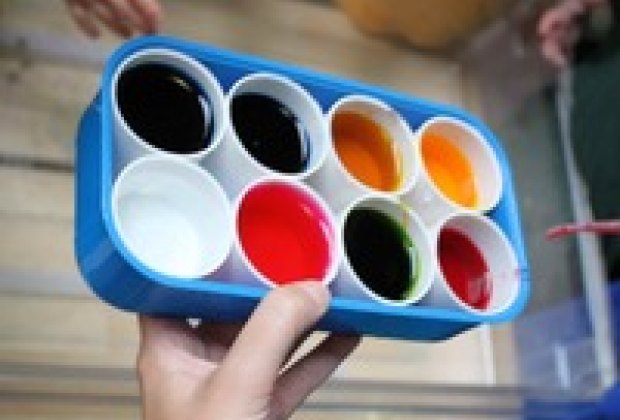 5 Parent-Child Classes for Toddlers and Preschoolers
August marks the beginning of the Back-to-School blitz, which I try to tune out as much as possible, because really, summer is my jam, and because this year, I'm returning to work full time. But if you're ready to go there, there are some amazing parent-toddler classes, from music to art to yoga, on offer throughout the city and suburbs, many of which will be enrolling shortly.
---
Mama & Me

Located at the Brewery Complex in Jamaica Plain, Mama & Me offers one of the sweetest indoor play spaces in the city, sporting high end toys, imaginative play structures, light tables, and lots of space for dramatic play, all geared towards babies and toddlers (up to 3.5 years). (Seriously: this is a great place to know about when the days close in a bit and you just want to get OUT). In addition to drop in hours for the play space, Mama & Me also offers art and movement classes for targeted age groups. One of my favorites is Paint Playground, in which just about everything becomes a brush or a canvas. Messy awesomeness. Pre-registration required for classes, check website for play space drop in hours for the fall.

Mama & Me
284 Amory Street
Jamaica Plain, MA 02130
617-477 3432
Cost for classes $(drop in)-$$(classes)
---
Music Together (Multiple locations)

Music Together is one of the few classes that I've signed up for repeatedly, and enjoyed, repeatedly. Singing and making music together are powerful ways to connect with your child, and while I'd do that at home anyway (at least the singing part), singing with lots of people is even better. The instructors, often classically trained, bring with them a wealth of experience (and patience). Classes are structured around a sequence of songs that repeat every week (so your child will really get to know them. Really), and are interspersed with movement, scales, and free instrument play. Enrollment includes two copies of that season's CD (one for home, one for the car!) and a music book. My two year old requests the "Hello Song" on the way home from daycare. And the "Goodbye Song." And "The Train Song". And…you get the picture.
Also offered at:
The Children's Music Center of Jamaica Plain
The Brewery Complex
284 Amory Street, 1st Floor
Jamaica Plain, MA 02130
800-798 2692
Cost: $$
---
The New Art Center, Newton

There's a time and a place for I pad apps with art-making, but there's no substitute for the real thing; a studio, the smell of paint, a freshly tied on smock. The New Art Center in Newton is an awesome space for adult and kid artists alike. Classes encourage students to experiment with materials while teaching age appropriate skills for creating art. While most classes are for older children, The New Art Center offers a number of parent/child courses as well, including a parent/child ceramics class. This fall, check out their Saturday morning drop-in Art Start class for parents and children, ages 36 months to Pre-K. A great space for art making and art gazing (the center includes several galleries) with wonderful instructors.

The New Art Center
61 Washington Park
Newtonville, MA 02460
617-964 3424
Cost: $$ for drop ins; $$$ for advanced classes
---
PUDDLESTOMPERS Nature Exploration (Multiple locations: Arlington, Needham, Newton, Sudbury, Weston)

So far I have yet to meet a kid who sees a puddle and DOESN'T want to jump in it. My daughter is no exception. Puddlestompers offers both child and adult classes for younger children, and drop off classes for older ones, and is at the top of our list for classes to try this year. Classes are held on easily accessible publicly owned lands, and seek to connect budding naturalists with the open spaces and ecosystems that surround them. Courses vary by season and provide kids with an age appropriate introduction to the great outdoors, as well as tools and concepts they'll need to appreciate the wildlife around them. As a fan of Ranger Rick and My Big Backyard (oh how I miss these), I can't wait to jump in.

PUDDLESTOMPERS Nature Exploration, Inc.
1 Bridge Street, Suite 105
Newton, MA 02458
617-527-2000
Cost: $$
---
Isis Classes (Multiple Locations: Boston, Needham, Arlington, Hanover) - CLOSED

You may have come across Isis classes when you or your partner was pregnant, or just admired their yummy merchandise from afar. Friends of mine raved about the infant-parent Isis classes they took, but I didn't know until last year that Isis also offers parent-child classes for the older toddler, including yoga, art, and sibling playgroups (one class for both your kids! Hooray!). Playspaces are neat and orderly, and the instructors, well trained and awesome. Multiple locations and class times mean that it's easy (or, easier, anyway) to find one that works for you; browse their online course catalog to find out more.

Isis Parenting (Boston location) - ALL ISIS LOCATIONS ARE CLOSED
The Shops at Prudential Center
800 Boylston Street
Boston, MA 02199
781-429-1470
Cost: $$
---
Note: if you're like me, you might wait until the last minute to register for some of these classes, or, your schedule may make it impossible to sign up for them. Here are three great free or cheap alternatives that offer great value and flexibility:
-Swim classes at your local community pool (or YMCA or JCC) are offered throughout the year.
- See what your local library offers for kids; the Minuteman and Boston networks have many activities running throughout the week, including crafting activities, storytime for pre-walkers, and 'books on film' for toddlers and preschoolers.
- Not ready for a class, but want to get out with your child? The city of Boston offers parent-child playgroups at many of its community centers. Check out the Boston Community Partnership for Children for more info.
---
Photo courtesy of Mama & Me.
Originally published August 2013; Updated August 2014 by Tara D