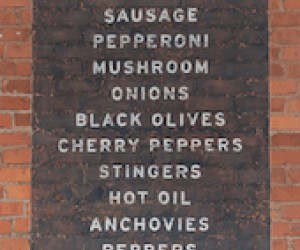 Top Ten or so Family-Friendly Pizza Places in Fairfield County
As you all know, pizza was one of the four major food groups, before they had to go and mess it all up with that MyPlate thing. Just kidding. It's a national comfort food though, and certainly has its place in the dinnertime lineup from time to time. When you're up to venturing out with the family, we've identified at least a dozen establishments cranking out legendary pies in the blurry pizza territory between New York City and New Haven known as Fairfield County.
Some pizzerias are influenced by one location or the other. Others are a delicious thing, all their own. We recommend trying them all.
Pepe's Pizzeria — This is authentic New Haven-style pie, just a little further south. Lots of booth-style seating and long waits, but worth it. The menu is simply pizza and salad. No need to veer.
238 Commerce Drive, Fairfield 203-333-7373 // 59 Federal Road, Danbury 203-790-7373

Jordan's Restaurant & Pizza — The Greeks aren't messing around. This is where you go to get legit Greek-style pan pizza. My Long Island-raised, Manhattan-working, mama friend won't have her pie any other way. She isn't alone.
Three Fairfield County locations.

Colony Grill — A Fairfield county legacy born in Stamford, now has a location in Fairfield, too (as well as one in Milford). It's claim to fame — the hot oil pizza -- a spicy, addictive version of thin crust. The menu here is even more limited than Pepe's ... so simple in fact, it's painted on the brick walls. That being said, they have added a Salad Pizza and a Breakfast Pizza to the lineup.
172 Myrtle Ave., Stamford 203-359-2184 // 1520 Post Rd., Fairfield 203-259-1989

Nauti Dolphin Pizzeria — No personal experience here, but take everyone I've ever met from Fairfield's word for it. Right next to the train station, too, so mom or dad can just pick up on the way home if everyone's melting down on pizza night.
1 Carter Henry Dr., Fairfield 203-256-1877

Fat Cat Pie Co. — It's as cool in here as the name implies, and the gourmet offerings are memorable. This is one you'll want to enjoy with older kids.
9-11 Wall Street, Norwalk 203-523-0389

Rowayton Pizza — Seriously, any excuse to go to Rowayton is a good excuse. The pizza shop, with families flowing in and out, fits perfectly into this pearl of a seaside town. Bonus: they have coupons on their website!
104 Rowayton Ave, Norwalk, CT 203-853-7555

Pinocchio Pizza — This endorsement has nothing to do with being nestled in a cutesy little town. It has everything to do with the AWARD-WINNING pizza. Arugula, figs ... these guys are absolute geniuses. That would be enough, but they also have a full menu, in case you have a pizza hater in the bunch. There isn't much seating, so leave one parent sentinel while the other takes the kids to the Toy Chest next door.
115 Main St., New Canaan, CT 203-937-2930

Westport Pizza — If you had a nostalgic bone in your body, this lunch counter was one of those places you had to take the kids. It was pizza, paper plates, and plenty of other parents with kids. After 45 years on Main Street, though, they moved to the Post Rd. in early 2014. So why is it still on the list? Great pizza can survive anything. They should enjoy a long, healthy run here, too.
143 Post Road East, Westport 203-226-4094
Beverly Pizza House -- This Black Rock joint serves up quality, affordable pies, and has no ambiance for your circus to wreck. Thank goodness.
2969 Fairfield Ave., Bridgeport 203-335-5240

Planet Pizza — One of my gal pals who actually enjoys cooking Mon-Fri, says you can't go wrong, but wholly endorse the Margherita pizza. She's also a fan of them tolerating her brood since the "three-under-five" days. Been there. There are six locations across the county.
Several Fairfield County locations.
Soho Pizza -- Their unique crust keeps NYC-style pizza lovers coming back for more (despite the very hip, brick-oven Stanziato's across town). Parents will like the easy parking and one-stop shopping with the ice cream shop next door!
164 White St., Danbury, CT 203-794-1141
Just one more slice, err, thing. You must know about Salerno's in Stratford. Every summer they serve up Plum Tomato pie worth waiting all year for. Until then, you'll have to drive far from here to get a good one!