Is New England's Biggest Family Entertainment Center the "Apex" of Fun for Boston Kids?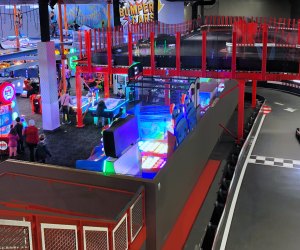 With three boys who are outgrowing indoor play spaces, I'm always on the hunt for spots where they can get their energy out in cold or wet weather. Indoor obstacle courses, bowling alleys, go-karts, and laser tag often fit the bill, but recently, I kept hearing other moms talk about a new place in Marlborough that combines these activities and more under one (ginormous) roof. The other week, we made the trek to Apex Entertainment Center, and after lifting jaws that had dropped to the ground at the place's sheer size—80,000 square feet!—my kids smiled and whooped their way through three hours of sporty and techie fun. Here's what to expect at the place that bills itself as New England's biggest family entertainment center.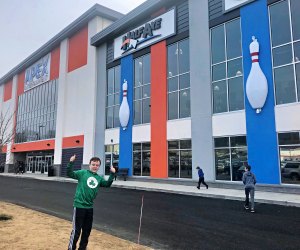 You can't miss the Apex Center, just off route 495 in Marlborough.
Planning Your Day
With so many activities to choose from, it's smart to browse the Apex Entertainment Center website and make a gameplan before you go. My boys crowded around me and my laptop the night before we went for the first time, and got excited as we figured out what we wanted to do when we were there. It helped us budget our time—and money—before our visit, and prepare the kids for the fact that we couldn't do everything in the three hours we had the next morning to spend there.
In the giant, warehouse-sized building just off route 495, Apex owns and operates an arcade, a ropes course, bumper cars, a go-kart track, pool tables, laser tag, sports simulators, and a huge bowling alley adjacent to a sports-bar-like restaurant. We only had time to sample these activities, but wait—there's more! Adjacent to these Apex-run attractions, there's also a trampoline park and an escape room, which are owned by separate businesses but easily accessible via indoor walkways once you're inside the entertainment center complex. There's also Half Axe, an axe target throwing facility (yes, you read that right). Obviously, it caters to just adults, but my boys were thrilled to just be in the vicinity of such a place.
Thankfully, there's no entrance fee for the Apex Center; you pay per activity, so families could conceivably come for just, say, an hour to bowl, and not feel invested in staying longer or doing more. You can—and should—make timed reservations online for go-karts and bowling at least 24 hours in advance of your visit. Advance reservations for bumper cars, laser tag, and the ropes course are also available online, but we found these were easy to make at a centrally located desk in the arcade when we arrived, and the lines moved quickly even when the facility started to become crowded at lunchtime.
Speaking of timing: Go early. On weekends and school holidays, especially, Apex starts to get busy around lunchtime and remains bustling through dinnertime (and even beyond, when families start to decamp and young adults and teens come for bowling and dinner). We arrived on New Year's Eve around 10:30am, a half-hour after Apex opened for the day, and had almost the whole place to ourselves. By noon, lines were starting to form around the go-kart reservation desk, laser tag area, and arcade games, and when we left at 1:30, the facility was downright crowded.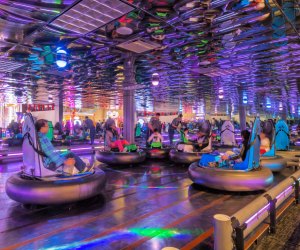 Anyone at least 44 inches tall can commandeer a bumper car. Photo courtesy of Apex Entertainment
Go-karts, Games, and More...
Go-karts: This was what my 12-year-old and 10-year-old were most excited about (with a 56-inch-tall height requirement, my 7-year-old was too little to participate, but he and I were able to watch from just above the track, which was fun in itself). Luckily, it lived up to the hype. The multilevel course has zippy ramps and hairpin turns, which even my 5th grader was able to negotiate fairly easily, and the cars had a (reassuring) five-point harness to keep drivers safe. Every time the boys cruised into another lap, they could look up to a monitor and see what place they were in the "race." One race (12 laps) is $25.
Bowling: There are 24 ten-pin lanes and six candlepin lanes (which utilize smaller balls that tend to be great for little hands), as well as overhead TVs, music, and "lane service" (you can order food and drinks as you bowl). Lane reservations are $30 Mondays through Fridays and $40 Saturdays and Sundays. All participants are also required to rent bowling shoes for $4.50 each.
Arcade: It will be hard to avoid this neon-lit fun zone just inside the entertainment center, so be prepared to spend some money on an arcade card. Kids earn points with each game, win or lose, which they can cash in for prizes. (I spent just $10 per child on game cards, and my guys were delighted by the whoopie cushion, gummy candies, and slime jar they came home with.)
Laser Tag: This two-story, Boston-themed arena got thumbs up from all three of my boys. Groups of participants are randomly divided up into two teams as they come up for turns, and games are seven minutes long. Kids love to see their individual and team scores on the monitor as they exit. Participants must be 42 inches tall, and note: the arena is open at 10am on Saturdays and Sundays but doesn't open until 3pm on Mondays through Thursdays and 1pm on Fridays. One game is $10.
Bumper cars: The driving area itself seemed small, so we took a pass, but other kids (and grown-ups) seemed to really love zooming and crashing around. Participants must be 44 inches tall. One seven-minute round is $5.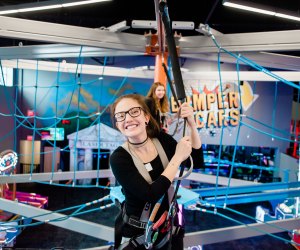 Less into gaming than climbing? The ropes course is elevated right above the arcade. Photo courtesy of Apex Entertainment
Ropes course: We didn't have time to try this either, but the course, which is elevated right over the arcade, seemed like a great energy-spender for kids (especially those who are more into action than gaming). Participants must be 48 inches tall, and are hooked into a safety harness as they negotiate ladders and balance beams 20 feet above the ground. The cost is $10 per session.
Food and drink: We enjoyed a tasty lunch served by notably friendly waitstaff at the restaurant adjacent to the bowling alley, and my kids really enjoyed watching people in the lanes as well as the surrounding TVs as they munched on pizza and sandwiches. A popular appetizer is a giant soft pretzel, sized (just like the entertainment center itself) to accommodate the whole family.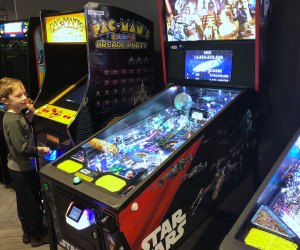 Along with splashy, high-tech arcade games, there are old-school faves on the second level.
Bottom Line
While a lengthy visit to Apex Entertainment Center is by no means cheap, I liked how you could pick and choose certain activities to match the time and money you and your family want to spend on a particular day. It's also, refreshingly, a place where children of various age groups can find something fun to do, which makes it a great one-stop day trip. Make a gameplan, get there when it opens, and enjoy watching your kids eyes light up at all there is to do: There's nothing else quite like it in the Boston area.
Photos by Mommy Poppins, unless otherwise noted