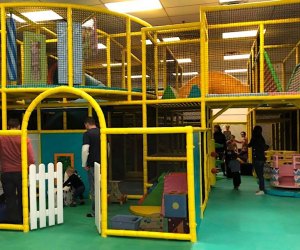 11 Indoor Play Spaces for Boston Babies, Toddlers, and Preschoolers
It's that time of year. The weather is increasingly dreary and predictably unpredictable. Playgrounds are icy even when the sun's out. And yet, if you have a child who is too young for full-day school or drop-off activities, you've gotta find a way to fill the days and burn off everyone's energy. While some indoor playgrounds cater to big kids, too, we are especially grateful for drop-in playspaces that have special zones designed for babies, toddlers, and young preschoolers. Here's the skinny on 9 of our favorite romper rooms.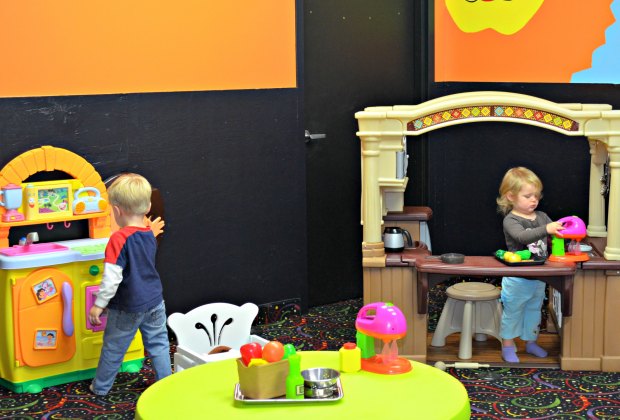 ​
Pockets of VinKari Safari are devoted to imaginary play.
1. VinKari Safari—Woburn
With soft carpet and padding covering the entire playground, this family-owned space was expressly designed with the under-6 set in mind. Open all days but Monday, when the facility gets a deep cleaning, VinKari has cute, animal-themed decor surrounding a colorful variety of climbing toys, ride-ons, playsets, and inflatables. It's super spacious, too, so it rarely feels crowded.
Recommended ages: 6 months to 7 years
Contact: 781-933-1818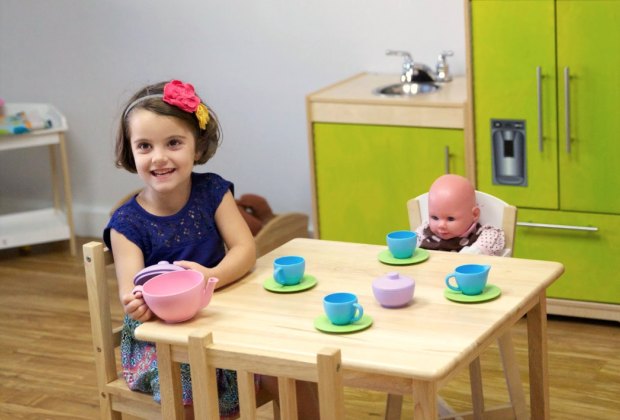 Children's Piazza is known for its high-quality wooden playthings.
2. Children's Piazza—Beverly (also a location in West Peabody)
This downright pretty space for tots is worth a drive up to the North Shore. With lots of well-made wooden toys for children and delicious fair trade coffee for tired grown-ups, Children's Piazza is the brainchild of a mom and former nurse practitioner who yearned for a place where her own children could romp and socialize in a clean, inviting space. They are open for walk-in play Monday through Thursday until 5:30pm, as well as Fridays until pm and Saturdays until noon.
Recommended ages: 6 and under
Contact: 978-969-6037 or thechildrenspiazza@gmail.com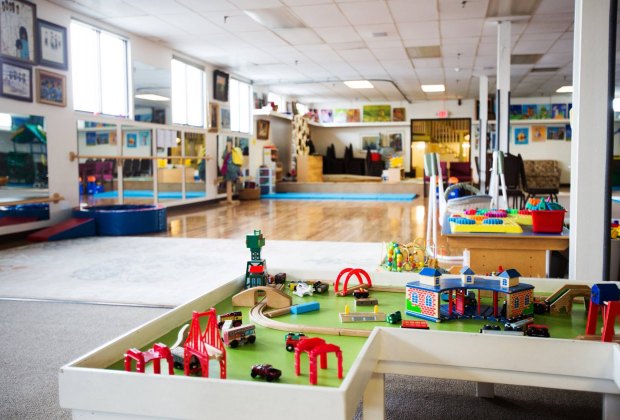 Imagine's light-filled space is warm and inviting.
3. Imagine: A Center for Community & the Arts—Cambridge
The Best Romping Spot/Playspace in our Mommy Poppins Besties Awards, Imagine makes both our bigger kids playground list and this roundup because of how well it balances fun for both age groups. The playspaces at Imagine include an imaginative "play town" upstairs and an indoor playground and recreation area downstairs, complete with climbing structures, ball pit, swings, a bounce house, and other fun, gross-motor-skill-building activities. When your little one needs a little down time, visit the quiet play room for babies and toddlers, the library, or the nursing room. Bring the bigger kids along for table tennis, foosball, building toys, and activity clubs.There's also an outdoor playground for when the weather clears up. Best of all, Imagine is open every day of the year.
Recommended ages: All ages (most of the play space is best for 5 and under)
Contact: 617-661-0077 or imaginecambridge@gmail.com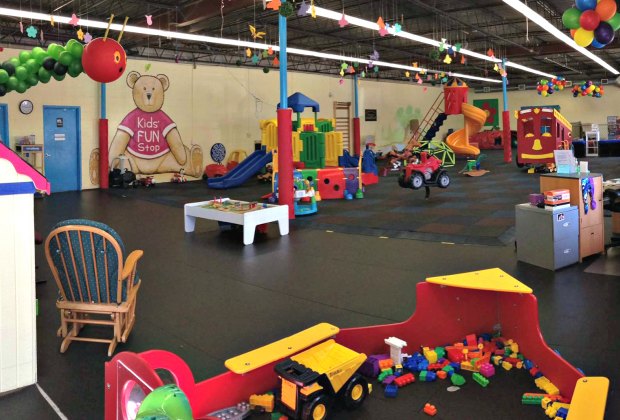 There's a separate play area for babies at Kids' Fun Stop.
4. Kids' Fun Stop—West Roxbury
Catch up on emails (free Wifi) while your kids work off some energy on the climbing structures, big slides, and ride-on toys at Kids' Fun Stop, which is open 7 days a week. There is an art table for when your child needs some down time and a separate baby play area for ages 2 and under. The baby play area is adjacent to the regular play area, so you can keep an eye on your tiny tot and bigger kids at the same time.
Recommended ages: 6 and under (with adult)
Contact: 617-325-0800 or use the online contact form.
5. Mama & Me Creative Playspace and Open Gym—Jamaica Plain
During "Creative Playspace" hours, little ones have full access to Mama & Me's wonderful main play area, which features light tables, dramatic play areas, dress-up items, puppets, and blocks. You can also take your wiggly worms to the movement studio to romp on the soft gym equipment.
Recommended ages: Children ages 6 months - 3.5 years (with adult)
Contact: 617-477-3432 or info@mymamaandme.com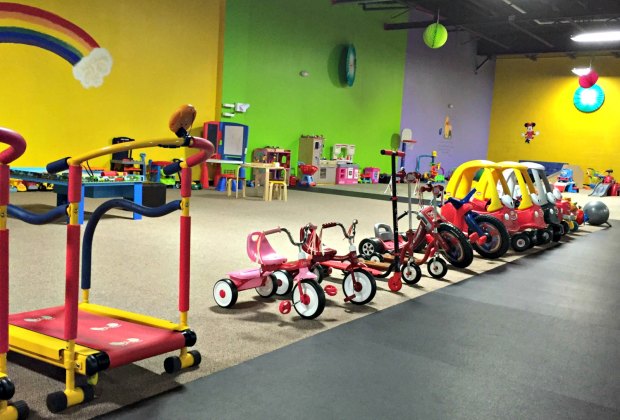 A wide variety of ride-ons are a big draw at Children's World Indoor Playground.
6. Children's World Indoor Playground—Canton
Children's World has a train table, dome climber, ride-on vehicles, bikes, scooters, Lego, a pretend play home (and kitchen area), two bounce houses (with a slide!), an art and drawing station, a mini trampoline, and a snack area. The toddler area (under 2 only) includes a soft climber, jumper, walkers, and caterpillar tunnel. Free coffee and WiFi for the adults, too. It's also open 7 days a week for drop-in play when the space isn't reserved for a birthday party. The play space is also available for playgroups. See our full review here.
Recommended ages: 6 months to 8 years (with adult)
Contact: 781-298-7148 or info@childrensworldplay.com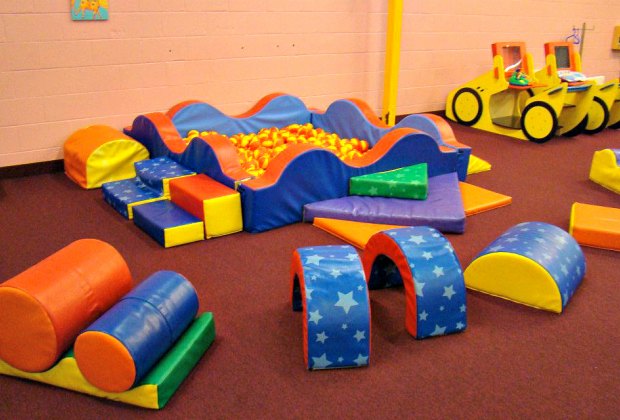 Inside PlayGround has lots of soft foam toys and a small ball pit.
7. Inside PlayGround—Watertown
Another repeat from our list of indoor play spots that also suit bigger kids, Inside PlayGround is open 7 days a week for little ones to enjoy the inflated bouncers, ride-on cars, a ball pool, gym equipment, books, puzzles, LEGO, miniature furniture, dolls, dress up, light & magnet exploration, and games. There are also weekly special activities led by staff. When you need a break, grab something from the vending machines or whip out your packed snacks and relax in the snack area. WiFi is available and parking is free.
Recommended ages: 7 and under (with adult)
Contact: 617-923-1772 or info@insidesideplayground.com
8. Toddler Town—Quincy
Located in the Marina Bay Sports Complex, Toddler Town is equipped with play structures for a wide range of ages and ability. There are two large bouncy castles, a gated infant play area, tunnels, ride-on toys, blocks, mini slides, and trampolines. Parents can engage as much or as little as they choose—the entire area is secured and blocked off so you don't have to worry about little ones running off. It's open Monday to Friday. Read our review of Toddler Town for more details.
Recommended ages: Children 7 months to 6 years (accompanied by an adult)
Contact: toddlerstaff@marinabaysportsplex.com or 617-479-8700
9. Tumble Beans Cafe and Play—Medway
It may be a 50-minute drive from city limits, but Tumble Beans has some unique features making an extra haul worth it, starting with a 1,200-square-foot play structure that wide-eyed little visitors flock to right away. In addition, you'll also find imaginative playrooms, a sensory room, slides, ball pit, a zipline, separate infant areas, and more. After you're done playing, grab a bite to eat at the cafe, with an extensive menu featuring everything from cappuccinos to salads to panini to bakery treats. The space is available for open play five days a week; weekends, it's reserved for birthday parties and private events.
Recommended ages: Infant to 6 years (Fridays afternoons beginning at 3pm, older siblings up to age 10 are welcome to join)
Contact: 774-277-7916 or hello@tumblebeans.com
10. PlayTown Express—Southborough
Not only does this indoor play space accommodate a wide range of ages (up to age 12, making it a perfect option for sibling groups), but it even offers drop-off playtime for up to four hours, with a reservation (errands, anyone?). Little ones can enjoy climbing on a netted climber, jumping in the bouncy house, and driving play cars, while options for older kids include slides, a "slippery slope", and an obstacle course. A separate area just for infants is available, too.
Recommended ages: Infant to 12 years
Contact: 508-480-0022 or info@playtownexpress.com
11. Jam Time—Natick (additional locations in Maynard and Norwood)
The play spaces at Jam Time were built especially with kids under 6 years of age in mind. Just some of the activities available include wooden climbing structures with slides, monkey bars, and firemen's pole; ball pit, air hockey table, and multiple play tables with toys that are rotated throughout the year. Gourmet coffee and snacks are available in the on-site cafe, but you're also welcome to bring your own food and drinks (just make sure everything is nut-free).
Recommended ages: Infant to 6 years
Contact: 508-651-2917 or info@jamtime.com
Have older kids with energy to burn? Our post about indoor play spaces for little kids and bigger kids in and around Boston might help. If you have very little ones and are looking to add some structure to your week, check out our post about groups for new moms in the Boston area.
Originally published Dec 2012; updated Jan 2015, July 2015, Jan 2016, Jan 2017, Feb 2018, Jan 2019
Photos courtesy of each playspace