LEGOLAND Discovery Center Boston: The Inside Scoop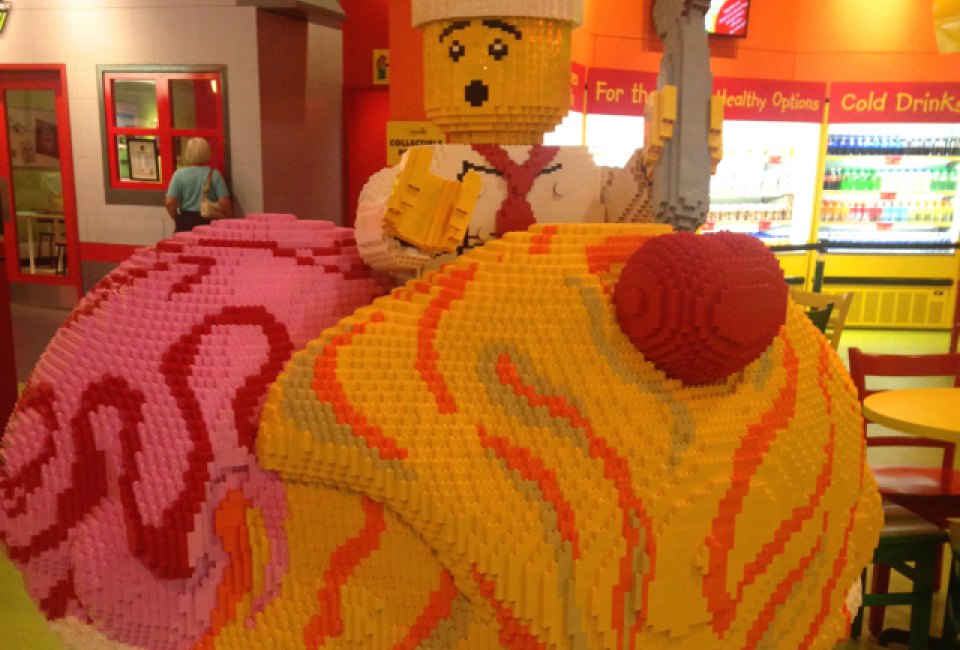 7/25/14
- By
Tara D
For LEGO-obsessed kids, visiting LEGOLAND Discovery Center at Assembly Row in Somerville can be an almost magical experience, especially if you go in with a few insider tips. We recently got a sneak peek behind the scenes and had a chat with the Master Model Builder before exploring the indoor attraction on our own. Here's the inside scoop: Highlights, things to look for, and tips for getting the most out of your visit, whether you're visiting with your family or having a birthday party for your child (a good way to get the "Best Parent Ever" title).
HIGHLIGHTS
MINILAND – In a word, awesome. A tiny version of Boston, built out of LEGO: Can it get any better? Well yes, with sound and lighting effects and lots of moving parts. There are many interactive stops on your tour through MINILAND, like racing boats on the Charles, playing in Fenway, lighting up floors of an office building, operating construction machinery, and watching a concert on the Hatch Shell. Although plenty of Kragle has been used in MINILAND, the Master Model Builder is constantly making changes to reflect what is happening around the city at any given time.
Active Play – The kids burn some energy singing karaoke and playing pretend in the LEGO Friends house, climbing the soft structure in LEGO City Play Zone, and sliding down a barn slide on the DUPLO Farm. Fans of the Kingdom Quest game will enjoy shooting their way through the Kingdom Quest Ride, where they become heroes by saving the princess. If your kids are 4 feet tall, they can also peddle on Merlin's Apprentice Ride while you watch from a comfortable distance (though they may need some help buckling in first). Otherwise, they can ride with you and you'll get your workout in for the day.
Souvenirs – My kids really dig having something tangible to take home from our adventures. LEGOLAND Discovery Center succeeds in providing those tangibles at a price I can get on board with: Once you go through the first attraction, the LEGO Factory Tour – actually more of a video game, unique among the Discovery Centers – you are given a Factory Tour brick. Put a magnet on the back and voila, you have a free souvenir. Kids can trade their Minifigures with the staff, which is not only a great way to take home a memento, but also gets your kids to talk to the friendly and knowledgeable staff members. After attending the Master Builder workshop, you can buy the model of the month down in the gift shop. In the shop, there's the wonder wall of bricks, along with a vast array of key chains and other small items. (Of course, there are also the pricier kits for your kids to drool over.)
Unique film-going experience – The 4D movies take the sensory experience a step beyond 3D with added elements like wind and snow you can really feel. There are three different 15-minute movies, so if you go multiple times, you may be able to catch them all.
Building and testing – For LEGO fans, building is the best part. You'll find receptacles of bricks just about everywhere: Pools of LEGO in the heart of the Center (thoughtfully placed directly in front of benches for the adults), giant soft bricks in the Play Zone, DUPLO bricks in the farm area, and plenty more bricks for open-ended play throughout most of the other attractions. Kids looking for a challenge can build a structure and test it on the Earthquake Tables, or build a car and race it down the track at LEGO Racers: Build & Test. Take a workshop in the Master Builder Academy to learn how to build the project of the month.
---
THINGS TO SEE AND DO (THAT YOU MIGHT NOT OTHERWISE KNOW ABOUT)
Bring a Minifigure to trade with the staff.
In MINILAND, look for the hidden dragons, SpongeBob, sharks, pirates on watercraft, and an underwater tea party.
Watch the clock tower on the hour and half hour for an entertaining show.
Plan to attend one of the hourly Master Builder Academy workshops (included with admission). You can even purchase the model kit of the project of the month in the gift shop downstairs on your way out.
Go to the bathroom, even if you don't need to go to the bathroom. No joke. The doors are hilarious.
Take a peek inside the windows of the office and watch the Master Builder at work.
---
GOOD TO KNOW BEFORE YOU GO
Parking is free at Assembly Row, and there's a new Orange Line T stop.
On the two rides, babies cannot ride and children under 4 feet must be accompanied by an adult. The Kingdom Quest ride has a handicap-accessible chariot.
You cannot bring food in, but the selection of light eats looks good, and I can tell you first hand that the kitchen is squeaky clean. If you have food restrictions (or want to save some money), plan your visit to avoid meal times.
Once your kids see the giant dish of ice cream made of LEGO in the café, be prepared to take them to J.P. Licks, just across the way in Assembly Row – the café doesn't actually serve any ice cream.
Adults aren't allowed to visit without a kid in tow (an excellent rule, I think) unless it's during a monthly Adults Night. For parents like me who wanted to linger longer in MINILAND or go on the rides over and over, going back without the kids on Adults Night sounds like an excellent plan.
The Discovery Center is geared for kids between the ages of 3 and 10. An 11-year-old who is seriously into LEGO will probably still enjoy it, but I highly recommend not bringing any child under the age of three. In my opinion, the ideal ages are 4-9.
Buy tickets online in advance to be sure you get in. They are often sold out.
There is an inverse relationship between the number of people in the Discovery Center and the amount of fun you will have, meaning that the fewer the people, the more fun for your family. Call ahead to ask when the quieter times of day are. Generally, late afternoon or evening is best, and Sunday afternoons and evenings have been the quietest times at the Boston Discovery Center.
If you can swing it, I recommend buying the annual pass, and here's why: LEGOLAND Discovery Center is best enjoyed in small doses – when the kids start to get tired or the place is getting crowded, you can just leave and plan to come back another time. The staff is constantly making tweaks and changes to improve the visitor experience, and each time you go, you will experience or notice something new. Personally, I can't wait to see MINILAND during the holidays.
---
LEGOLAND® Discovery Center, 598 Assembly Row, Somerville, MA 02145 | (617) 440-5565 | Hours: Monday - Saturday 10 am - 9 pm, Sunday 11 am - 7 pm
Places featured in this article:
---
LEGOLAND Discovery Center
Click Here to Sign Up!
i