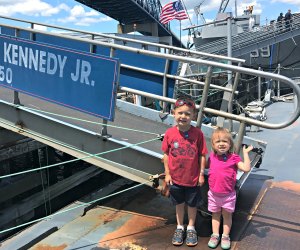 Battleship Cove: 6 Tips for Visiting the Naval Museum with Kids
If you're looking for something new to check off your family's summer bucket list, there are few experiences as unique as a visit to Battleship Cove. Located in Fall River, just about an hour south of Boston, the museum and war memorial features the world's largest collection of World War II naval vessels. After an exciting day touring the massive ships with my five-year-old son and two-year-old daughter, I'm sharing tips to ensure a fun visit with your own crew.
1. Choose your favorite tour.
Self-guided tours of the ships are the thing to do at Battleship Cove, but pick wisely. On the largest ship, the USS Massachusetts, there are four tours, each telling a unique narrative of work and life aboard. Since navigating the ship involves some ladders, stairs, and ducking through small spaces, the tours are color-coded by level of climbing difficulty, which is particularly helpful with young visitors.We chose the crew tour, which had the lowest climbing difficulty and explores the inside of the ship.
On the crew tour, we got a look at everyday life on the battleship. The starting point is a brief introductory movie about the ship; we did not stay too long here, as my son was a bit frightened by the battle scenes, and my daughter wasn't old enough for it to hold her attention. However, the self-guided nature of the tour made it easy for us to move on.
With lots of little nooks to explore, this tour is a great option for young children. A particular highlight for my children was seeing the ship's galley; there's even pretend food set up so you can see what a real meal might have looked like. We also enjoyed reading sample menus for meals eaten aboard the ship, and comparing them to our own family meals. Another favorite was seeing the crew's bunks—we were quite surprised by how close living quarters could be!
Tip: There were a few spots on the tour that were quite loud from noises on the ship, which made my children a bit apprehensive. If you have children who are sensitive to noise, you may want to skip these portions of the tour—but because these areas comprise just a small piece of the overall tour, doing so won't detract from your experience of the ship.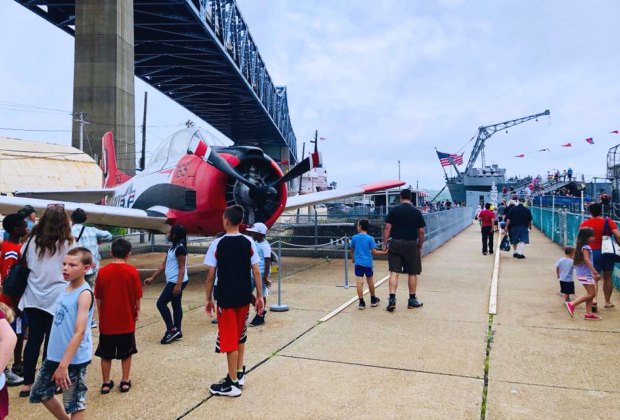 2. Don't miss the other ships.
In addition to the USS Massachusetts, Battleship Cove also features two smaller ships to explore: the USS Joseph P. Kennedy Jr. and the USS Lionfish submarine. On the USS Kennedy, we toured the ship's interior, and enjoyed some time outdoors on the decks.
Next, we headed over to explore the USS Lionfish, which was a really neat experience. The space inside the submarine is extremely tight—and it was pretty incredible for us to imagine the crew living and working in such small quarters. The interior tour is on a one-way path, so expect to walk the whole way through if you start.
Visiting the museum with young children, I'd recommend starting with the USS Massachusetts, as this is the main ship that you won't want to miss. We spent a good amount of time there, followed by lunch, before checking out the other two ships. By that time of the visit, my children were on the tired side from a lot of walking (as well as the younger one needing a nap!), so the smaller ships were the perfect size for us to explore at that point.
3. Wear the right shoes.
This one I cannot emphasize enough: Make sure that you and all of the members of your group wear sneakers for their visit. Even the tours with the least climbing difficulty do include some steep stairs; without sneakers, these would have been difficult to navigate. And regardless of the specific tour you choose, all of them involve a good deal of walking, so you'll want to make sure you're comfortable, too.
4. Keep an eye on your family's admission tags.
For your admission to Battleship Cove, you'll receive small blue tags that are to be worn throughout your stay and clipped in an easily visible area. My son kept his on; however, at two years old, my daughter found hers irresistible to play with. Clipping it to her shorts instead of her shirt made it a bit easier to keep track of, but I still checked in regularly to make sure she still had it. Your admission tickets are valid for two consecutive days, so this is particularly important to note if you are planning a return trip.
5. Bring a picnic lunch.
For lunch, we walked over to the Fall River Heritage State Building, located near Battleship Cove's parking lot. The building is surrounded by grassy areas with views of both the battleships and water, making it a really nice spot to relax. We didn't see any picnic tables, but found a nice shaded area to sit (and afterward, my kids had tons of fun rolling down the small hill).
If you'd prefer to grab a bite to eat while you're there rather than pack something from home, you'll find a snack bar with plenty of tables and chairs for eating aboard the USS Massachusetts.
6. Go on a day the carousel is running.
Cap off a fun day on the antique carousel, located next door to the main battleship museum. Built around 1919, the carousel is open seasonally, Wednesday through Sunday, and takes all forms of payment. Unfortunately, the carousel was not open on the day of our visit, but we would have definitely taken advantage if it had been.
We had a great day getting an insider's look at the battleships—and recommend it highly. Even as children grow older, this is one attraction you can return to for years to come. Thanks so much to Battleship Cove for a great maiden voyage!
Know Before You Go
Battleship Cove is open daily from October through April, and Friday to Sunday the rest of the year.

Admission is $25 for adults, $15 for kids ages 4 to 12, and free for children 3 and younger. Parking is free.

Got some naval nuts on your hands? Consider going on a Family Nautical Night! Held periodically throughout the year, these sleepovers allow families to bunk up in sailors' beds, experience the life and work of a typical crew, catch an action-packed flick, and eat dinner and breakfast in officer's quarters.
Photos courtesy of Battleship Cove