Family Day Trip for Sports Fans: Basketball Hall of Fame in Massachusetts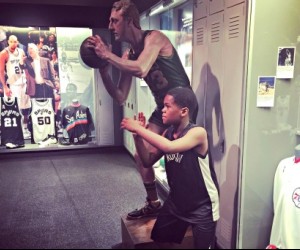 While aspiring Carmelo Anthonys have lots of ways to indulge their love of the game as NBA season kicks off, the best way for kids to experience the sport's history is by visiting the Naismith Memorial Basketball Hall of Fame. Located in Springfield, Massachusetts, this 40,000-square-foot hoops haven is home to hundreds of exhibits, many of which are interactive, so kids (and grown-ups!) can get in on the action. It's the perfect indoor day trip destination for basketball fans of all ages.
Compare your wingspan with NBA star Kevin Durant.
Named after James Naismith, who invented the sport back in 1891, the Basketball Hall of Fame originally opened in 1968 and moved into its current landmarked building (with an awesome, silver basketball dome) in 2002. Over the years, the Hall has inducted hundreds of players, coaches and other basketball luminaries, and its displays of artifacts are impressive, including original jerseys, sneakers and trophies.

Shaquille O'Neal's sneakers are impressively large—just like him!
While these are all fun to look at (my 11-year-old son, a hardcore basketball player, loved gawking at Shaquille O'Neal's huge sneakers and comparing his stance and stature with cutouts of famous players), the interactive stations are what make the Hall of Fame a day trip-worthy destination. Seconds after we walked in, my older son made a beeline to the indoor basketball court on the main floor, ready to shoot some hoops. But I suggested we start at the top and work our way down.

On the uppermost floor, we perused photos of all the Hall of Famers and learned about their career highlights. The second floor is where most of the interactive games and stations are located. There's an entire room dedicated to Michael Jordan, and my sons were particularly wowed by the statue of his likeness and the wall of Jordan sneakers.

One happy kid posing in front of the massive wall of Jordans.
My older kid was thrilled by the station where he played virtual hoops against some of the best NBA players of all time. But the traditional basketball arcade game was also a hit (and I loved that I didn't have to keep shelling out quarters like I do at Chuck E. Cheese's). My older son also enjoyed playing sportscaster by reading off a teleprompter on camera. Posing next to life-size cutouts of greats like Larry Byrd, Stephen Curry and Muggsy Bogues was also fun—my son squealed with delight when he realized he and Bogues (the shortest player ever to play in the NBA) are the same height!

While some exhibits are less hands-on, basketball mavens should still find them fascinating. My son and I both found the timeline of the sport featuring vintage uniforms and shoes really engaging.

Kids of all skill levels and sizes can shoot a few hoops.
We ended our visit by making own commemorative basketball cards in the HoopShots Photo Center and then hitting Center Court. There was even a basket low enough for my 3-year-old to get in a few buckets. Keep in mind though that you can't actually play a real game here, it's just for taking a couple of shots.
RELATED: Family Tour of Yankee Stadium
The Basketball Hall of Fame is a great day trip at any time of year, however, it's especially fun in June, July and August when it hosts special 60 Days of Summer programming like appearances and signings by pros, plus trick dribblers and mascot days. During the rest of the year, you can enjoy daily skills challenges, live clinics and shooting contests, or even throw your birthday party here.

After your visit, it's worth sticking around to explore Springfield, which has lots of other family attractions including the Amelia Park Children's Museum, the Zoo in Forest Park and the Volleyball Hall of Fame.

The Naismith Memorial Basketball Hall of Fame is open Sunday-Friday from 10am to 4pm and Saturday 10am to 5pm. Admission is $22 for adults and $16 for children ages 5-15.
It's about a 2½-hour drive from Midtown Manhattan and under two hours from Boston.