5 New England Resorts with Great Kids Camps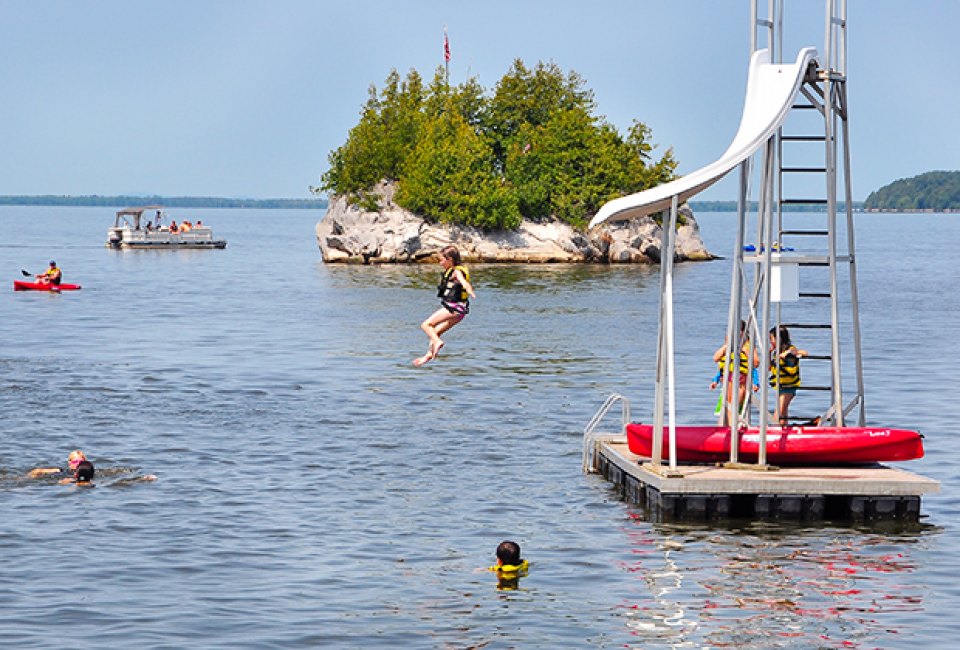 6/17/17
- By
Elyse Andrews
Still looking for the perfect summer getaway? To us, a vacation that combines family fun with opportunities for grown-up-only time can't be beat, but a lot of hotels and resorts seem to specialize in one type of experience or the other. So we did some digging to find regional hotels that are best for parents looking to spend quality time with their kids—and each other. These five, family-friendly New England resorts have great kids' programming to keep your little ones occupied while you visit the spa or have a date night.

Chatham Bars Inn—Chatham, Massachusetts
About the resort: The elegant Chatham Bars Inn has a lot to offer anyone who visits, especially families. The resort has a private beach (a huge bonus on busy Cape Cod), a heated oceanfront pool, tennis courts, and a spa. There are a variety of accommodations available, from standard rooms to suites, many with ocean views. Chatham Bars has several restaurants on-site and is near Chatham's downtown area, which has more places to eat and things to do.
Why it's good for kids: While there are plenty of activities for parents and children to do together at the Chatham Bars, there are also ample opportunities for parents to get some alone time. The resort offers children's programming in the morning and evening from late June through early September, so mom and dad can play tennis or have dinner on their own. The kids' programs are hands-on, educational, and fun, so you can rest assured that your little one is having an enriching experience, not just being "babysat." Bonus: Chatham Bars also offers full-day children's programming during some school vacation weeks to guests as well as the general public.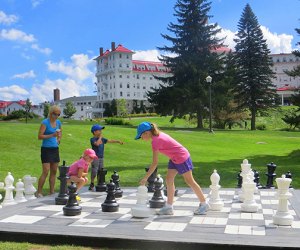 Omni Mount Washington Resort—Bretton Woods, New Hampshire
About the resort: Last winter I wrote about why Bretton Woods in the White Mountains is my favorite spot for family skiing. So it's no surprise that the Omni Mount Washington Resort, which I mentioned in my piece, is popping up here again. This beautiful, family-friendly hotel is located near the base of the mountain and has a Kids Crew that welcomes children with a backpack containing an activity book, stickers, and binoculars. Kids even get milk and cookies delivered to your room on the first night of your stay. The resort has a variety of rooms and restaurants, plus zip-lining, a spa, stables, hiking and, of course, skiing in the wintertime.
Why it's good for kids: Besides the Kids Crew, the Mount Washington Resort goes out of its way to make sure parents and kids are having fun. It offers lots of activities for families to do together as well as supervised programs so parents can go off on their own and kids can play. In the winter that includes several ski school, outdoor play, and day care options. In the summer, the resort offers golf and tennis clinics. There's also an Omni Kids Activity room where parents can drop their children off in order to enjoy dinner or another activity on their own.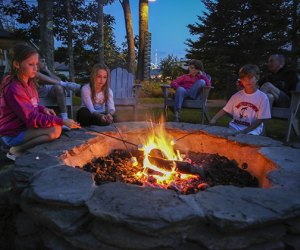 Kids night out at Spruce Point Inn.

Spruce Point Inn—Boothbay Harbor, Maine
About the resort: The scenic Spruce Point Inn is a favorite family vacation spot right on the ocean in Maine. The 100-year-old resort features a variety of accommodations, from large guestrooms to seaside cottages. Spruce Point has three restaurants on site, ranging from very casual to elegant. The resort has ample opportunities to enjoy the beautiful coast through its two outdoor pools, tennis courts, private boat launch, kayaks, paddle boards, and bicycles.
Why it's good for kids: Spruce Point goes out of its way to ensure that parents and kids have plenty to do together on vacation, while also giving parents plenty of time to enjoy moments alone. Lighthouse Camp runs every Thursday through Sunday during the day in July and August, and includes nature, science and art activities. Kids' Night Out gives parents the chance to have a date night on Fridays or Saturdays while kids chow down on pizza, watch a movie and play with their peers.

Stoweflake Resort and Spa—Stowe, Vermont
About the resort: Stoweflake Resort and Spa is nestled right near one of Vermont's premier ski spots, Stowe Mountain, making it a great destination in winter. But the resort has so much to offer families that we think it's a fabulous place to visit all year. Stoweflake has a variety of accommodations, from standard and luxury guest rooms to suites and townhouses. They even allow dogs. Several kid-friendly on-site dining options make eating out on vacation a cinch. And there's no shortage of things to do in Stowe, from skiing and hiking to golfing and swimming.
Why it's good for kids: There's plenty for families to do together at Stoweflake, but there are also lots of ways for them to have fun separately. Stoweflake runs a weekday Summer Camp in partnership with Apple Tree Learning Centers for kids ages 5 to 7 and 8 to 12. Kids can join in the fun for the whole summer, a week, or even a single day. Activities include mountain biking, a llama farm tour, nature walks, fishing, and more.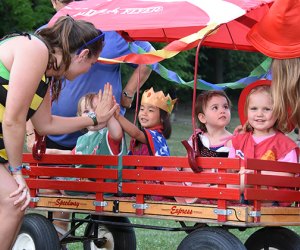 Costume parade at The Tyler Place.

The Tyler Place—Swanton, Vermont
About the resort: The all-inclusive Tyler Place is built for families. Truly, the whole lakeside resort is focused on ensuring that parents and children have the best summer vacation ever. The accommodations are designed for families large and small, so everyone will be comfortable during your stay. Guests are served three buffet-style meals a day with kid-friendly and vegetarian options, plus ice cream from local dairies. And there's no shortage of ways to stay busy at Tyler Place, from kayaking, canoeing and sailing to hiking and arts activities.
Why it's good for kids: As with the other resorts on the list, Tyler Place provides plenty of ways for parents and children to have fun together. But Tyler Place really excels at making sure that kids of all ages are attended to so parents can go off on their own. Infants through 10th graders are accommodated in age-appropriate programs. Activities range widely depending on age, but include indoor and outdoor play opportunities that feel like a true summer camp experience.
Top photo: The Tyler Place. Photos courtesy of the resorts.
Click Here to Sign Up!