Topsfield Fair: 7 Tips for Family Fun at America's Oldest Fair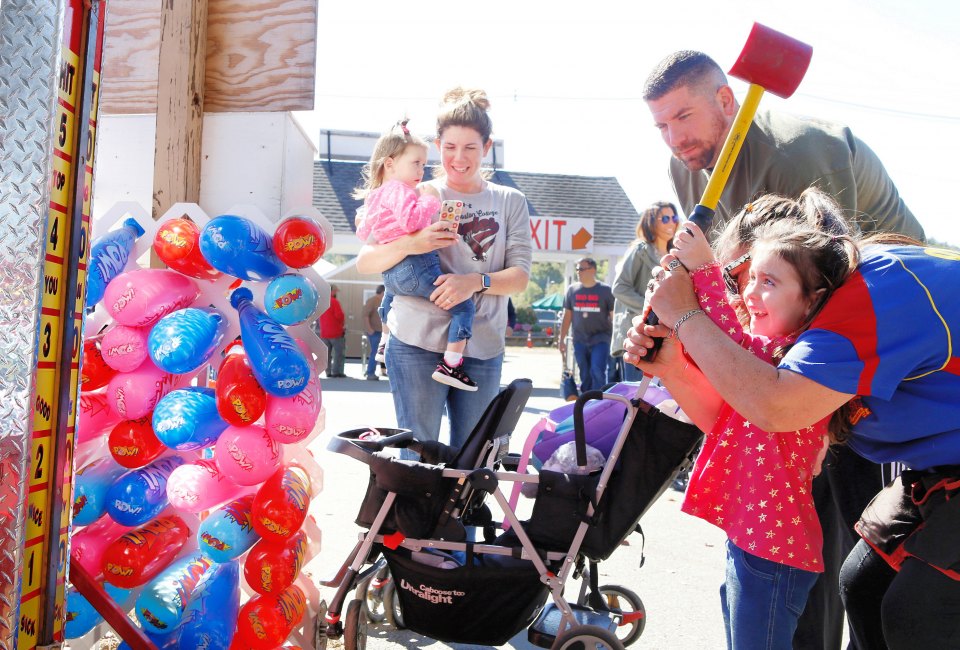 9/25/18
- By
Caitlin Dowling
The Topsfield Fair is one of our favorite fall traditions in Massachusetts, and since it's celebrating its 200th birthday this year, expect it to be bigger and better than ever. Running from September 28th through October 8th, this agricultural fair—which bills itself as America's oldest—has hundreds of vendors, rides, animals, shows, and special entertainment to see. But don't worry: We share our tips for hitting all the highlights—and saving some bucks on tickets, too.

1. Buy before Fair begins for discounted tickets.
While you can buy tickets at the gates, there are a few options to get your hands on discounted tickets if you buy ahead of time. The fair's official website is selling discounted tickets for $10 per person if you purchase before the fair gates open for the season (September 28, 2018). After that, Topsfield is still a deal, since all kids under 8 are admitted for free with a paying adult.
2. Consider timing your visit around a special event day.
The Grand Parade kicks off the fair on Opening Day (September 28, 2018 at 9am) and is filled with fire trucks, scout troops, floats, animals, and marching bands. If you love a good parade but can't visit that day, the fair also has three more weekday parades on Tuesday, Wednesday and Thursday, all at 5 pm. The weekday parades are fun for any kiddo that loves swag (and who doesn't?), since they throw out t-shirts, mardi gras beads, and beach balls to the crowds. If you have older kids (or if you dare let your little ones stay up past their bedtimes), visit the fair on September 29 in the evening: In honor of the 200th Anniversary, there will be a fireworks display kicking off at 9:30pm.
3. Start your fair day with an interactive animal visit.
Impressive and well-cared-for animals are a big part of what separates an agricultural fair from any other town festival. Start off the day in The Farmyard, where your kiddos can visit with tiny piglets, lambs, and other farm animals. There are also literally entire barns dedicated to individual animals that children can interact with. Pet a baby calf and visit with Nellie, the interactive animatronic cow in the cattle barn; swoop into the poultry barn to see baby chicks being hatched and let your little ones hold one; and then hop on over to the rabbit barn to visit with over two hundred rabbits and a very special room dedicated to adorable baby bunnies. Beware, some animals are also for sale, so you may just come home with new furry member of your family.
4. Make a beeline for bees, trains, and giant pumpkins.
Cute and cuddly friends may be a huge draw for kids at this agriculture fair, but make sure to explore other parts too. While buzzing around the bee building, your kiddos can make their own honeycomb candles to take home. Visit the fruit and vegetable building, where along with delicious produce on display, there are hundreds of painted and decorated pumpkins sure to inspire your next Halloween creation. And speaking of pumpkins, make sure to take a peak at one-ton pumpkins on display for the New England Giant Pumpkin Weigh-Off. If trains are your kiddo's passion, chug on over to the Grange Building to check out the model train display.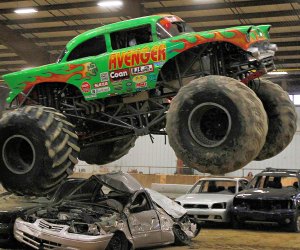 5. Catch a live show.
As if you're not on a sensory overload already at this point, there are also shows that happen throughout the day. As you roam the fairgrounds watch out for a daredevil acrobat shooting out of a giant cannon, pigs racing each other for an Oreo cookie, or motorcycles soaring upside down off jumps. These shows are all free and repeated throughout the day, so if you just miss one, make sure to circle back. If your kids are into cars and general destruction, you'll want to catch the Figure "8" Race or Demolition Derby happening October 8. In this exciting show, cars crash, smash and bash as they race to victory. This show is also free, but fills up fast, so make sure to get there early to snag seat. The Monster Truck Freestyle and Demo Derby rolls onto the fairground Saturday, September 29, with two shows at 4pm and 7pm. Beware, this demolition derby is loud, so if your kids don't like loud noises, bring some noise canceling headphones or skip it. This show is a ticketed event so make sure to buy them in advance online. Tickets are $15 per person, and for an extra $5 per person, you can buy a Pit Party Pass and get up close to snap some pics with the trucks after the show. Even though it's a ticketed event, seats are first come first serve, and you may end up in the standing room section if you don't arrive early.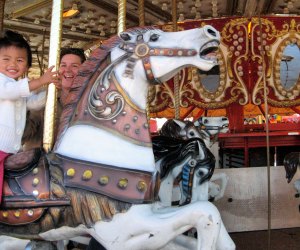 Photo by William Whyte/CC BY 2.0
6. Go for a ride.
No fair is complete without rides, and there is no shortage of them at the Topsfield Fair. In the Midway section of the fairground your fam can go for a spin on the ferris wheel, whirl around swings, race each other down giant slides, and more. For the littler riders, head over to Joytown for an entire section dedicated to tiny thrill seekers, ranging from merry-go-rounds to pint sized versions of the real deal.
Insider tip: Buy your ride tickets in advance on the fair website to save some cash. Tickets you buy in advance can be used on any ride. And don't worry, if you run out of tickets or forget to buy ahead, they can also be purchased at booths while at the fair, just at a higher cost. If you are purchasing at the fair, make sure to keep the tickets you buy in the Midway and Joytown section separate, they are not transferable. But if all this ride ticket business is just too much to worry about, plan your visit for October 2nd where all rides are $2 all day long.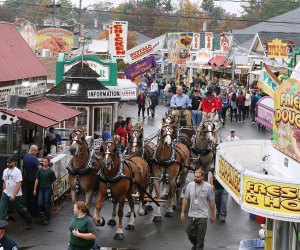 7. Indulge in some delectable fair treats.
So let's just put it right out there: You don't go to a fair for a healthy salad. Expect most of your options to be fried. From peanut butter and jelly sandwiches to Twinkies, this fair has no shortage on things they throw in the frialator. But, being an agricultural fair, there are also tons of delicious pies, crumbles, and crisps featuring various fruits that must be sampled. And if you feel like taking on a challenge, let us introduce you to the Gobbler, a turkey dinner in a sandwich that could feed four. Attempt it on your own, or have a nice "family dinner."
Photos courtesy of The Topsfield Fair, unless otherwise noted
Places featured in this article: