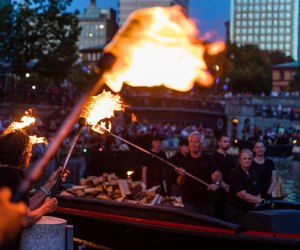 Providence WaterFire: Tips for an Amazing Outdoor Experience with Your Family
WaterFire just might be the greatest thing that's ever happened to Providence, Rhode Island. In the 23 years since the first bonfires were lit on the rivers in Providence, the brilliant and moving art installation has helped to transform the city into a vibrant, family-friendly destination.
Part community festival and part art exhibition—complete with bonfires juxtaposed with water, music, arts and crafts vendors, boat rides, and live performances—WaterFire is held on various evenings from late April through early November. And spectators will tell you: It's an event not to be missed. But just like other wonderful, very popular events such as First Night Boston, getting the inside scoop on WaterFire can mean the difference between having a magical evening with the family and a really long night. Here are 25 things to look for and to know before you go—with wisdom learned (sometimes the hard way) from my family's experience and from the very knowledgeable team at WaterFire.
Planning Ahead
1. Explore WaterFire's website, perhaps starting with the schedule for the current season. Although there is a WaterFire app, the website will always have the most detailed information about a particular night, and the Plan Your Trip page is a good source of information.
2. Make dinner reservations. Plan for an early dinner at one of the very family-friendly restaurants in Providence Place. Yes, reservations are absolutely necessary: The wait time at one of our favorite pre-WaterFire dining spots, P.F. Chang's, is typically well over an hour on WaterFire nights.
3. Worried about the weather? Generally speaking, WaterFire happens rain or shine, but the WaterFire Facebook page is your best bet if you want to double-check.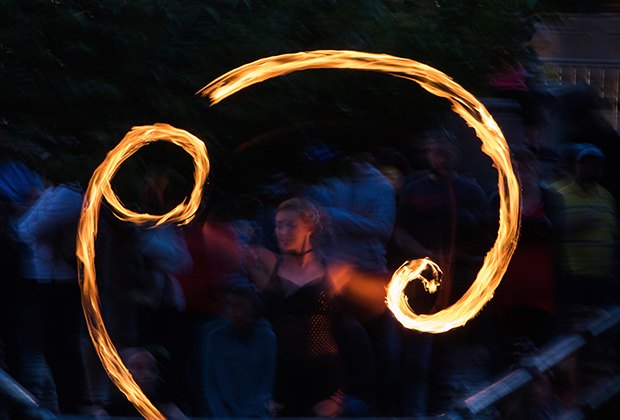 Fire dancers are mesmerizing to watch.
4. Check out the event schedule for the evening and decide in advance what you would most like to see and do; special events beyond the brazier lighting may include live music, chalk drawing, dance performances (including Fire Dancers!), or a touching tribute.
5. Map it. Familiarize yourself with the interactive map (very important if you don't want to feel completely disoriented all evening). You will definitely want to make a note of the location of the RISD Auditorium, where you'll find bathrooms and a little bit of indoor space for regrouping.
6. If you're planning to stay in a hotel overnight, do not be tempted to stay close to WaterFire. It may seem like a good idea ("Ooh, we can still see the action from here!") until you're trying to get your little ones to sleep and the music is blaring from below. Trust me: Been there, done that.
7. Thinking about a boat ride? Two companies, La Gondola and Providence River Boat Company, offer rides along the rivers during WaterFire. (We have long wanted to experience the gondola, captained by a gondolier donning a ribboned hat and striped shirt, but we're saving it for a date night.) The boats are very popular, so I recommend making reservations in advance.
8. If your family has a handicapped child or family member, WaterFire has a wonderful resource called Access. These boat rides enable families to see the fires in a way they would not otherwise be able to with a handicapped or mobile impaired family member. Note: Access rides must be booked in advance and are only for those families with this special need.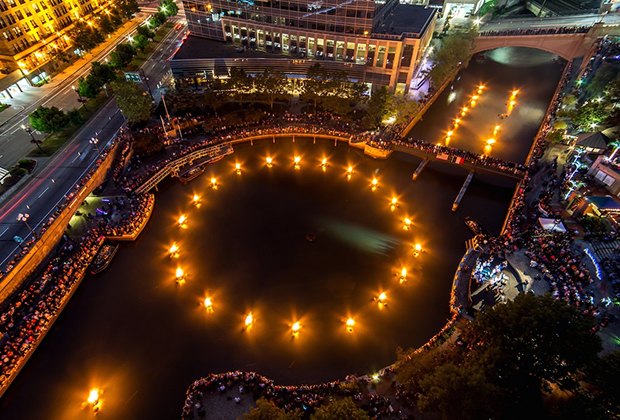 An aerial view shows just how big WaterFire has gotten. Photo by Jeff Stolzberg
In Providence
9. Get to WaterFire early. If you are driving, this is essential. Being spontaneous and attempting to just show up at brazier lighting time—well, from our own experience, I wouldn't recommend it.
10. Make a day of it! The Providence Children's Museum, Roger Williams Park, and the Culinary Arts Museum are all wonderful ways to spend the day in Providence with the family.
11. Don't empty the bank for parking. A couple of hours before WaterFire, free or inexpensive parking (you don't have to pay the meters after 6pm) is available on streets all around the area. Parking on Benefit Street, near RISD and just up the hill from the WaterFire action, has worked best for us. When deciding where to park, think about where you plan to end the evening. The whole family will have a lot more energy for a little extra walking at the start than they will after hours of strolling the streets.
12. Let's say you're two hours early and have some time on your hands: Explore downtown Providence. This is a beautiful area with monuments, bubbling fountains, and cobblestone paths. You may want to walk over to the State House, the RISD Museum, or the Providence Athenaeum. Have dinner. Shop at Providence Place. Before you know it, the sky will be ink-dark and the braziers will be blazing.
13. Before the evening's festivities begin, find the First Aid station at the head of Washington Street (hosted by Nursing Placement with registered nurses). If somehow you and your kids are separated later in the evening, this can be a great place for your kids to wait for you. It's also great for Band-Aids.
14. Bringing a stroller is not recommended, as most of the atmospheric part of the installation is on cobblestone streets. However, you can do the Memorial Boulevard side of the installation (with sidewalks next to the street) if a stroller is absolutely necessary.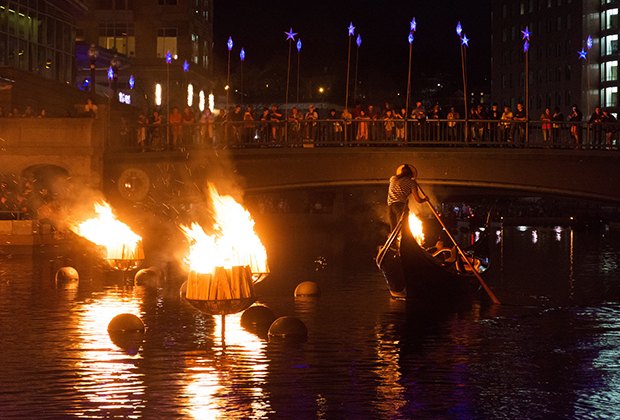 You can reserve space on a gondola ride on the river. Photo by Tom Lincoln
Things to See and Do During WaterFire
15. First, find one of the volunteer WaterFire Ambassadors for a handy pocket guide with a map and a schedule of the evening's events.
16. Before dark, make your way to the Waterplace Basin for the WaterFire lighting, which usually starts about 15 minutes after sunset (the time varies, depending on the season). This is a beautiful highlight of the evening.
17. The bonfires are the centerpieces, of course. Meander alongside the rivers, losing yourself in the beauty of the braziers and the evening's soundtrack of carefully selected world music, low roar of murmuring voices, and crackling fires.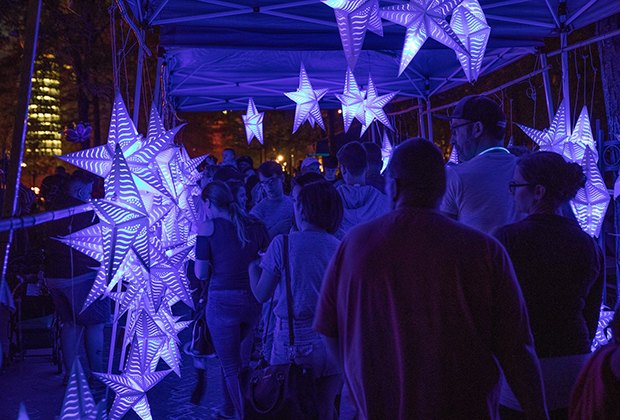 Starry Starry Night field is a place where kids can make wishes and dedications. Photo by Kevin Murray
18. The Starry Starry Night field in Memorial Park is a favorite for children and adults alike. Enter through the archway of blue stars into a magical field of wishes on ribbons tied to glowing stars and paper lanterns with touching dedications.
19. Near the Starry Starry Night field, at the World War Memorial in Memorial Park, you'll often find the living sculptures of ten31 Productions. If your kids are old enough to understand that the Gargoyls, The Oracle, Zeus and other "statues" are actually people, they will likely be impressed.
20. Become part of the art. Make a donation ($5 is suggested) at one of the WaterFire donation stations (marked by a column of blue light). WaterFire is a nonprofit organization and the events are free, so they are dependent on donations.
21. Put your dedication or wish out there in the universe. For a $5 donation or more, you're invited to write a dedication card and light one luminaria candle. All the dedication cards are saved and preserved in a book at WaterFire. For a $20 donation, you can light two luminaria candles to help light the night.
22. Look for the WaterFire volunteers, dressed all in black, tending the fires from boats on the rivers. Watching the braziers re-igniting as the volunteers add wood to the fires is strangely fascinating.
23. Skip the mall. Shop the WaterFire Store on Canal Street and WaterFire Arts Festival Plaza on Washington Street instead. You can pick up some gorgeous photos and other souvenirs (while supporting the event) at the WaterFire Store, and the Arts Festival Plaza features wares from local arts and crafts-people.
24. Dance the night away! Check the night's schedule for live music, the WaterFire Ballroom, and other opportunities to get your groove on.
25. Get the playlist. The music of WaterFire is an integral part of the experience. At times, the ethereal world music makes you feel almost like you're in a trance. Recreate that WaterFire feeling any time you want by getting the music playlist from the night and downloading the songs.
Special thanks to Bronwyn and Corinne at WaterFire for their help and insights.
Article first published in 2014; updated in 2017
Top photo by Matthew Huang