Santa's Village, NH: Rides, Treats, and the Magic of Christmas in Summer and Fall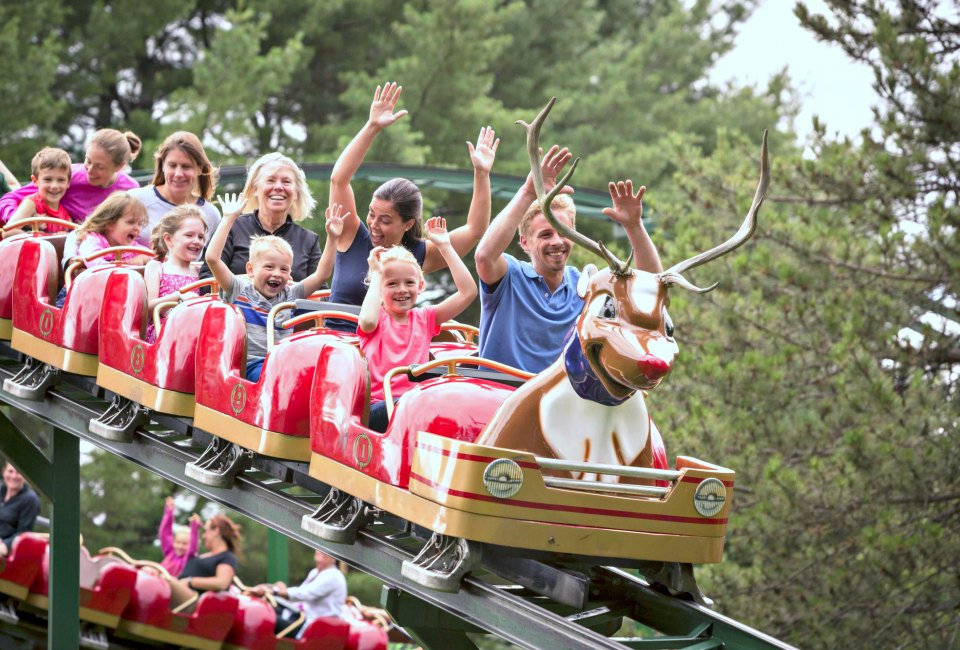 7/17/18
- By
Kelley Heyworth
When the humidity is soaring and the holiday spirit is in hibernation, a winter wonderland sure is a nice idea. While Santa's Village can't make it cooler outside, it does create the feel of Christmas in July (actually, May through December, with daily hours in the summer). With themed rides like the Chimney Drop, activities like "snow" tubing down a giant slide, and encounters with real, live reindeer, Santa's Village is a uniquely sweet theme park experience akin to Story Land, another New Hampshire gem especially suited to young kids. Here's how to get the most of your trip to the near-North.

Even Santa might like to chill out at the Ho Ho H2O water park.
Getting There (and Staying Over)
Driving due north up I-93 is the best way to get to Jefferson, New Hampshire, Santa's summertime home on the far end of the White Mountains (Story Land is on the near side). Unless you live in the far north 'burbs, Santa's Village is probably best suited for an overnight or weekend trip since it's a 3-to-3.5-hour drive from Boston.
There are no fewer than 9 hotels and motels between 5 and 15 minutes from the park. Lantern Village, which includes a motel and campgrounds and reportedly fantastic breakfasts, is connected to the park via a wooded walking trail. Just up the road, there are charming family suites and good coffee to be had at the Jefferson Inn, a B&B.
Must-See Attractions
There are rides, games, shopping, lots of fun food, and even some surprises at Santa's Village. Everything is super walkable, but it's helpful to print out this map or bookmark it on your phone to orient yourself to where everything is when making a plan for your day. Here are our not-to-miss favorites:
Ho Ho H2O Water Park: Hang a left when you enter park in the morning to start your day at this "polar cap"-decorated, slide-and-spray-park heaven, and beat the crowds. It's open in the summer, and closed in the colder months.
Yule Log Flume: The boat meanders through a forest-like area before climbing the logging ramp and shooting down into water. Consider toting a change of dry clothes for this, even if you don't hit the water park area!
Better watch out, better not cry...on the chimney drop!
Chimney Drop: This clever take on the classic up-and-down bounce ride has kids giggling their heads off with each gentle jolt.
Rudy's Rapid Transit Coaster: Kids need to be 39-inches tall to ride this reindeer-led coaster, which is zippy enough to be exciting for big kids but still tame enough for younger ones.
S.S. Peppermint Twist: Little ones feel like they're on a real coaster on this tug boat that "rides" mechanical waves.
You Tubing: This giant, dry slide replicates sledding on snow tubes...just smoother and faster (and warmer).
Santa's Home: Surprisingly cozy looking even in the heat of summer, this grand log cabin features the big man in a green easy chair, always available to greet guests and pose for pictures.
Reindeer Rendezvous: After a ride on the reindeer-themed carousel, treat your kids to a visit to Santa's gentle sleigh pullers. You can feed them special treats (but they cost $2 each).

Santa's Village in Jefferson, NH, is the summer home of Santa – and also, of course, his reindeer, who love to get close to his guests.
Good to Know
Along with ride and activities, Santa's Village features some jolly entertainment. Check the calendar for shows that allow you to take a break and breather from bopping from one ride to the next.
What would a Christmas-themed park be without delicious treats? There are a dozen dining options, but we're partial to a meal at Nick's Pizza Emporium, followed up by a visit to Frosty's Freezer Homemade Ice Cream or Sugar n' Spice Bake Shop, where children can decorate their own Christmas cookies.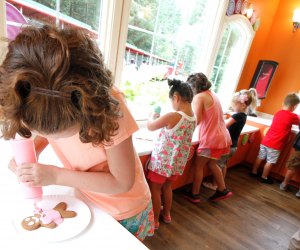 Decorating a gingerbread cookie made fresh daily at Santa's Village is a special treat for many guests of all ages.
Santa's Village is open on Memorial Day weekend as well as weekends in June, September, October, and November. The park is open daily in July and August. Hours vary, so study the calendar before you decide on an ideal date to go. Daily admission is $33 for guests ages 4 through 61, $30 for guests over 61, and free for kids under age 4.
Want a place to cool your kids' jets throughout the busy day? Families can rent a Gingerbread House for a 3-hour block of time for $59.95 or during the entirety of a day's park hours for $109.95. Call 603-586-4445 to reserve as far in advance as possible. For your doggie who can't resist tagging along on a trip, you can score a "canine condo" near the parking lot for free, first-come first-served.
Photos courtesy of Santa's Village
Places featured in this article:
t Click Here to Sign Up!