8 Places to Eat with Kids Along the Freedom Trail in Boston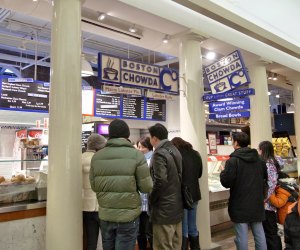 I had a great time walking the Freedom Trail with my family recently, but I have to admit, the stops we made along the way to grab something to eat turned our fun day into a wicked awesome day.

Little stomachs usually start to rumble sooner than big ones, so before those grumbles start spilling out of wee mouths, it's smart to make a pit stop at one of the tasty places below. These spots are listed in order of where they appear on the way, and none are far off the trail.
1. Boulangerie Paul is one of our picks of local places with the perfect cup of hot chocolate. The new Downtown Crossing location is now open, offering a perfect stop for a quick and delicious first bite along the trail. Not only do they serve up perfect hot chocolate, but their bread, croissants, and fresh orange juice are the just-right pick-me-ups.
2. The Quincy Market food court puts regular shopping mall food courts to shame. My personal favorite here is the Boston Chowdah Company, where you can order various sizes of creamy chowder or even get it in a bread bowl. Plenty of other options in the hall can keep everyone in the family happy. The indoor seating area often fills up, but you can find a spot to stake your claim outside on fine days.
3. Wagamama is one of the restaurants on our list of al fresco dining around Boston, and with good reason. The family-friendly menu goes over well with everyone as you enjoy the outside air and people-watching. A word of caution on portions: the kids' ramen is almost as big as the small adult bowl, so depending on your little ones' appetites, sharing dishes might be the best option. Whatever you order, it's sure to be delicious!
4. Saus is a tiny eatery with Belgian specialties that delight kids and parents alike. Their frites and waffles are as authentically Belgian as you can get here in the States. Several saus—or "sauce"—choices are available for the fries, including complimentary mayonnaise and ketchup for the kids. Our favorite waffle topping is most definitely the dark chocolate hazelnut. In a word: yum.
5. The Union Oyster House is America's oldest restaurant and is right on the Freedom Trail. Menu options include traditional meals served with cornbread and baked beans, a raw bar, and a kids' menu. At peak times there can be a long wait for a table, but it's definitely worth a stop on one of your trips, and you can check it off our list of 100 Things to Do With Kids in Boston.
6. Locals know Regina Pizzeria as the epitome of North End pizza (pictured). While you can't go wrong with the restaurant choices on Hanover or Salem Streets in the North End, this off-the-beaten-track gem is definitely worth a slight detour. Kids love the plain cheese variety, but oodles of topping choices as well as special gourmet pizzas make this one of the best picks for the entire family. My family absolutely loves the crispy crust, just the right amount of sauce, and the gooey, flavorful cheese. In practical tips, don't be fooled into thinking it's easy to get a table here because it's not right on the main drag. Fans come for miles for this pizza, and the line often snakes down the block, so go early!
7. Some of the best sweet spots in the North End include Caffé Vittoria and Mike's Pastry. People rave about the cannoli at Mike's, where they also serve delicious pastries like lobster tails and ricotta pie, so it's a great place to get a take-out box to save for later. My family and I always frequent Vittoria for its Italian ambiance, tasty cappuccino, and wonderful selection of gelati.
8. There are fewer choices in Charlestown than downtown Boston or in the North End, but if you need to replenish on this leg of the trail, Sorelle Bakery & Cafe in City Square is a good bet for a quick snack. It's in walking distance to both the U.S.S. Constitution and the Bunker Hill Monument.