Ways to Enjoy the Fall Foliage in Connecticut with the Family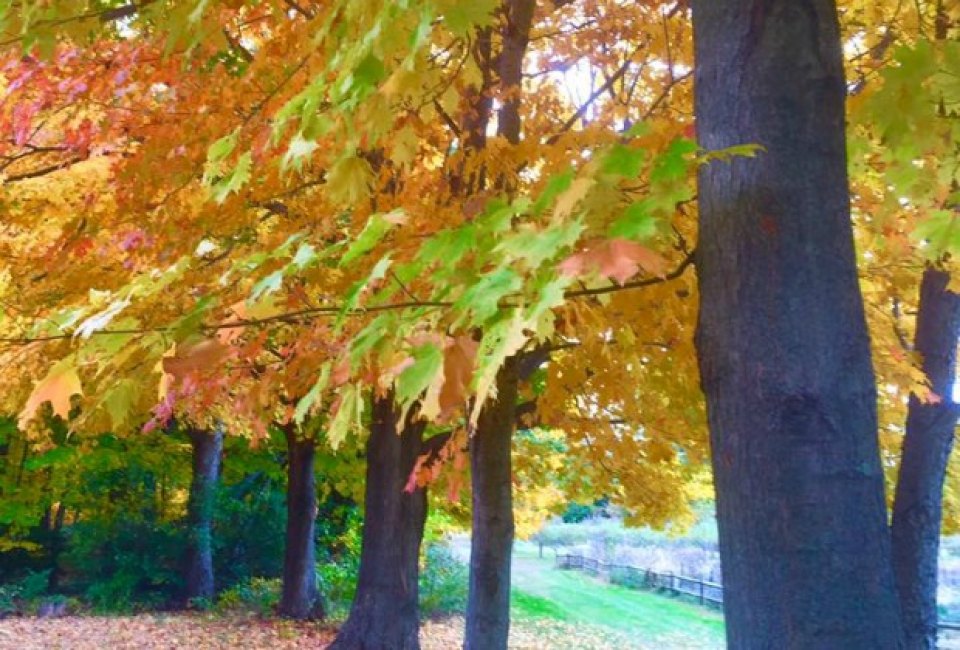 9/14/16
- By
Mary Beth Lawlor

Come October, millions of tourists from all over the United States and abroad flock to New England to catch a glimpse of the glorious colors of our fall foliage, to 'leaf-peep'. Nowhere in the world can you see such breathtakingly colored canopies as in our region. We have our sweet Indian summers and the diversity of our flora to thank for it. Yankee Magazine named Kent, CT one of the Best Foliage Towns in New England for five years running. Check out our day trip post to Kent to get the low down on what to do while visiting and soaking in the beauty of nature. For even more ideas in your inbox, sign up for our weekly newsletter. Check out our Halloween and Fall Fun Guide for lots of other great info!
The season is just starting, the colors are just about to peak. Here are four different ways to spend a day enjoying our wonderful fall scenery and have some special family fun.
Scenic Drive – Road Trip: Historic Route 169
Driving through a beautiful countryside framed by colorful forests and rolling hills is the best way to enjoy the fall foliage spectacle. Included in every top 10 autumn foliage road trip list is Eastern Connecticut's 'Quite Corner' is a real treasure chest of serene autumn landscapes, soothingly peaceful little towns with stonewalls, white fences, picture-perfect little churches and old houses. The 30+ mile drive is ideal for families: apart from admiring the beauty of nature, there is so much to do on the way. You can stop by to visit Palladian-Gothic Prudence Crandall Academy () on the Canterbury Green, the first integrated school in the United States by admitting a black student in 1833.

For more history, you can walk around the Brooklyn Green ringed by little churches and old buildings from the pages of fairy tale books or stop in Woodstock, another dream-like New England village, home to the surrealistic, pink, Gothic Revival style Roseland Cottage.

But that is not all. On your drive, Mashamoquet Brook State Park, rich with history, legends, surprising natural rock formations and easy hiking trails.

Prudence Crandall Museum
1 South Canterbury Road
Canterbury, CT, 06331
Phone: 860-546-7800
Hours: May 4th – October 30th, Thurs-Sun: 10 am to 4 pm

Roseland Cottage
556 Route 169
Woodstock, CT, 06281
Hours: June 1st – October 15th, Wed – Sun 11 am to 5 pm

Mashamoquet Brook State Park
147 Wolf Den Drive
Ponfret Center, CT, 06259
Phone: 860-928-6121
Hours: 8 am to sunset
Parking fee on weekends and holidays

Biking Under the Colorful Trees

For a different kind of foliage experience, try a short bike trip across the colorful forests. Connecticut and the Hudson Valley offer many bike trails converted from rail right of ways that cut through scenic landscapes. Far away and well-protected from busy roads, they allow bikers to experience nature's beauty from up-close.

For a safe and easy family bike ride, hop on the North County Trail System's bike trail around Yorktown Heights. Riding to the south on this paved and well-maintained trail that follows the route of the Old Putnam Division of the New York Central Railroad, you can roll down the gentle hills of Yorktown Heights, straight into the area of the Croton Reservoir. You will pedal along wetlands, under colorful trees of friendly woodlands and can ride across the historic railroad bridge above the reservoir.

Along the trail, benches await the weary bikers for a short break for a sip of water and a quick snack. Informative and illustrated panels explain the history of the rail, the trail and the region. Even with elementary school kids, you can easily bike into the reservoir area and back to Yorktown Heights. Yorktown will also surprise you with its pretty Railroad Park – complete with a cool playground - established around the old railway station building. You will also find several little restaurants here to 'refuel' after the heart-pumping bike trip.
In Fairfield County, check out the Pequonnock River Trail. While this one begins in urban Bridgeport, on its winding path to Newtown it rolls through some beautiful woodlands. For best access we recommend the Trumbull section which runs alongside the trail's namesake river. The trail can get quite busy on a beautiful fall day so make sure all of your bikers are ready to handle crowds and dogs. If the parking spaces at the head of the trail are full, on street parking is available along Taits Mill Road.

North County Trail
Best place to access trail:
Commerce Street and Underhill Avenue corner
Yorktown Heights, NY, 10598
Pequonnock River Trail
Best place to access trail:
Taits Mill Road
Trumbull, CT 06611

Saddle up for an Extra Special Fall Ride

Have you ever roamed the autumn forest on the back of a trusty, calm horse? If yes, you know the thrill of getting lost in the luxuriously colorful woods on a crisp fall afternoon with peace and calm settling around you while you can only hear the whisper of falling leaves and the crackling of twigs that your horse treads on. If not, you just have to try it.
B&R Stables 120 Roaring Brook Road, Prospect, CT 06712 (203-758-5031)

Take a Hike: Devil's Den Preserve

Although it is October, the time of spooks and evil spirits, Devil's Den is one of the few places in Fairfield County that is totally benign. It's all about trees, marshes, massively beautiful boulders, tiny creeks, brooks and little ponds: it got its ominous name from some funky-shaped dents on some of its rocks, but it harbors no evil spirits.

On the contrary, it is a popular destination for families for an easy fall outing. It has over 15 miles of well-maintained and clearly marked trails: some a bit more challenging than others, but none impossible to hike. The preserve also has other treasures: the rusting machinery of an old saw mill sitting at the bottom of a dam, the impressive, though long out-of-use remains of a 'portable' saw mill, footbridges, and big boulders. You can easily spend a few hours hiking its many trails.

Devil's Den Preserve
33 Pent Road
Weston, CT
203-568-6270
Kent, CT - Litchfield County: Best Fall Foliage Town in New England article by Yankee Magazine.
Originally written 9/15/2011. Photo Credit Julia Tolstrup
Sign up for the Mommy Poppins Newsletter today!
i