Please Touch Museum: Things to Know Before You Go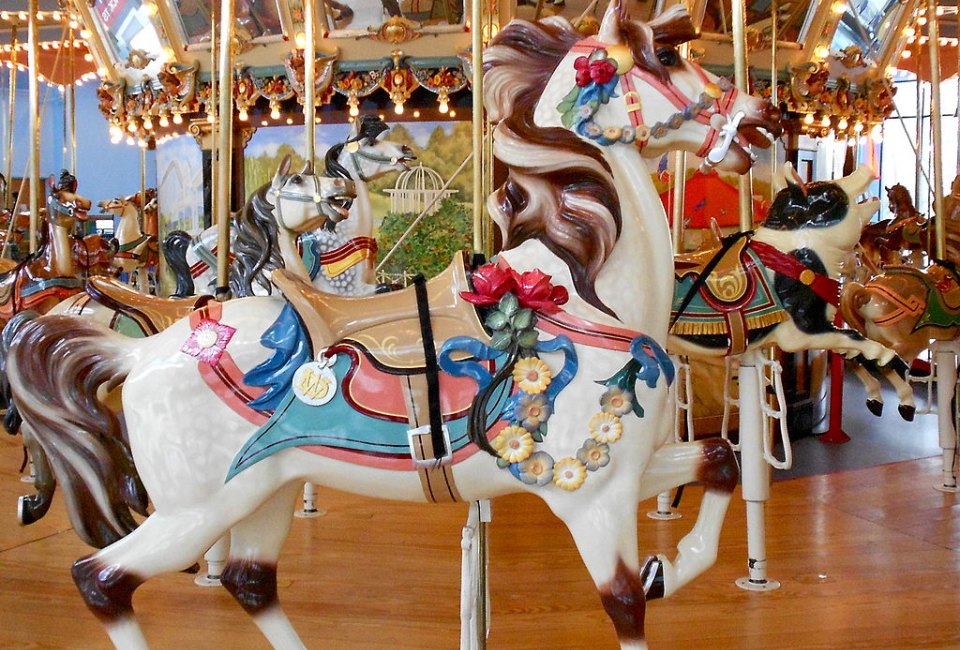 10/25/19
- By
Erin Ryan
The Please Touch Museum is one of the most celebrated places in the Philadelphia region to take your tots under the age of six, and for good reason. This totally hands-on experience, with nothing off limits, gives kids the chance to let their imaginations run wild. Whether they are playing grown-up in the replica grocery store or make-believe in the Alice in Wonderland maze, kids are sure to have a great time. Here are some insider tips to help parents and children make the most of their visit.
Looking for other inside activities for kids in the Philly area? Check out our directory of venues that offer indoor fun.
Exhibits and Eats - With two levels, 11 permanent exhibits, playhouse shows, a carousel, special events, an onsite cafe, and gift shop, you could spend the entire day here. Exhibits are designed to foster creativity and use of fine and gross motor skills. The following hands-on attractions are available year round:
Healthy Me features a play grocery store, bistro, garden and hospital room with diagnostic tools.
Wonderland is a maze of fun based on the classic Carroll story.
River Adventures lets kids get their hands wet and learn about water properties, including water flow and buoyancy using toy boats, dams and water pumps.
Roadside Attractions allows children to put together cars, sit in the driver's seat of a play bus and pretend to be a chef.
Rocket Room will dazzle your little ones as they launch (or try to catch) foam space shuttles.
Happy Camper is a great way to introduce your kids to all the joys of camping from the comfort of a safe, temperature-controlled room.
Adventure Camp offers a tree house experience your kids are sure to love.
Imagination Playground comes complete with large foam shapes and magnetic building tiles to let your child's construction skills come to life.
Wordsworth Cottage is a cozy spot where families can enjoy a good read before continuing on to the next exhibit.
Centennial Exploration offers a wooden train set and a miniature display of the World's Fair of 1876, where the historic building that now houses the Please Touch Museum was featured.
Be sure to head outside and indulge your senses at the Please Touch Garden, which features verdant plants and fragrant herbs.
In addition to the standard museum exhibits, kids can enjoy Very Eric Carle, a current special exhibit where the Very Hungry Caterpillar and other popular characters from the author's popular books offer a backdrop for fun. Children can express their artistic side by creating a spider web, a musical composition and more. Also, since it's never too early to teach kids about money, the museum is featuring Cents and Sensibility. This limited time experience teaches kids about saving, spending and investing through games, stories and puppet shows.
While you may opt to come prepared with sandwiches and snacks, cafe options are plenty. The museum has taken into account individuals with allergies and dietary restrictions, and offers healthy and gluten-free foods. Seasonal meals are also available as well as kid classics like pizza and hot dogs.
Accommodations for Children with Special Needs - Before you visit, check out the museum website, which offers sensory guides, which rank exhibits on a low-to-high scale in terms of sound, sight, touch, movement and complexity. Once you're there, request a complimentary sensory friendly kit at the museum admissions desk. Kits include fidget toys, a coloring book and noise-canceling headphones.
Also consider registering for the museum's free Play Without Boundaries event for children with autism and those with developmental and learning disabilities. Sign up for the program, held once a month, and have your children enjoy all the museum has to offer before the museum's regular working hours. Other features include low-level lighting, quiet zones and social stories.
Pricing, Special Offers and Hours
General admission ticket prices are $19.95, with additional costs for carousel rides, ranging from $3-$5 per child. Children under one are admitted to the museum for free. Keep in mind that the lot is a pay-to-park setup ($16 per car). However, you may be able to find free off-street parking outside of the museum as well.
If you plan to return, it might make sense to purchase a membership, which offers benefits including free admission for a year, free parking, cafe and gift shop discounts, among others. Pricing ranges from $150-$300 annually.
The museum is open 7 days a week, with the exception of Thanksgiving and Christmas. Most days, doors open at 9 a.m., except Wednesday (10 a.m.) and Sunday (11 a.m.), and you can stay every day until 5 p.m.
Do you have any tips to share? Let us know! And be sure to check out the Please Touch Museum Facebook page, which is a great resource for upcoming events and updates.
Public domain photo courtesy of Wikipedia.
Places featured in this article:
Sign up for the Mommy Poppins Newsletter today!
i