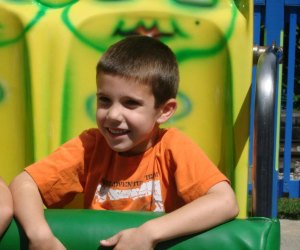 Best Amusement Parks for Preschoolers around Philadelphia
It's hard to imagine a more thrilling summer day for a preschooler than riding bumper cars, spinning teacups and a miniature locomotive. Fortunately, there are many amusement parks within a day's drive from Philadelphia that offer fun for the younger set. While some on our list are super-sized theme parks with sectioned areas for little kids, others are designed especially with preschoolers in mind.
Be sure to check out our Summer Fun Guide which is filled with amazing summertime activities for little ones.
Diggerland USA
100 Pinedge Drive West Berlin, NJ
(856) 208-6640
Opened in 2014, this construction-themed park is sure to delight little ones obsessed with trucks and tractors. However, many rides have a 36 or 42 inch minimum and toddlers don't have quite as many options. Read our review for more info on Diggerland's attractions and tips before you go.
Dorney Park & Wildwater Kingdom
3830 Dorney Park Rd. Allentown, PA
(610) 395-3724
This park is home to several roller coasters that send chills down the spine of even hard-core thrill seekers. But for the junior set, there are rides such as PEANUTS Road Rally, Woodstock's Wagon Wheel, and Snoopys Junction. A theater hosts live performances starring the gang that will entertain tots with singing and dancing. If the kids want more, Dorney has other family rides including Cedar Creek Canonball, Ferris Wheel, and Antique Carousel. And, don't forget to back a bathing suit for the sister water park, Wildwater Kingdom.
Dutch Wonderland
2249 Lincoln Highway East Lancaster, PA
(866) 386-2839
With a host of rides for kids under 36 inches, Dutch Wonderland is a preschooler's paradise. The Duke's Lagoon water play area has small-sized slides located under shady palm trees. There are lots of food options, including some healthy choices like salad, yogurt and fruit; however, families may also pack their own food to eat in the picnic area.

All smiles at Dutch Wonderland
Hersheypark
100 W. Hersheypark Drive Hershey, PA
(717) 534-3900
Although Hersheypark is well-known for its impressive lineup of looping, heart-pounding roller coasters, they still have a good selection of rides for the "miniature" kids. Many of the preschooler-friendly rides are found near the park entrance. Live shows, character appearances and a section of the waterpark are also sure to entertain.
Knoebels Amusement Park
391 Knoebels Blvd. Elysburg, PA
(800) 487-4386
About a two hour drive from Philly's western suburbs, Knoebels is a very family-oriented destination that offers free parking and free admission (rides are pay-as-you-go or buy a wristband). The park has a mix of old-fashioned and modern rides with plenty of options for little ones. Many families enjoy staying at the nearby campground.
Land of Make Believe
354 Great Meadows Road Hope, NJ
(908) 459-9000
Described in our review as "a little gem tucked away in Hope, NJ," Land of Make Believe offers many attractions for young kids to play the day away. The park contains dry rides and a water area, so be sure to pack swimsuits and a change of clothes. Parking is free and families can bring their own coolers inside the park.
Sesame Place
100 Sesame Road Langhorne, PA
(215) 752-7070
Fans of the PBS TV series will go gaga (especially if that's the only word they can say!) for this park. There are a ton of rides aimed at kids ages 2 to 6. Happily, there are dozens of options that will appeal to older siblings, too. The park is big, with wet and dry attractions, so bring a bathing suit. Don't miss the Neighborhood Street Party Parade, in which Big Bird, Elmo and the gang sing, dance and prance to the delight of their devoted fans. For a special treat, reserve a meal with your child's favorite Sesame Street character.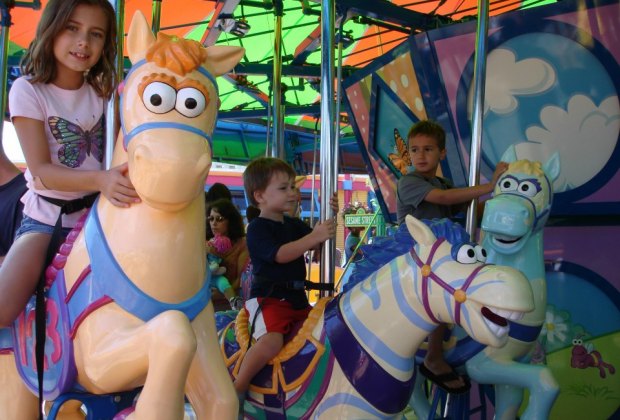 Sesame Place is the quintessential preschooler amusement park.
Six Flags Great Adventure
1 Six Flags Boulevard Jackson, NJ
GPS Address: 599 Monmouth Road Jackson, NJ
(732) 928-2000
While Great Adventure is primarily marketed towards older thrill-seekers with rides named "Drop of Doom," "Sky Screamer," and "Dare Devil Dive," the park is so large that there are also plenty of options for younger riders. Live entertainment and Looney Tunes characters throughout the park appeal to little ones as well.
Storybook Land
6415 Black Horse Pike Egg Harbor Township, NJ
(609) 641-7847
With a theme based on fairy tales and nursery rhymes, Storybook Land is a great destination for kids under 10. Shady and compact, Storybrook Land offers free parking and plenty of rides to keep the family entertained. Guests may purchase food at the park or pack their own to enjoy a picnic. Read our review for more details.
Originally published 2015. All photos courtesy of Kristen Sullivan.