Ultimate Philly Staycation Planner: 50 Summer Activities for Kids in 2020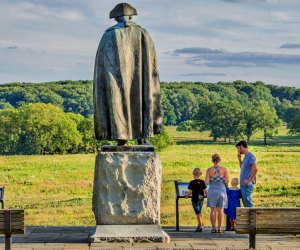 Summer 2020 is unlike any other. Yet, despite the challenges that come with a pandemic, Philadelphia families can still look forward to one awesome staycation with our mega list of summer activities for kids around the area.
So don't let those trip cancellations and camp closures get you down. Head out on an epic road trip, enjoy a virtual summer camp, or stay local with backyard water games. No matter what you decide to do, this unusual summer can also be a summer of fun.
Read on for our top 50 summer activities for kids to plan out a summer the entire family will enjoy. And don't forget to check out our Stay-at-Home Guide for hundreds of more ideas.
Top Summer Activities for Philly Kids in 2020
Nothing sweeter than tree-ripened fruit. Photo courtesy of Solebury Orchards/Facebook
9. Or visit some beloved land animals at the Philly area petting zoos.
10. Both the Philadelphia Zoo and Elmwood Park Zoo are reopening with new social distancing protocols.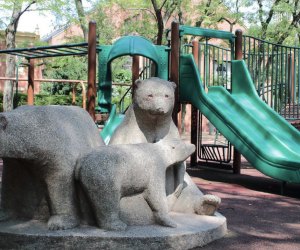 The sweet little Three Bears Park on Delancey Street offers plenty of shade cover for summer playtime. Photo courtesy the park
11. Keep cool and play longer at these shaded Philly playgrounds for a classic summer activity for the kids.
12. Ready to get out of town? There's still plenty of time to enjoy that quintessential summer activity: The Family Road Trip.
13. Skip cooking to enjoy a family-friendly meal together outside now that these outdoor restaurants have reopened.
14. If you don't mind the drive, why not head to New Jersey for a drive-in movie experience?
15. Take a hike to see some of Pennsylvania's great waterfall hikes.
16. Or head underground where it stays cool all year-round at these caves and caverns near Philly.
17. Splurge with a ride or two as our many area amusement parks start to reopen, or along the boardwalk at the Jersey Shore.
18. Satisfy the family thrill-seeker with a day at a zip line or adventure park.
19. Day trip it out to Valley Forge National Historic Park for hiking along the trails and a dose of history.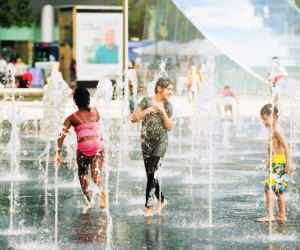 Cool down at a Philly splash pad. Photo by Matt Stanley for Center City District
Summer Activities to Cool Down Philly Kids
20. Play in the surf, stroll the boardwalk, nibble on saltwater taffy, and make some great summer family memories at the Jersey Shore.
21. Swim at Blue Marsh Lake, reopening July 2, or another nearby swimming lake.
22. Splash around at a FREE Philly sprayground on a hot summer day for the ultimate of staycation summer activities.
23. Take a dip in any of these Philly area swimming pools, or hit the water slide at these nearby water parks (some of which are reopening in July 2020).
24. Rent a canoe or a boat and enjoy some fun on the water instead of in it.
25. Or go on a tubing or rafting adventure as a family.
26. Grab the fishing rods and tackle and take the kids to reel in a big one.

Stir up some mocktails for an outdoor summer treat at home.
Outdoor Games and Activities for Kids
27. Have some water fun with these simple backyard water games the whole family will love to play.
28. Then keep cool with these adult beverages—and kid-friendly mocktail versions—that are summer in a cup.
29. Bring summer vacation and science together with these cool backyard science experiments.
30. Level up your backyard and treat the family to one of these inflatable bounce houses, kiddie pools, and water slides.
31. Whip up homemade popsicles and let them devour the icy treats in the backyard for mess-free summer eating.
32. Work through our Ultimate Summer Play List for old-school summer activities at home. How many can you check off before summer ends?

Code.org is a great jumping-off point for kids new to programming
Online Classes for Kids and Virtual Activities
33. Have the kiddos participate in an online summer camp if they can't get to one IRL.
34. Or take part in the Mommy Poppins Summer 2020 Camp Fair for ideas on in-person and virtual summer experiences.
35. For summer birthdays, throw a virtual party with some of our favorite ideas.
36. Bring some kindness into the home with these Mister Rogers activities.
37. Don't break the bank with these cool mostly free online classes.
38. Interested in learning more about a topic? There's a podcast for that.
39. Whether a beginner or a more advanced student, learn how to code.
40. The Harry Potter books come to life for the next generation with a weekly audio chapter.
41. Toddlers might enjoy the puppets at this local Pennsylvania bookstore's virtual storytime.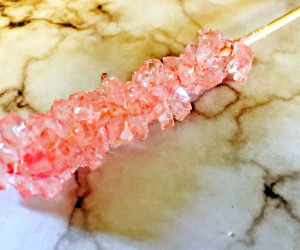 Make rock candy at home for an edible science experiment for kids.
Indoor Summer Activities for Kids on Rainy Days in Philly
42. Cue the "oohs" and "ahs" with this walking rainbow activity.
43. Turn off the TV, stow away the iPad, and give even the youngest kids in the family a turn with these preschooler STEM activities.
44. Teach kids kitchen skills with these healthy cookies.
45. Use storytime as a teaching moment about human dignity.
46. Get the wiggles out with our favorite fun indoor exercise games.
47. Pop some popcorn and snuggle up for a family movie day with the best kids' TV shows and movies to stream right now.
48. Keep babies and toddlers occupied with these 12 easy DIY sensory activities.
49. Build an ultimate indoor obstacle course.
50. Blend candy making with a science lesson to make your own rock candy.
Stay tuned to MommyPoppins.com/philadelphia for more summer activities for Philly kids!